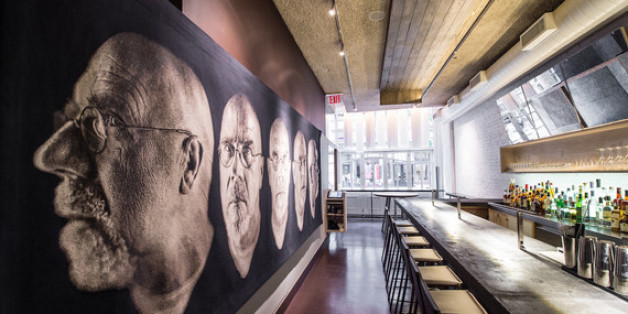 Artists first and restaurants second are the true reclaimers of derelict neighborhoods. Artists set up studios in old buildings, then come the art galleries, then good places to eat, then boutiques, a rush of new tenants, and before you know it the once down-and-out neighborhood becomes the place-to-be. There is light on the street.
Nowhere was this more evident back in the 1980s than in New York's SoHo, once a fashionable 19th century neighborhood but fallen on hard times by the mid-20th, acquiring the moniker "hell's hundred acres." It was in 1979 that chef David and Karen Waltuck opened a new style of fine dining restaurant whose emphasis on minimal décor manifested both the Waltucks' budget and their intent to focus on the food on the plate. Chanterelle, named after the mushroom, did for SoHo what Drew Nieporent's Montrachet (now Batard) did for TriBeCa--both opened in culinary wastelands while competing with the finest French restaurants in Manhattan. Neither was inexpensive, both were packed for years.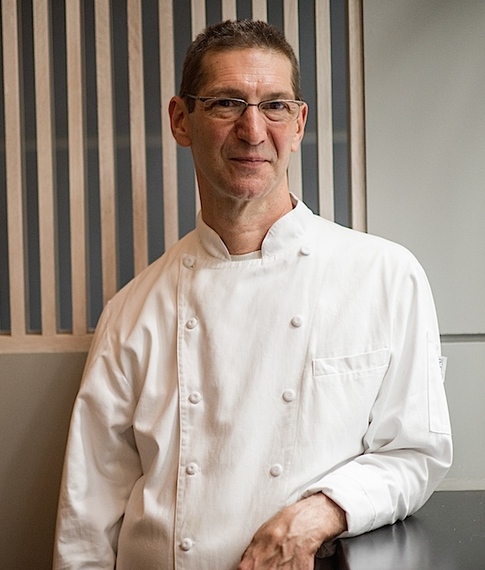 Chanterelle's success, both critical and popular, gave the go-ahead to other hesitant restaurateurs like Keith McNally, who opened the enormously popular Balthazar, then Jean-Georges Vongerichten's Mercer Kitchen. Tiny by comparison, Chanterelle needed to expand and did so into TriBeCa for a long, rewarding run, but then, five years ago, the Waltucks closed their restaurant for a good long rest.
But the urge to do it all again has caused David (above), this time without Karen's presence, and co-owner George Stinson (who had been manager at Chanterelle) to open a new restaurant called Élan uptown in the not-at-all-derelict Flatiron district. The duo sought to take the kitchen in a new direction, and Élan seemed a sprightlier name than Chanterelle. The cooking was to be more global, never fussy, and always grounded in the most proven techniques.
The new décor (at what was previously Veritas) features a revolving display of contemporary artists--many the Waltucks' long-time friends--and at the moment that means five huge, rather grim, self portrait paintings by Chuck Close (below) staring at you from across the bar . The rear room, done up with ceiling ductwork, mirrors and gray banquettes, is plain but comfortable, the noise level civilized, the service well mannered. The wine list, at Chanterelle one of the grandest in the city, is now down to about 80 labels geared to match up with Waltuck's cooking.
The first signal that Élan is not a reverential dining experience is the arrival of "everything" pretzel bread, heavily seeded like a bagel, and mustard butter. One bite, you smile, you relax, and ask what's next?
Cold foie gras lollipops ($4 each) with fig and pistachio coating is not a novel idea but always a delight. Guacamole was not enhanced by the strong taste of sea urchin, wasabi and fried taro chips ($16), but a classic country terrine of pork, chicken liver and herbs ($16) would be most welcome anywhere.
These were called "starters," for the appetizers were to follow: excellent gazpacho enriched with morsels of lobster ($16) was a dish I wanted more of; so, too, the grilled seafood sausage with sauerkraut in a velvety beurre blanc ($19), a dish revisited from the Chanterelle menu. Zucchini blossoms came with a tasty tomato confit and lemon crème fraîche ($17) but, the night I ate there, it was very salty. By comparison, simple market vegetables à la grecque ($16) were just plain bland.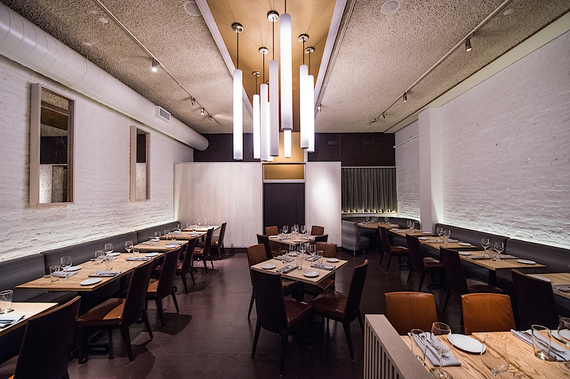 For main courses, I recommend the perfectly cooked mackerel, a fish that can often be too strong but was here perfectly meaty and flavorful, done in a clam-dashi risotto and yuzu ($27). Fettuccine with sea scallops ($16 as an appetizer, a whopping $32 as a main course!) needed more of the duck fat in the saucing to bring it alive. The best of the entrees I tasted was a mixed grill of duck ($33) with a balanced duck fat béarnaise, the kind of dish that hearkened back to the French kitchen at Chanterelle. And there's more duck fat in the delicious hash browns ($8), and probably a shot of it in the wonderful side order of wild mushrooms (market price).
Even before opening, word was out that Waltuck was going to do his version of General Tso's chicken but with sweetbreads ($18/$30), with leeks, orange and chilies, but I doubt Chinese cooks anywhere will be trading their recipe in favor of this rather mild rendition.
There are superb desserts ($12) from Diana Valenzuela, including a coconut panna cotta with strawberries and lemon grass; succulent blackberry-blueberry tart; and chocolate mousse with raspberries and a touch of fennel.
Critical applause has, thus far, been respectful, and I share that sentiment. Élan is a restaurant both of its time and of another era when precision and refinement counted above novelty for its own sake. If Élan's global approach doesn't always result in eureka moments, the evolution of the menu should be fascinating to watch.
Photos by Daniel Krieger
Élan is at 43 E. 20th Street (near Park Avenue South); 646-682-7105; elannyc.com.
Open nightly for dinner. Brunch on Sat. & Sun.