 MARTI'S
1041 Dumaine Street
504-522-5478
http://martisnola.com
Marti's is a real breath of fresh air in an old venue. A very long time ago the premises used to be a bar named Gentlich's, then a Creole restaurant called Marti's, whose clientele consisted largely of the arts, theater and gay communities.
From 1988 through 1991 the restaurant was closed, then turned into
Peristyle, then Wolfe's for a while, then last year Patrick and Rebecca Singeley, who own Gautreau's, opened it up and took back the name Marti's, giving the room a period art déco style, with elegant chandeliers, a gorgeous mural and banquettes in pale blue-green leather.

As you enter there is a serious bar with a serious barman--not a place to hear the new Jay Z CD or watch women's golf. You may, though, run into actors making movies in town, as have Jessica Lange, Sofia Vergara and Ryan Reynolds.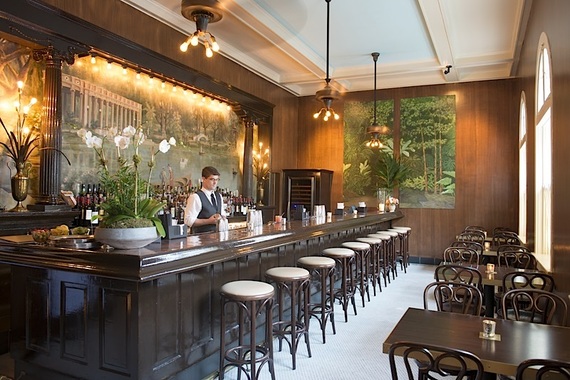 Marti's chef, formerly at Gautreau's, is native Louisianan Drew Lockett, and his textures, seasonings and temperatures are all as they should be. Flourishes are few, tradition is respected, creativity shows well. Seared foie gras with smoked salt, green tomato jam, and white balsamic ($18) is superb. Excellent in every respect was his bucatini with rabbit ragù, tomatoes, roasted garlic, sage and pecorino ($14), and I haven't had a better risotto in New Orleans than Marti's, with corn, tender shrimp, mushrooms and white summer truffles ($15).
There are seven shellfish options, admirably conservative, and the Gulf fish amandine with green beans, lemon, and brown butter was sweet and perfectly cooked.
Rabbit served two ways ($29) came as braised legs and grilled sausage, with mustard greens, dirty rice and rabbit jus, while a duck leg confit ($28) was enriched with just enough chickpeas, silky eggplant, roasted peppers and tomatoes. Something simple and simply good was his crispy pork Milanese with mustard sauce, greens, lemon and shallots ($27).
The dark chocolate pot de crème with salted caramel ($11) is very good. Not so the mediocre ice creams and sorbets ($6).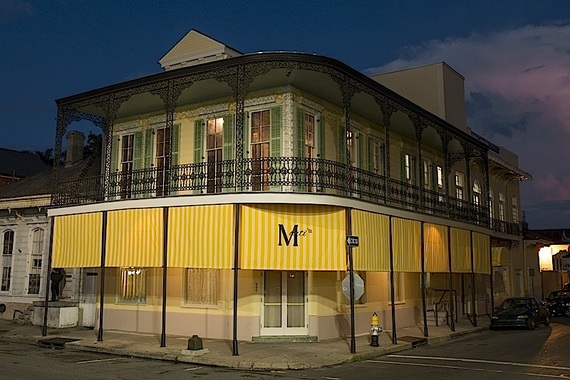 In many ways Marti's treads a fine and welcome line between tradition and contemporaneity in its cuisine. Its beauty has good bones, its hospitality is infectious, and the level of sophistication is just about perfect without ever being elitist. Marti's rings true on every level. It's an honest place to dine.
Open nightly for dinner.
BORGNE
Hyatt Regency New Orleans Hotel
601 Loyola Avenue
508-613-3850
neworleans.hyatt.com
The wholly renovated Hyatt Regency, heavily damaged by Hurricane Katrina, has, like so many properties in New Orleans, come back stronger and better than ever. That cost $275 million, but it shows. There are now several food alternatives within the hotel, including the 8 Block Kitchen & Bar and a sports restaurant named Vitascope Hall. But the most serious of the restaurants is one with the involvement of Chef Josh Besh, one of the city's brightest lights.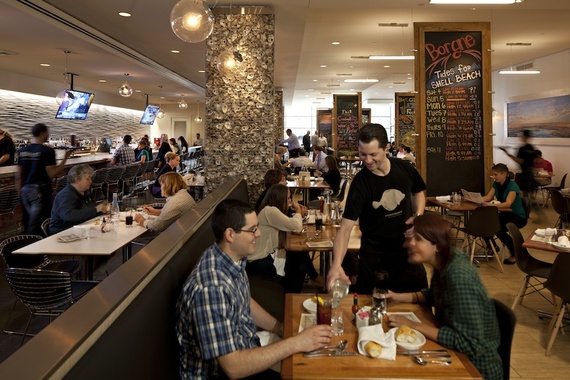 Borgne's executive chef, Brian Landry, sets a table with focus on the Gulf, and you could happily make a meal of his starters and small plates, like the dozen oysters for $15. "Hunting camp style" duck poppers with jalapeño and bacon ($10) were way too sweet, and there wasn't much meat on a special of turkey necks ($10). Jumbo shrimp rémoulade with petit iceberg lettuce and quail egg ($12) was as good as any in town, while the cream of corn soup with plenty of crabmeat ($8) was better than any in the city, almost equaled by a lusty duck and andouille gumbo with rice ($8).
The best of the entrees I tried was deliciously moist black drum fish cooked à la plancha, sauced with rich brown butter, toasted pecans and truly jumbo lump crabmeat ($30).
For dessert, it's hard to resist the Key lime ice box pie with ginger and black rum ice cream ($7), or the chocolate hazelnut pudding with a condensed milk sorbet ($7).
Borgne is located in a hotel, and the room looks it--big, wide, and terribly loud, especially towards the middle and rear, with harried waiters. The décor does not exactly reek New Orleans, looking more like a big luncheonette in Miami Beach. I think it's probably a better lunch bet than for dinner.

Open for lunch and dinner daily.
SQUARE ROOT
1800 Magazine St.
504-309-7800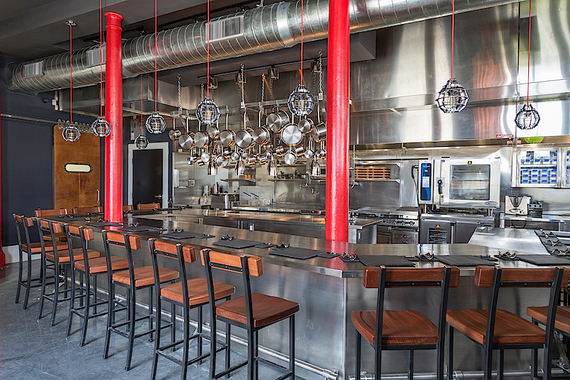 I was no fan of the modernist pretensions of Chef-owner Phillip L. Lopez and partner Maximilian G. Ortiz's first venture, Root, so I was not anticipating a fabulous meal at their new Square Root on Magazine Street. In fact, Square Root goes even further into molecular/modernist cuisine via tasting menus comprising from 8 to 15 courses ($95-$150 per person) that can easily last three hours.
There are only 16 seats in the rustic, modern dining room, with its Japanese shou-sugi-ban wood wall and cement floors. You sit in front of a U-shaped counter and very open kitchen where the crew works feverishly, tweezers at the ready; a waiter, for some reason, wears one white glove. Cooks clean each plate with vinegar and water.
You begin with "snacks" such as one lobster cracker with tarragon, caviar, lobster bergamot mousse, and flowering coriander, and a really wonderful pizzette with smoked n'duja jam with squash preserves, toasted seeds, pecorino, and fennel. Then came a country-fried chicken wafer and pickled fried okra, smothered with the sharp tastes of fermented mustard seeds, and dill--this, in a city of great fried chicken, almost seems a snub of the entrenched tradition.
Black duck tortellini with a single dried wakame chip, coco nib rice crisp, duck and sour dashi, and wild oxtails was a tasty and impressive tour de force. It's one thing to be, as Ortiz says, "playful" but it's way over the top to create a dish that's taking me two minutes just to type: confit potatoes, za'atar potato crisps, white vermouth gelée, smoked caviar, truffle pickled peaches, and Yukon Gold potato soup, which sounds like an entire menu on one plate.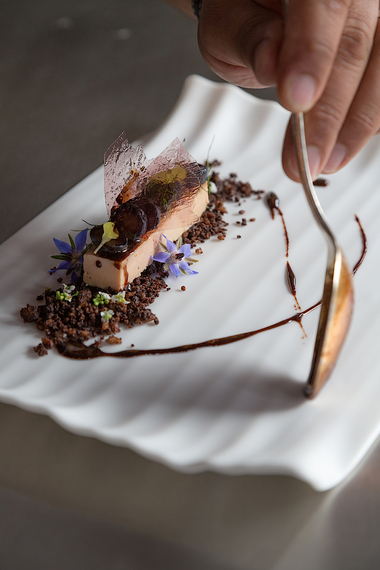 Despite all that came before, I ravenously gobbled up charred Louisiana wagyu-style beef with squash, miso, hazelnut pomace, bone marrow soubise, and aged balsamic vinegar.
There's no doubt that Square Root is an adventurous night out. So, when Ortiz told me that he pressed kale leaves between the pages of Volume VIII of the Encyclopedia Brittanica, I had no reason to doubt his claim, though I later learned he was joking.
It's really up to you to decide if this is the kind of dining "experience" you're up for in New Orleans. It is exciting, it is ambitious, you'll be impressed and you'll laugh; it's just not for everyone. But one way or the other, they'd better re-think the fried chicken.
Reservations (taken only through Open Table) are not nearly as hard to get as the owners want you to believe. In fact, I just checked Open Table for two seats tonight and they can take me at 6, 6:30, 8:30 or 9 p.m.
ELEVEN 79 RESTAURANT
1179 Annunciation Street
504-299-1179
http://www.eleven79.com
You might well think that Eleven 79 Restaurant dates back before World War II, for when you walk in, the place has a well-worn, bar-lounge atmosphere and décor that might well have attracted all the star jazz singers whose paintings and photos deck the walls. Owner Joe Segreto knew them all, many before he opened the restaurant in 1996. Ask him about the old-timers and he's got stories to take you right through dessert. And his guests, most of them regulars, could tell you a million more.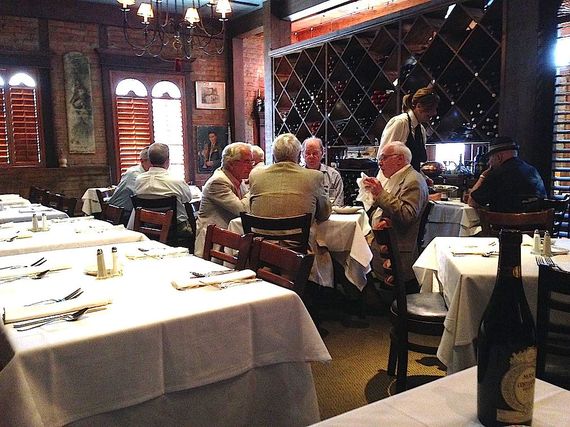 The menu at Eleven 79 hasn't budged much since opening day: it's straight-down-the-line Italian-American fare whose principal claim is that they've perfected everything over the years, starting with a terrific, deep, rich tomato sauce (marinara or meat) that graces the spaghetti and fettuccine ($16.50). They make a fine creamy Alfredo ($17.50), too, and one of the most popular items is pasta with oysters, spinach, olive oil, mushrooms and green onions ($20).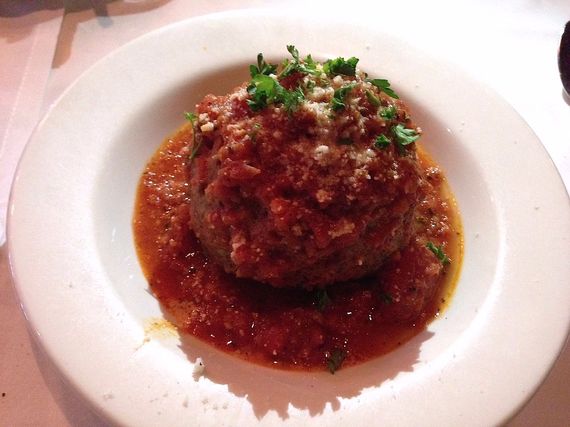 Everyone in the know orders the gigantic meatball (above) as a course on its own, bigger than a softball and lavished with meat sauce. This you won't find anywhere else in the city; indeed you won't find it on Joe's menu either, because people just know about it and order it. There is a lot of veal on the menu--eight items, including saltimbocca, veal milanese, osso buco and veal Eleven 79, piled with roasted peppers, asparagus and mozzarella.
The ice cream comes from the local Angelo Brocato's, and Joe has some pretty interesting bottlings on and off the wine list.
Joe himself is one of the draws at his restaurant. Go once. He'll remember you next time.

Lunch is served only Thurs. & Fri.; Dinner Tues.-Sat.