EAST 12th Osteria
197 First Avenue
212-432-1112
http://www.east12osteria.com
The traditional lines between an Italian trattoria, osteria and ristorante have become blurred over the past decade. A trattoria used to mean a casual, family-owned, home-style place to eat regional food; an osteria was originally a wine tavern, and a ristorante was a more upscale dining place.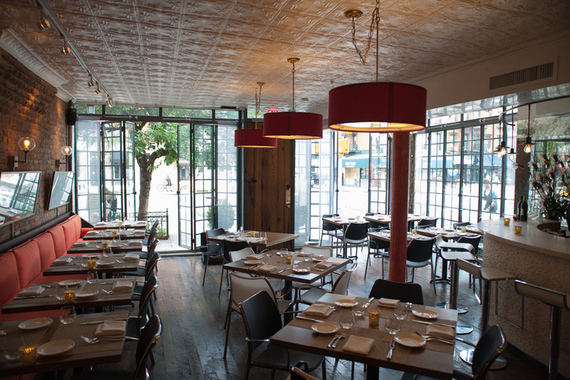 So in its handsome look, inventive cooking and highly regarded chef-owner East 12th Osteria seems too humble a name, trattoria closer, and ristorante too stiff.
It is by no means a formal Italian restaurant: It sits comfortably on a corner of First Avenue in New York's East Village and the décor and good lighting makes it as much a place to drop into for a glass of wine and a pasta as it is to sit down to a lavish meal, all without spending a fortune. Just noshing on the housemade bread and grissini sticks is reason enough to come by.
The floor is hardwood reclaimed from a 250-year-old Maine home; the brick walls and red banquettes provide warmth and color, the tilted mirrors give an illusion of spaciousness, the glass wall and sheer curtains a romantic cast, and the Gascon Stua armchairs will put you in mind of a chic new spot in Rome's Trastevere or Milan's Naviglia neighborhoods.
Back in the cramped kitchen, working at a feverish pace, Chef/owner Roberto Deiaco, formerly of Armani Ristorante uptown, is breaking past all the clichés of contemporary New York Italian cooking -- no thin-crust pizzas or $50 veal parm -- starting with a bright antipasto of beets, broiled tomino cheese, frisée and a tangy sweet quince dressing. The crudi here -- well priced at $24 -- include the freshest in the market, perhaps blue fin tuna, white sturgeon or langoustines. The carpaccio here gets a treated to layers of chanterelles.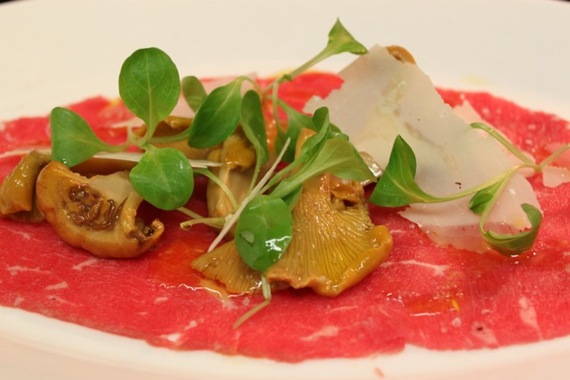 Italian restaurants are, of course, defined by the quality of their pasta, and Deiaco's are quite obviously rendered with exacting care. Pumpkin gnocchi -- just right for the holidays -- are lavished with a rich Gorgonzola sauce and given unexpected texture and bite from bacon and almonds. His risotto is perfectly cooked till just tender enough to give some chew, along with radicchio and grape must, and his ricotta ravioli, delicately rolled out, is stuffed with quail's egg with a bright green zucchini pesto sauce and truffles.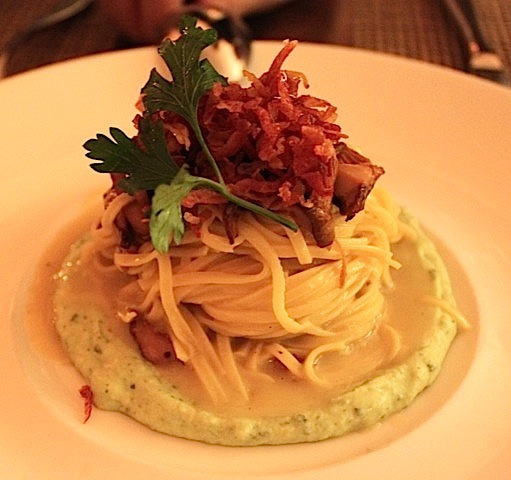 After the pastas, a lot of Italian chefs coast, but Deiaco's olive oil poached lobster with chick peas and escarole soars right along with what precedes it, and I loved his duck, richly flavorful, with a Champagne grape essence and a potato cake. The only disappointment of a recent evening was a veal fillet in an almond crust with apple puree and a dark beer reduction that just didn't jibe or taste particularly Italian.
The kitchen is putting considerable effort into its desserts -- rarely a strong point in Italian restaurants -- including the housemade ice creams and sorbetti and a chocolate fondant with hazelnut cream and ripe raspberries.
At a time when so many chefs have abandoned their own kitchens in favor of self-promotion, it is wholly refreshing to see a chef working so hard on every dish for every guest throughout the night. Whatever name East 12th Osteria goes by, it will soon be known as the place Roberto Deiaco and his wife Giselle have made entirely their own.
East 12th Osteria is open nightly for dinner and on Sunday for brunch.