Fans of Francis Ford Coppola's "Godfather" movies are known to search out all the locations in Sicily where the director shot the scenes of Vito and Michael Corleone in the Old Country, not least the charming hilltop town of Savoca, where Michael woos and marries a local girl. But if you want to see how Coppola and his daughter, Sofia, think a modern gentiluomo should live, you have to drive through the gorgeous territory of Basilicata in southern Italy, along the Ionian coast, up to the hill town of Bernalda where the Coppolas have restored a 19th century palazzo into a grand and glorious resort.

Cupped in the arch of the Italian boot, the territory was settled first by the Greeks and has as long a history as any province in Italy, including periods of Norman and Aragonese domination, when a castle was added to the primitive settlements. Today, other than the requisite number of churches and a pleasant square, Bernalda is basically one long main street lined with shops and trattorias.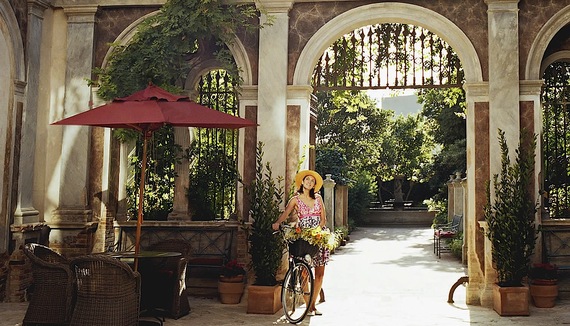 The Palazzo was built in1892 by the Margherita family, and Bernalda itself was the birthplace and home to Francis Ford Coppola's grandfather, Tino. Palazzo Margherita would be easy to miss behind an unassuming façade, but once through the wooden doors and pillared archways, you find yourself in a fragrant Italian garden and arbor, where Sofia was married.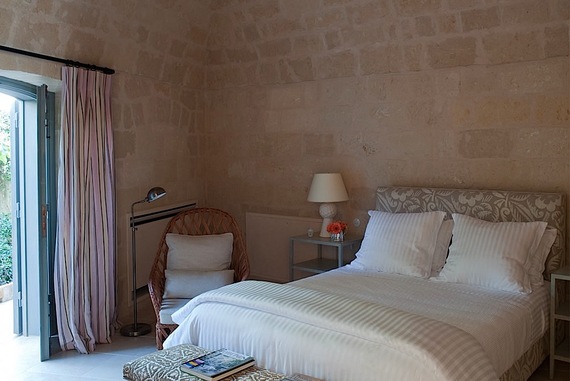 The restoration of the palace, by French designer Jacques Grange, has resulted in a
welcoming quiet and lack of ostentation; its ornate elements are softened by the gray and white colors chosen for the rooms, whose ceiling might be stenciled with folkloric motifs. The fine marble has been restored, the bathrooms, with claw-footed tubs, have been enlarged with every modern amenity, and there are two dining areas--one at the bar and one with a large communal table in front of an open kitchen. It is a place--complete with swimming pool--that the Coppolas designed for families.
The seven suites and two garden rooms, some with a Juliette Balcony, are spare but very comfortable and well lighted. Two of the largest suites are done in, respectively, Italian décor of the early 20th century and in Modernist art deco, while a third, with a Rococo ceiling fresco representing Amore and Psyche, was designed as a gift to Coppola's first granddaughter, Gia. Still another, honoring his Tunisian-born grandmother, Maria Zasa, is done with a mix of Southern Italian and Tunisian motifs.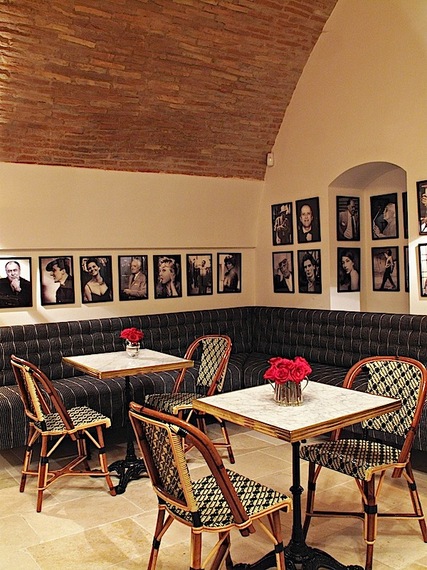 Meals at the Palazzo are casual affairs, with no formal dining room. In the Cinecittà Bar, the walls are lined with black-and-white photos of Italian actors, from Sophia Loren and Monica Vitti to Marcello Mastroianni and Rossano Brazzi. This is a cozy and colorful spot to have drinks or a good meal of simple food. My wife and friends had first planned to have lunch at a nearby trattoria, but after a glass of Prosecco and a few nibbles of superb salumi and bread, we just sat back and let the kitchen send out more and more dishes, from burratina mozzarella with a julienne of red eggplant, a creamed barley with pesto, strascinate ("little rags") of pasta with turnip tops, and slices of rare beef, finishing with fresh fruits of the season. With our meal we drank the local wine, Aglianico del Vulture. The eatery is open for lunch and dinner.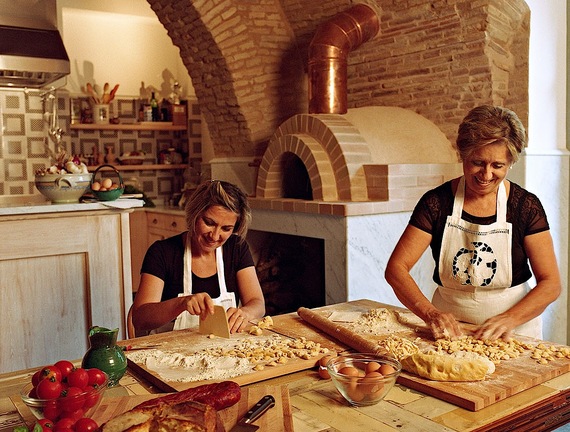 The equally unpretentious eat-in kitchen is where you might meet other guests and watch the cooks make the pasta shape called orecchiette ("little ears")--only enough for the evening's meal--sauced with zucchini and almond pesto. We also enjoyed tempura-fried hyacinth bulbs with sage and vino cotto (cooked wine) and a plate of fried squid with a lush fava bean sauce.
Next came linguine with tiny sweet mussels and ravioli stuffed with ricotta and artichokes with a simple, bright tomato and basil dressing. The local Lucanian black pig was grilled up with the scent of rosemary, along with fresh chicken sausage with strips of fennel. For dessert there was a ricotta cheesecake with dried figs. Our wine that night was a hearty Poderi Materani Rocco Matera Primitivo 2008. Prices are very reasonable, with antipasti 8-10 euros, pastas 13 to 17, main courses 13-17, with a fixed price at 56 euros. Good house wines run 7 euros.
To sit in that kitchen, inhaling the wonderful aromas of the food as it was being cooked, made it easy enough to imagine being a part of a big Southern Italian family of extended relatives that included the ebullient cooks themselves.
And then, after dinner, a fabulous surprise. This being a Coppola production, the Palazzo has a grand upstairs living room with plush sofas and divans where, at the touch of a button, a huge movie screen descends from the ceiling. You then have a choice of more than 200 Italian movies --everything from silent films to the best of Fellini, Visconti, Rossellini and De Sica. We chose the last's magnificent "Two Women," for which Sophia Loren won an Academy Award in 1960. Watching the sad film in that room, knowing that Francis Ford Coppola had stocked such films with obvious affection for his guests, further made me feel that we were truly guests in his home, believing that, in his absence, he told the impeccable staff, "Take good care of my friends. Anything they want."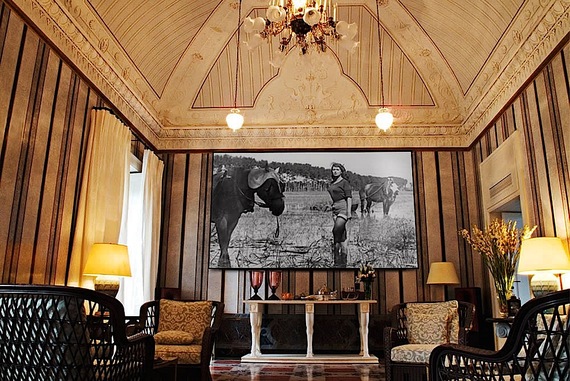 In fact, when my wife chipped a tooth on our arrival, the Palazzo staff immediately arranged for her to see a local dentist, then two of them accompanied her to his office, interpreted for her, and brought her back to the Palazzo in fine fettle. They'd do the same for their own family, so why not for their guests?