You don't have to spend very long with Joseph Carr before you learn who inspired him to found Josh Cellars, the California winery in Napa Valley. "Every bottle of Josh Cellars is a tribute to my dad," he told me over dinner at a New York steakhouse last month. "Everything he did was about following the American dream. He was one of those multi-talented guys who could re-build a stock car--which he drove in races--then go fight a fire as a volunteer. I had such great memories of him, but I never knew his nickname among certain friends was 'Josh' till my mother told me years later. She also confided that guys who called him Josh never came to our house."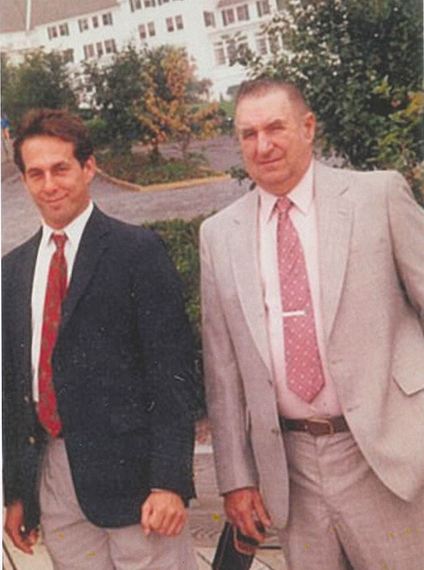 Not only has Carr named his winery after his father but he continues to pay homage to him through charity: last month the winery joined with The Gary Sinise Foundation to award $10,000 grants ($50,000 total) to First Responder groups nominated for their service by local communities.
Carr himself has had a checkered career, for a long while as a wine merchant working with European producers like Louis Jadot, Joseph Drouhin and Georges DuBoeuf, as well as working with small estate wineries. Carr was also a world-class sommelier and industry executive when, in 2005, he decided what he really wanted to do was form his own small, family-owned winery company, under his own name, with his wife Deirdre and daughter Cailen ("And don't forget our dog Max," he says). Today the winery is co-owned by Deutsch Family Wine & Spirits headquartered in White Plains, N.Y.
The varietals he produces, mostly in a Bordeaux or Burgundian style, are from Napa, with limited production from Carneros and the Sonoma Coast. The Josh Cellars label--"our vin de garage," he calls it--came from working with Tom Larson, owner of the Larson Family Winery in Sonoma, and veteran winemaker Wayne Donaldson, who'd worked for Domain Chandon and E&J Gallo. The result is a range of six organically grown varietals made through sustainable agriculture, which Carr intends to be "expressive, but unassuming and approachable, just like my Dad."

In tasting Josh Cellars wines I found those adjectives wholly reasonable, for Carr makes wines that do not simply toe the line of so many bottlings deliberately made to a certain Pan-California style that owes more to current trends and media hype than to good winemaking.
Josh Cellars' Chardonnay 2012 ($12), sourced from cool climates, spent time on the lees in 30% French oak, eventually spending 8 months in the barrel, and comes in at an admirable 13.4% alcohol. It has all the fruit you'd want from a California chardonnay but it does not possess that cloying undertone of overripe fruit so many others do. It's fine to drink right now but will gain stature in a year or two.
The estate's Cabernet Sauvignon 2012 ($12) has a good deal of complexity and good, peppery spices. Made from 90% Cabernet Sauvignon and 10% Merlot, gathered from Sonoma and Mendocino Counties, for rounding and mellowing, the wine spent 7 to 10 days extended maceration. Again, the 13.5% alcohol level is that sweet spot that allows fruit to show through the tannins that give it backbone.
Josh Cellars Legacy Red Wine 2012 ($14.99), is a proprietary blend of Merlot, which gives it a velvety fruitiness, Zinfandel for body and richness, and both Syrah and Petite Syrah for its racy spice. It spends 10 months in French oak and emerges as 13.9%, which just goes to show that big, bright red wine from California need not be a blockbuster whose enjoyment fades after one glass. You can store this wine for the next few years and it will develop beautifully.
Legacy is well named, not only as a homage to Carr's father but to what he and his family are establishing as their enduring style in which balance, not sheer power, makes it exemplary. And at these prices, it's easy to buy a few, drink some now and wait on the rest.