The robust new Harlem Restaurant Renaissance that includes Red Rooster, the 5 and Diamond, Corner Social and Vinateria has been joined and by by two important newcomers -- Minton's and its adjacent restaurant The Cecil (206 West 118th Street).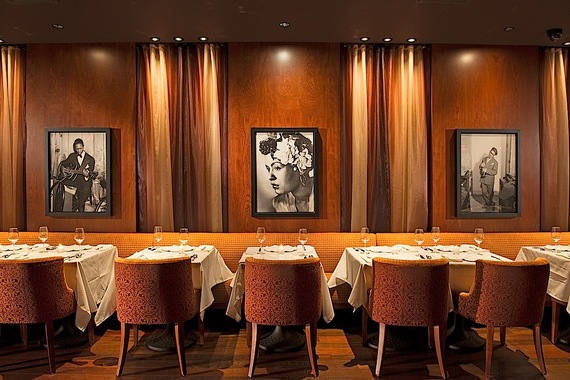 (photo by Evan Sung)
Founded in 1938 by saxophonist Henry Minton, Minton's Playhouse was the crucible for jazz that came to be called bee-bop, whose innovators included giants like Thelonious Monk, Dizzy Gillespie, Charlie Parker and Charlie Christian. Minton's was going strong until 1974 when a fire razed the hotel in which it was located, and, through those dark days of Harlem's history, Minton's stayed dark.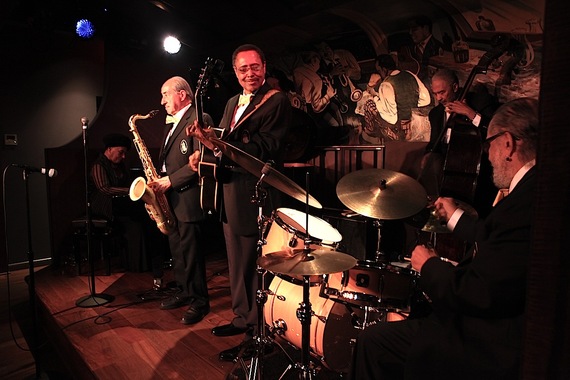 Happily for everyone, Minton's (212-243-2222) has new owners who have brought back the look of the modest-sized room whose antecedent was listed on both the National and the New York State Register of Historic Places. Minton's is certainly one of the most handsome new
restaurants to open this year, right down to the white tablecloths and swank curtains. Huge photos of jazz stars bring back the memories, as does a house band of stellar musicians, and the respect paid by owner Richard Parcels and partner-chef Alexander Smalls to the traditions of Harlem cookery -- he calls it "Southern Revival Cooking" -- is evident on a menu that includes a lavish "Low Country Experience" of appetizers -- Beau Soleil oysters with Champagne mignonette and osietra caviar; deviled egg toast with smoked trout and pickled shallots; fried okra and country ham; blue crab fritter with sauce rouille; a lusty bacon pilau with smoked chipotle aᅢᆵoli; and cremini mushrooms with creamed collard greens ($24).
Other fine starters include as tangy sherried she-crab soup with crispy yams and skillet bread ($18) and a roasted parsnip and kabocha squash soup with benne seed crunch and brown butter crᅢᄄme fraᅢᆴche ($14).
Among the main courses, I recommend the smoked Berkshire pork chop with a yam hominy grit cake and winter greens ($39), which shows a refinement of country cooking for which chef de cuisine Banks White shows real talent. Plump quail is also smoked, served with a giblet cornbread cake and cranberry cardamon cake ($34). A generous casserole of lobster and shrimp comes with a rich Creole crawfish gravy and pimento cheese grits. And you will not easily forget the fabulous, if misshapen, flakey Southern biscuits at Minton's, which are a dazzling riff on culinary tradition as much as bee-bop was on New Orleans jazz.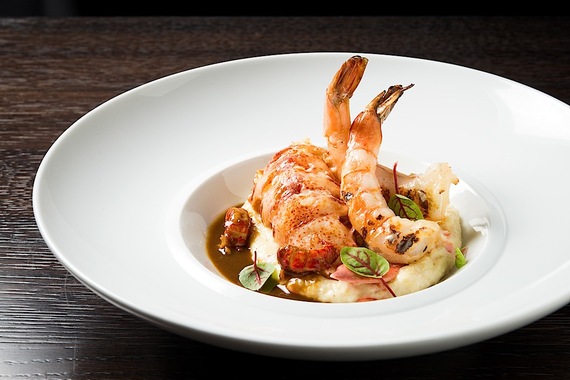 On the busy Saturday night I visited, some of the dishes were not up to others, and some came out tepid, not hot, perhaps owing to a menu unnecessarily large for this size restaurant. I trust the kitchen will get into the swing of things and coordinate all the cooking with more finesse.

For dessert the best is a pineapple upside down cake with corn cream and a blueberry compote.

Just a few yards away from Minton's is The Cecil; (212-866-1262), whose piped-in background music indicates that this is more of a restaurant than a jazz venue. Here, Smalls, with Chef de Cuisine Joseph "JJ" Johnson, are doing what they call the "comfort food of the African Diaspora," so that you may roam from a delicious West African beef suya with rum-soaked apricot compote, grilled plantains and groundnuts to Gullah shrimp min-burgers with housemade kimchi and scallions.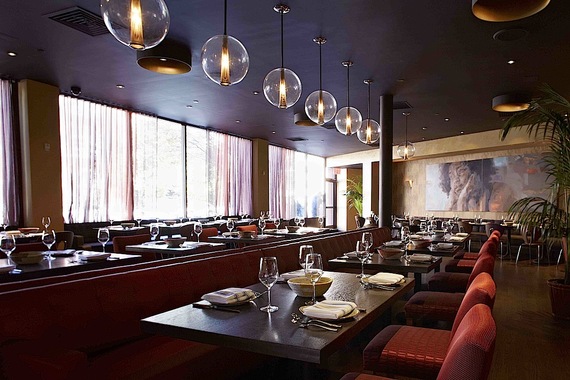 I arrived at The Cecil with three very hungry guys, finding the bar up front bopping. A beautiful and wholly engaging Haitian-born manager named Paola Mathe brought us to our table and checked back all night. Our cocktails were impeccably rendered, and we began ordering from every section of a long menu. A white root vegetable soup was laced with red curry oil and chives ($9), and a black bottom bean cake came with a fruity-spicy papaya salsa and plantain chips ($11). "Afro/Asian/American" oxtail dumpling were spiked with a green apple curry sauce and crispy taro root ($14) for scooping up the sauce, and the spicy broiled prawns were gigantic indeed, with a yam flapjack and piri piri sauce ($15).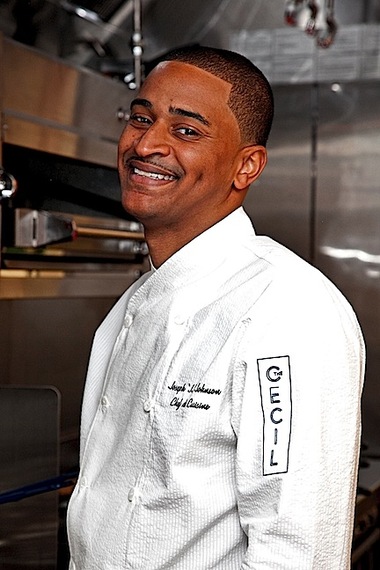 There is a section called the "rice & vegetable wok bar," from which you choose you preferred rice -- black, jasmine, sweet brown -- and top it with an array of options: we went with succulent country cut pork ribs ($24) and left not a morsel behind.
There was a slew of wonderful main courses, including a macaroni and cheese casserole ($16) with caramelized shallots and pepper ham, and feijoada, the beloved dish of Brazil bulked up with spicy black beans, oxtail, merguez lamb sausage ($27).

Long-braised lamb shank fell off the bone, accompanied by coconut grits, heirlooms carrots and purple sweet potato ($36), while duck fried noodles gained enormous flavor from a collard greens salsa verde, cashew broth and a poached egg on top ($32).

If, after having food this hearty, you have room for just one dessert, make it the pecan sticky buns with brown butter toffee and vanilla ice cream ($8)--and two forks. Then again, there's everything to love about the spiced Nyangbo crema sponge cake, chocolate croquante, and black cardamon ice cream ($8).

Perhaps what's most impressive about the menu here is that you won't find a single item on it served anywhere else in New York City. Every dish is very special, some unique, and a great deal of thought has gone into exotic seasonings here.

Indeed, if I may indulge a backhanded compliment to JJ Johnson, it's that, if you take food home -- and you will -- some dishes lose a great deal in taste and texture when consumed the next day, meaning that his cooking is not just fresh but depends on a very canny timing and devotion to each ingredient in a dish. Like pizza and French fries, they need to be consumed on the spot.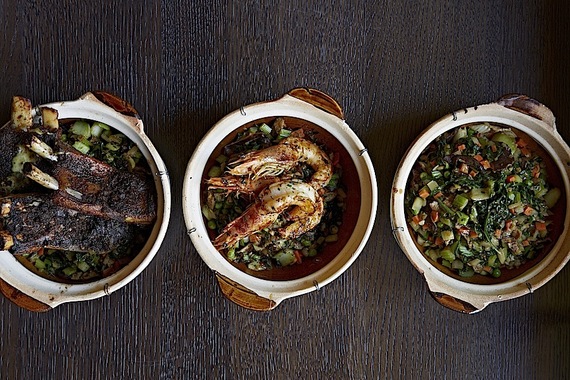 The Cecil's roomy space, with a fine mural of an African-American woman, has tables made for piling on dishes, and the noise level is civilized. Bread baskets and bowls evoke those from home kitchens. Some of the well-meaning waitstaff need more education about the wine list, but overall I think it impossible that anyone going to The Cecil will be disappointed with the vibe and perhaps educated in the most savory way of the breadth and depth of The Cecil's style of cooking.