Vice President Joe Biden's characterization of LaGuardia Airport as being akin to one in a Third World country is neither idle nor flippant. Indeed, many would argue that airports in some Third World countries are even more modern than LGA. But to me, that's not necessarily a bad thing.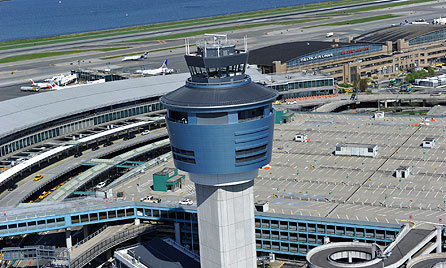 Old-fashioned, small airports may be out of date by not looking like vast shopping malls or by not being configured in a maze-like way that it takes an exiting passenger half an hour to get to the street. LGA's size is what makes it convenient, unlike the torturous new Delta Terminal at JFK. And, while I was in awe at the modernity of the Zurich Airport, it took me nearly 30 minutes -- not counting security -- to wend my way up stairs and escalators, along shopping boutiques and endless corridors to get to my flight gate.
Unlike so many larger, more modern airports, LGA requires no monorail or train trips to get from terminal to terminal. I find DFW, Atlanta, Denver and Las Vegas' airports unbearable for the amount of time I have to spend getting from my gate to the main terminal. I loathe that droning robotic voice barking "YOU ARE NOW APPROACHING TERMINAL 9," knowing I have three more stops before I get to the main terminal exits.
The very fact that LGA is old means that there is very little distance between the entry doors, the airlines desks and the gates. Once through security it takes no more than a minute or two to reach any gate. Today LGA takes up 680 acres and has 76 gates.
And increasingly there are more and better options for food and drink at LGA, with more on the way. And let's face it, how many people want to sit down to a long dinner at an airport? Today LGA takes up 680 acres and has 76 gates.
LGA, which was built for the World's Fair of 1939-1940, has, of course, been updated continuously since then, including the control tower, parking lots, and through extensions and additions, including the Delta and US Airways Terminals. It is certainly ridiculous that there is no modern subway to LGA, but there are more than enough buses, taxis, and discount parking lots to make access pretty easy. If I park at one of the discount long-term parking lots -- some run by rental car companies -- just across from LGA, a shuttle bus gets me to my airline in under five minutes.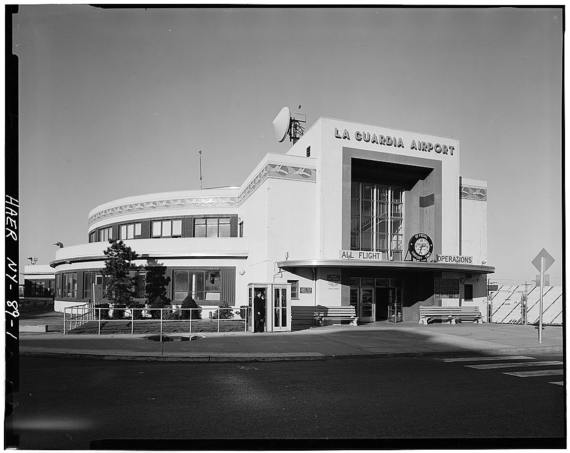 And then there is the uniquely beautiful, very old-fashioned Marine Air Terminal (above), opened in 1940 as landing base for the great flying boats like the two-decker Pan Am Clipper (below), its first departure on March 31, 1940, carrying just nine passengers. The outbreak of war and the demise of the flying boats meant the closure of the Marine Air Terminal in 1950, though it was re-opened in 1985 for the Boston and DC shuttle and other flights. There was, for a while, a water taxi linking the airport to Wall Street.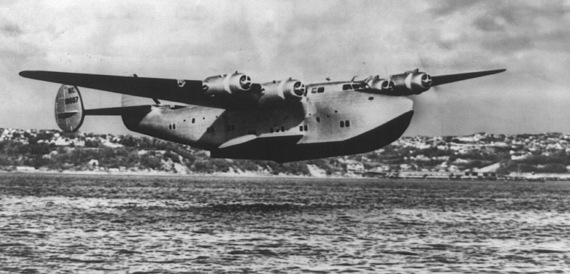 Since 1940 the basic shape and décor of the Marine Air Terminal -- called "A" -- has changed little, so its allure lies in its small size and in the illusion that you are still entering a terminal built when passenger flights were still a glamorous fantasy for most people. It was designed by the architectural firm of Delano and Aldrich in a distinctly 1940s art déco style within a circular room containing a 235-foot long Social Realist mural by James Brooks (1906-1992) titled "Flight" and a bust of Mayor Fiorello LaGuardia. Brooks worked for four years on the mural, yet in one of those paranoid acts of insane modernization (some say because the mural contained Left Wing symbols), it was painted over, not fully restored to magnificence in 1980.
There's a small concession stand and restaurant in the room, and nothing more. But stand there in the center of that historical rotunda and look up and around at the Pantheon-like circumference and you'll see a panorama that exalts Man's age-old desire to lift off from the earth like an eagle -- figures of Daedalus (below), da Vinci, the Wright Brothers, and the Pan Am Clipper, mixed in with abstract motifs.
Looking at that mural in that fine building, I am reminded of F. Scott Fitzgerald's sentiments at the end of his novel The Great Gatsby, when man felt "compelled into an aesthetic contemplation he neither understood nor desired, face to face for the last time in history with something commensurate to his capacity for wonder."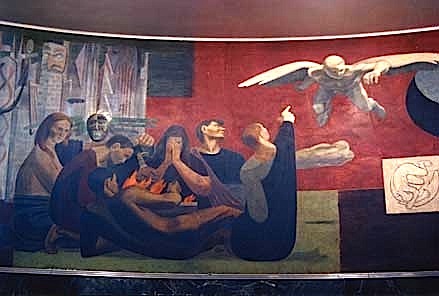 LaGuardia Airport may not be the most modern airline terminal in the world, but for those who remember a time when flying was a wonder, not sheer agony, there's still something of the old spirit there.