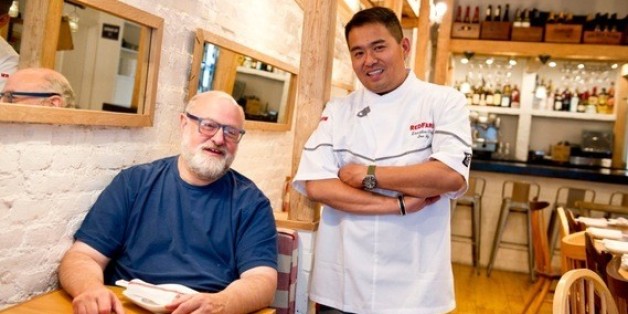 Not for the first time am I happy to credit Ed Schoenfeld with being NYC's best ambassador of Chinese food. Back in the late 1960s, when most Chinese restaurants in America were still serving egg foo yung and chow mein, Brooklyn-born Schoenfeld developed a passion for authentic regional Chinese food, and he was behind or consultant to some of the best Hunan and Sichuan restaurants of the next decade, including Uncle Tai's, David Keh, Pig Heaven, and Auntie Yuan; he helped make new standards of dishes like hot-and-sour soup, lobster soong, Hunan honeyed ham on white bread, cold noodles with sesame sauce, crispy walnuts and others that became totemic in Chinese restaurants around the U.S.
So, when Schoenfeld and Chef Joe Ng (above), with restaurateur Jeffrey Chodorow, decided to open a restaurant called Red Farm, no one knew quite what to expect. The result was a witty take on Asian food with a New York attitude that included dishes like pastrami egg roll on the menu.
Pastrami wedges are on the menu at the new Decoy, located underneath Red Farm,, but the main event here is the $65 per person (two person minimum) Peking duck dinner, hich includes pickles and chips, duck consomme, ten pancakes, and at least one side dish and pair of appetizers. Be forewarned that Decoy cooks only 24 ducks per night, so pre-ordering is requisite. These are intended for four people in a party, and the pleasantly lighted room and bar (with a first-rate bartender) is set with a long communal table you have to wedge your way into, so the conviviality is immediate. Good waiters and a fast kitchen make everything go smoothly in what has become a cadenced routine.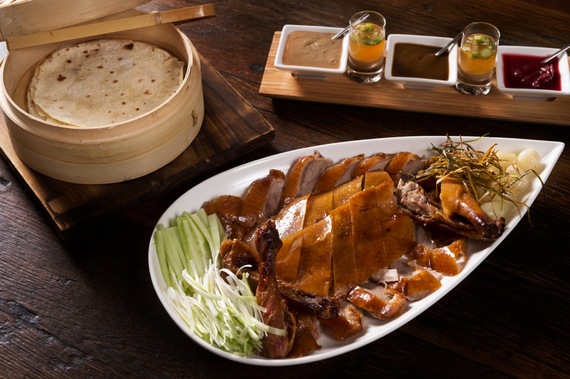 Let's deal with the duck first: it is everything you could ask, with its crisp, lacquered outside skin, its velvety flesh, and legs and wings for those who like to chew right through. The meat and skin go into the thin steamy pancakes with scallion and hoisin sauce, you roll it up and devour it with giddy pleasure.
But before you even get to the duck, you have a generous array of other items, which begins with that lovely, intense duck consommé and chips. You get to choose your small plates from a list of 13, and it's a tough choice. By all means don't miss the excellent sweet potato noodle salad topped with uni (though maybe not worth the 12 supplement), and those pastrami triangles, which, like Chinese ham, have the same succulence that makes them cousins. I loved the shrimp-stuffed shishito peppers, but be aware that they are very spicy and hot and might dull your palate for the duck to follow. Oxtail dumplings were delicious, though there wasn't a discernible amount of oxtail meat inside.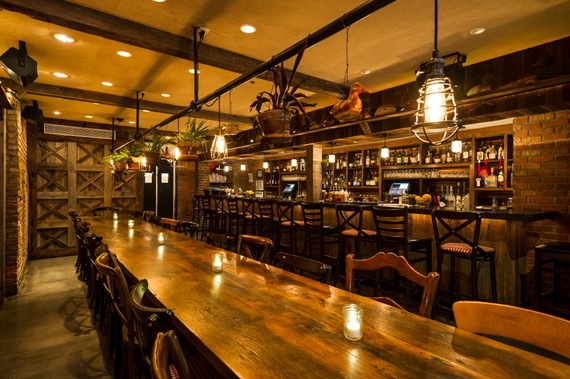 Then you have the main dishes, and the two we tried were absolutely wonderful. Jamaican-Chinese style jerk baby chicken with corn and Brussels sprouts is a triumph of forceful flavors and textures, while the pork 'toro' with Korean rice cake was milder but admirably flavorful. The fried rice that accompanied these came as a large platter of well-seasoned chopped vegetables and fluffy, nutty rice whose being lightly fried gave an extra dimension of flavor.
I'm not going to urge you on to desserts. They are all right--Key lime pie, chocolate pudding and panna cotta--but almost seem out of place here and don't' have the authority of everything else on the menu.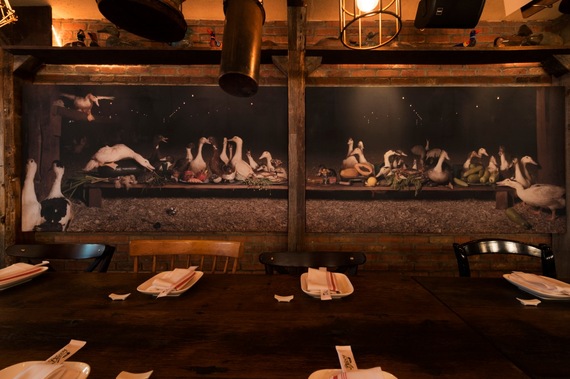 In opening Red Farm, Schoenfeld and Ng brought a fresh look to New York-style Chinese food; with Decoy they have perfected one dish impressive enough to bring people back again and again, but even if you don't eat duck, you'd have a superb dinner of tweaked Chinese classics among the best of their kind in the city.
Decoy is located at 529 ½ Hudson Street; 212-691-9700; http://decoynyc.com/about.html
Dinner is served nightly.