I've long admired the work of Chef Craig Hopson (below), first at One If by Land, then at Le Cirque, so I was happy to hear he was back behind the stoves, this time at a swanky new 125-seat restaurant with a too-cutesy name, set in the belly of a building across from the Plaza Hotel and next to the venerable Paris movie theater.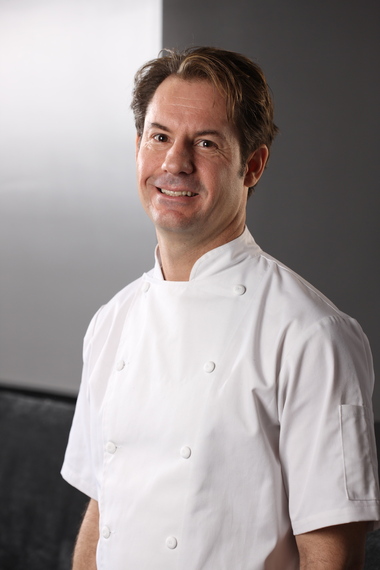 Hopson's food has always been elegant, creative without the slightest excrescence of gimmickry, beautifully presented and focused in on the main ingredients, as is the work of pastry chef Jiho Kim.
The dining areas--bar, main dining room (below), rear room and really rear party room--supposedly "channels the spirit of Coco Chanel's house in Paris," with a chiaroscuro dᅢᄅcor by Valerie Pasquiou Interiors + Design, Inc and Mark Dizon. Having Googled images of Coco Chanel's house, I can see a resemblance in tone--grays and creams, beige and white--though Beautique is far less ornate.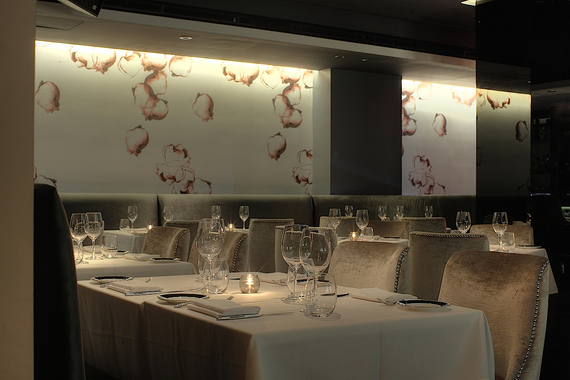 You enter through a curtained foyer, then ply a dark, mirror-lined staircase, coming into a front bar whose stools are covered in Jean Paul Gaultier tattoo-patterned fabric. The walls are papered with a rose petal motif, and the lighting is low, but not enough to keep you from ogling the flow of remarkably beautiful, willowy young women--some straight from both sides of the counters at Bergdorf Goodman, at the end of the block--and a passel of less-well-dressed males, some of whom insist on sporting backwards baseball caps. As the evening wears on, the music gets louder and more throbbing.
The oval-shaped middle room (below) glows with a gold ceiling set with a glittering chandelier, while the back lounge is done with a smoked-mirror ceiling, golden silk wallpaper and a Champagne bar. The staff, led by the exceptionally amiable and very chic Nikki Wong, is dressed in Elie Tahari; the table china is by Vera Wang.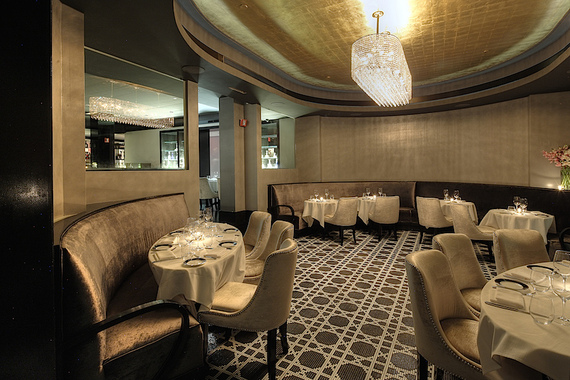 So if this all seems more than a touch chi-chi and its subterranean location reminiscent of the private club it used to be, you might consider that few places of this shadowy opulence still exist uptown, so you get the glamour without paying an entrance fee. Yet menu prices (appetizers $14-$23, main courses ($29-$39), while high, are not out of whack with any of the fine dining rooms in the area.
First courses feature the rage veggie of the moment, carrots (below), here roasted and glazed atop a delectable mᅢᄅlange of kale, peppery hot harissa, beluga lentils, and cool sheep's milk yogurt. Generous morsels of velvety rabbit meat lie in a fava and grape salad with fennel and a verjus vinaigrette, made all the more wonderful with the addition of foie gras. For something essentially, wholly summer, have the pea soup with little Comtᅢᄅ cheese dumplings, and mint oil. And since soft shell crabs are now in season and nice and fat, the tempura-fried crustaceans here with a pea salad and carrot ginger dressing make for a superb appetizer large enough to make a main course.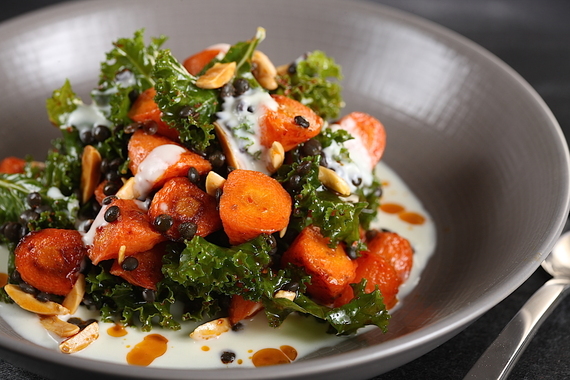 Halibut is delicately steamed to perfect juiciness, scented with a lemon balm and accompanied by pretty pink radishes, fennel, tangy green tomato and summer sorrel.
For meat dishes, I'm positive you'll love the fatted duck breast with rhubarb, bulgur, foraged "miner's lettuce," and sunchokes, a dish that belies the idea that duck is not a summer meat. So, too, the mixed grill of lamb is a sumptuous dinner item, with a chop, breast, and sausage, bone marrow flan, red onion toast and a ramp jus. Again, the serving is amazingly large for a place this soignᅢᄅ. You might also try the side dishes of seasoned potato fries and the mushrooms ᅢᅠ la barigoule with cilantro parsley.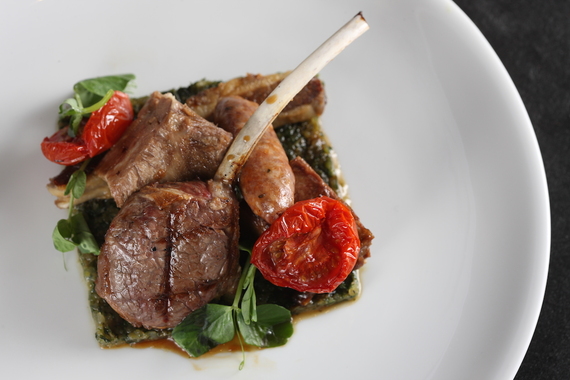 There is at the moment also an Australian (Hobson's from Down Under) black winter truffle menu ($135), from which I sampled a couple of good items--truffled potato gnocchi with morels and peas, and big sea scallops, perfectly al dente, with truffles in a roast chicken consommᅢᄅ with radishes, though the cultivated truffles themselves had very little flavor of their own.
Pastry chef Kim offers two truly excellent desserts--an Earl Grey financier with lemon verbena and apricot confit, whipped caramel and fizzy butter beer ice cream, and a new take on an old Black Forest cake with molasses coated cherries, German chocolate cake crumbs and cherry blossom ice cream. Almost as good is his gianduja chocolate and caramelized white chocolate crᅢᄅmeux, with brioche cake and milk sorbet, and a ricotta cheese cannoli with vanilla infused strawberries, Linzer torte and anise hyssop ice cream. I know that within the restaurant industry desserts always make money, but these are such complex and lavish ideas beautifully realized with so many very fine ingredients and components, I wonder how it's possible at $12 a plate.
Beautique's wine list if 200 well-chosen selections strong.
Hopson's talents and style are a very fine fit for Beautique, which currently drawing a tony crowd that seems to come as much for the cocktails and snacks as for sit-down dining. I hope that the latter outweighs the former in the near future and that the pretty people come back as regulars rather than gawkers.
Beautique is at 8 West 58th Street between 5th & 6th Avenue; 212-753-1200; www.beautiquedining.com.
Open seven days a week for lunch and dinner, the bar is open until 2am with a bar menu.