When the first of this chain of mozzarella bars opened a decade ago on Rome's Piazza Firenze, its name was--and still is--Obikà, with a k. But with the opening of their New York flagship in the Flatiron district, that k has become a c--Obicà--because most Americans could hardly be expected to know that the word is Neapolitan slang for "Here it is!" That k made it sound more like a Scandinavian furniture store than a restaurant.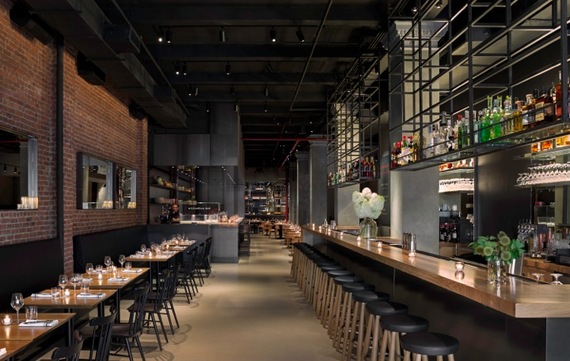 But whatever consonant they use, the owners deserve a big round of bravos for the new place (there's already an Obicà Café in the IBM Building on Madison Avenue), which is big, sleek, sexy and, with 120 seats and a counter, very convivial, whether you're there to sip a negroni or Campari at the bar or to share a platter of mozzarellas, salami, bresaola, prosciutto, mortadella, and lardo, or just have a, early or late-night pizza or indulge in some luscious pastas.
I almost never write about chain restaurants, but I've waited a long while for an Obicà to come to New York; there are already branches in Italian cities, London, L.A., Tokyo and Dubai. The mozzarella itself, which has a legally Protected Designation of Origin, is flown in twice a week from Campania, where it is made from water buffalo (bufala) milk. American-made mozzarella, which at its best is excellent, is made from cow's milk, and in a good salumeria like Di Paolo's in Little Italy, or Mike's Deli and Casa di Mozzarella in the Bronx, is made throughout the day.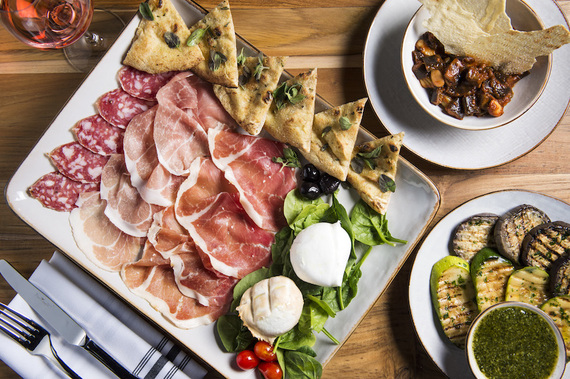 Imported mozzarella di bufala is not unique in NYC or elsewhere, but you really have no way of knowing just how fresh it is, for it can be packed in brine to preserve it for weeks but loses flavor very quickly. (The other NYC restaurant you can depend on for first-rate product is Mozzarella & Vino across from the Museum of Modern Art.)
Obicà offers four different kinds of mozzarella: bufala classica, bufala affumicata (smoked with hay), burrata and burrata al tartufo (with black truffle). You can also have it fried in carozza ($10) or spread it on toasted bruschetta ($10) with anchovies or roasted peppers. The "Obicà Experience" (above; $38 per person) is composed of mozzarella di bufala, a selection of cured meats and grilled vegetables, caponata alla siciliana (eggplant stew) and warm rosemary-scented focaccia, followed by a tomato pizza, then dessert--it's a great bargain.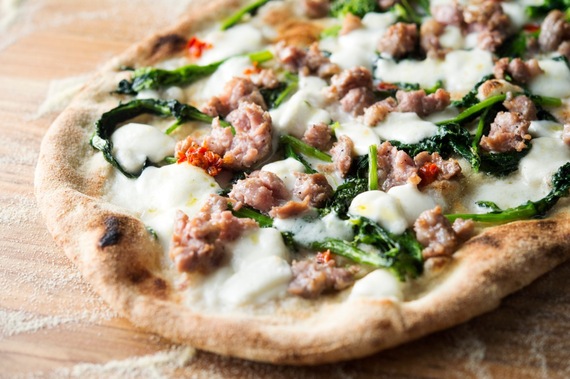 The pizzas are in fact some of the best in Manhattan, ranging from $14 to $26; one, verdure grigliate, comes with smoky grilled eggplant, zucchini and yellow peppers.
So far, that's a lot of food, and you can easily nosh to your heart's content, especially with a table of three or four friends, and the bill can be kept to a moderate level. But if you want to sample all that Obicà can do and do very well, avail yourself of one of the pastas, like the rustic pappardelle al ragù ($20 for a full portion), the basil pesto-dressed trofie ($18), the lavish schiaffoni macaroni with tomato and mozzarella ($16), or the ravioli with ricotta and spinach glistening with sage butter ($19).
This is a big menu but the main courses are worth trying, particularly a well-rendered black cod with a chickpea puree and grilled radicchio ($27). The veal cutlet alla milanese ($39), however, needs work: it is so thinly pounded you taste more crust than veal.
There are also some worthwhile desserts here, including a good tiramisù, a carpaccio of pineapple marinated in mint syrup with pink peppercorns and lemon sorbetto, and a pudding-like cream of ricotta di bufala with candied orange peel.
Obica's wine list is formidable and offers good value in many price categories, with plenty of wines by the glass, which is a good way to go if you're sitting at the bar.
You might think that Obicà is another of those brutally loud new places with scatterbrain service--"Who gets what?"--but, although it is far from quiet, with some corners louder than others, the wait staff is friendly and knows every item on the menu, so that the happy sound of people thoroughly enjoying themselves is another of the appealing aspect of this very Italian experience. Managing partner and CEO Raimondo Boggia is often on the premises of the new restaurant to make everything click and Chef Enzo Beri is in the kitchen making sure everything tastes the same as in the Roman original.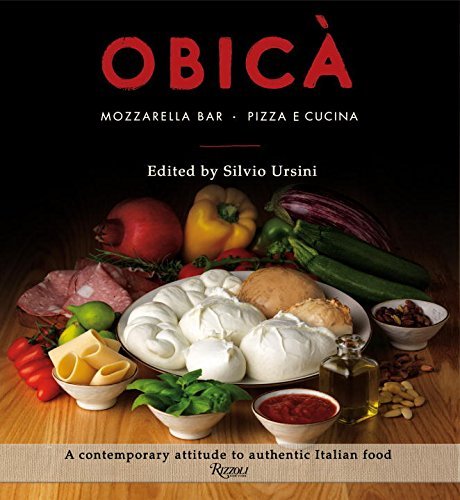 The company has also published a new Obikà Cookbook (above), with many of the dishes served at the restaurant. though it helps if you can fly over your mozzarella di bufala twice a week.
Obica is located at 928 Broadway at 21st Street; 212- 777-2754. Open for lunch Mon.-Fri.; Brunch Sat. & Sun.; dinner nightly.
obica.com