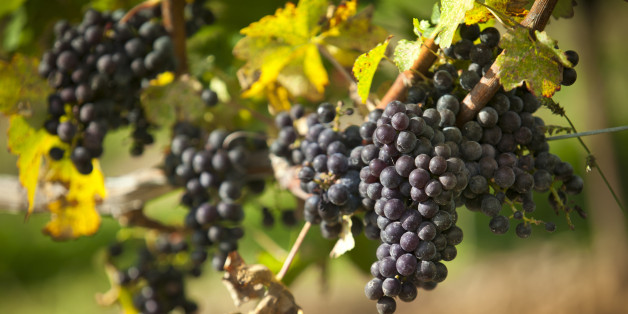 At a wine luncheon in New York yesterday, I was happy to find that South African wines have come so far in the last ten years. I didn't say "so fast," because South Africa has been making wines far longer than most "New World" producers like California, Australia, New Zealand and much of South America. Viticulture has been part of the country's economy since the first plantings in 1655.
Back then, most vineyards were planted with Muscat to make the sweet dessert wines of Costantia, still produced today. Today, however, the majority of wines are white, with about 35 percent from the Chenin Blanc grape, there called Steen. Currently there are about 110,000 hectares planted, about the same territory as in Bordeaux.
Yet for all that history, it wasn't until 1973 that Wine of Origin labeling took legal hold, and well into the 1990s the country's Co-Operative Winegrowers' Association dictated production quotas, minimum prices and predetermined production areas, which served to hamper small estates in favor of bulk wineries.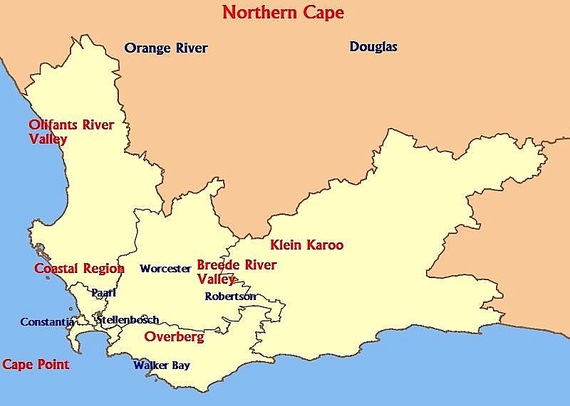 Add to this an international resistance to South African imports because of the government's apartheid policies up through 1994, and the chances of the country's better producers to compete on the world market were slim. Indeed, few wine stores in the U.S. carried more than a handful of South African wines, like those from Hamilton Russell Vineyards, Kanonkop Wine Estate, La Motte, and Warwick Estate. Those days are over and the best small estates, like those whose wines I sampled this week, are now coming into the global market and have U.S. importers.
I was by far most delighted with the Chenin Blancs at the tasting: Here were very crisp, very cleanly made wines from a varietal so often too grassy and tasting oily like petroleum. But these were balanced in fruit and acid, and, unlike the better Chenin Blancs from France's Loire Valley, are very decently priced, like the 2012 Mulderbosch ($12), the 20120 Botanica Skurfberg ($24), and the 2012 Radford Dale, though this last is pricey at $40.
The Chardonnays tasted were equally well balanced, with just enough wood to round them out and a sensible alcohol level that never went beyond 13.5 percent. I particularly liked the 2011 Neil Ellis Elgin ($28), which is grown in a cool climate about 45 miles east of Cape Town, and the 2012 Hamilton Russell ($33), whose estate is located in the appropriately named region of Hemel-en Arde (Heaven and Earth) Valley.
There has been, among the small producers, an effort to mimic -- or bear homage -- to Bordeaux-style blends of Cabernet Sauvignon, Merlot, and other varietals, well displayed in a 2012 Boekenhoutskloof "Chocolate Block" ($33) -- photo below -- a complex blend of Syrah, Grenache, Cabernet Sauvignon, Cinsault and Viognier, while the 2011 Rust en Vrede ($36), with Cabernet, Syrah and Merlot still needs some aging to come into focus.
The Syrah wines were particularly interesting in that they indicated two stylistic renderings of that varietal: those, like the 2011 Mullineux Family Wines ($30), definitely a nod toward Rhône Valley tradition, with the big forward fruit of the grape toned down by careful picking and barrel aging. It's an elegant example of the varietal. (Mullineux has two labels -- Granite and Schist -- indicating the soil composition on which the grapes are grown.)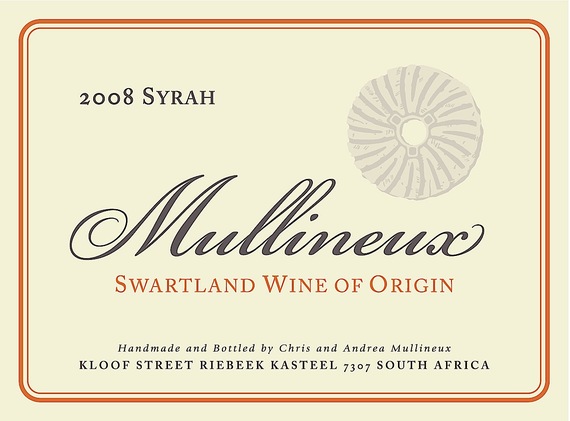 On the other flank are Syrah-based wines that taste fare more like overripe Western examples from California, Australia and New Zealand -- where the name Shiraz prevails -- that are very bold, often grapey, fruit forward, but, ultimately, one-dimensional. One that fell in between styles was the 2011 Spice Route Chakalaka "Rhône Blend" ($23), a blend of Mourvèdre, Cinsault and Grenache, along with the Syrah.
These and others of the nearly 30 wines presented were impressive pretty much across the board, showing that South Africa's wine industry, at least among the small producers with young owners, can hold their own in quality, and most certainly in price, with the best of the New World wines.