The look of American steakhouses has changed measurably from the time when they all looked exactly the same -- scuffed wood floors, scuffed yellow walls, scuffed leather booths and really bad paintings. These days, however, you might find a new steakhouse done up like a New York Yankees fantasy (NYY Steak) or like a swanky boudoir (Prime in Las Vegas) or Victorian western saloon (Del Frisco's in Dallas).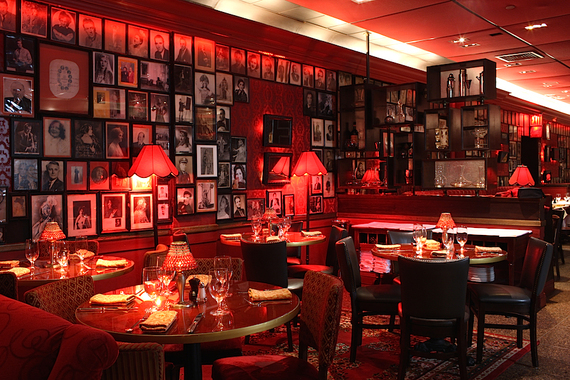 Certainly one of the most distinctive designs is Strip House in New York, with three locations (and one in Vegas), all sharing the same raffish look of very crimson red walls hung with original Studio Manasse prints of 1930s burlesque stars. (Women seem to have looked a bit different in those days.) This was the winkingly risqué décor of the original Strip House in Greenwich Village and of the new West 44th Street location -- a neighborhood crawling with steakhouses -- Palm, Spark's, Wolfgang's, Bobby Van's and more, all going all out to attract the same free-spending macho clientele. Strip House, on the other hand, is clearly committed to making women feel just as welcome as their male counterparts. Indeed, the restaurant is run by a management and staff whose corporate name, BR Guest Hospitality, rings very true.
Exec corporate chef Michael J. Vignola, whose c.v. includes stints at Aquavit, The Modern and other high-end restaurants, is in charge of making sure there are no surprises for regulars who trek between Strip Houses. So the menus don't much differ from one another, except for a few specials, and they really don't differ much from the sacrosanct formula of steakhouses elsewhere in the city; so it is in the quality of the ingredients and their preparation that the differences show, as well as in the reception at the door, which is warmly cordial -- not always the case elsewhere.
It's a big place -- upstairs and down -- but the kitchen keeps pace. The wine list is geared to the kind of food served at a steakhouse -- lots of big reds and white Burgundies. Mark-ups seem to run about two-and-a-half times retail, but there are some good buys on the "Sommelier's Selections" list, with Dominus 2007 going for $375, which is only about $15 more than you'd pay in a store.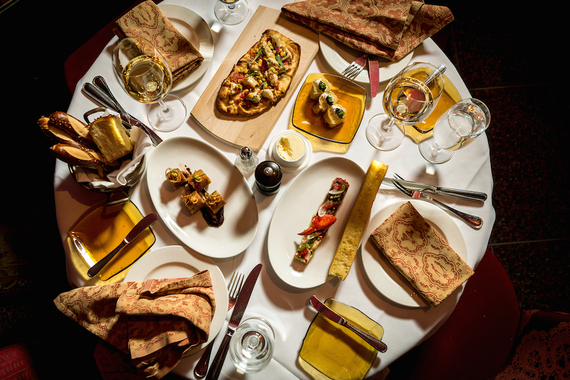 The food overall is as good as the best steakhouses in NYC and better than many that cut corners. Oysters (six for $19) were excellent; spicy tuna tartare ($19) with chopped avocado, cucumber, radish sprouts and a shot of wasabi was full-flavored and not in the least watery; the roasted bacon ($18) was as expected -- irresistible as ever; and a lobster bisque ($14) had both lightness and richness on its side, with fine lobster flavor and pearl couscous for texture.
A special one evening was a pâté, whose taste was livery and whose flaccid crust was a far cry from what you'd find in a good French bistro almost anywhere. The one real disappointment of the evening was a steamed three-pound lobster (market price), though it wasn't the crustacean's fault: asked if we wanted the meat it to be taken out of the shell, I agreed and soon realized that was mistake only because after the deed was done back in the kitchen, while the steaks being cut and were plated, the lobster meat got lukewarm and dried out by the time it was served. Next time I'll ask for the waiter to crack the shell at the table then have at it with my hands and fingers.
Strip House's true claim to a significant distinction from its creditable competitors is that the cooks pay a lot of attention to getting a serious char on the outside of the meat, no matter how rare, medium or -- God forbid! -- well done you might order it. Impeccably seasoned, the steak, whether it's a ribeye ($48-$55), a New York strip ($49), a porterhouse ($55), whatever -- will arrive seared and almost crispy, something I so often have to beg for in other steakhouses and rarely get what I crave. Our table of four sampled a number of cuts, and every one had the right char and the right interior temperature.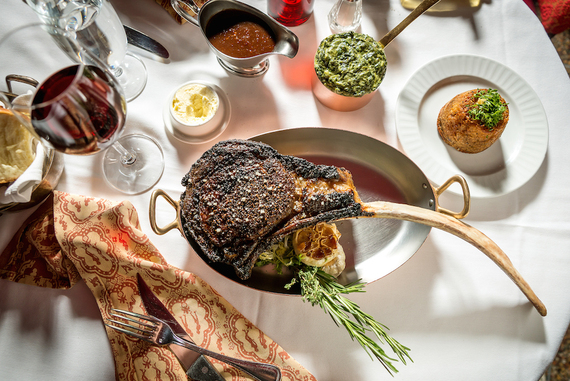 There isn't much argument on this point, for this is the only way a great piece of beef should be rendered. So it is to Strip House's credit that they knock it out of the park every time.
The chain prides itself on its sides and they are very good -- asparagus, creamed spinach with black truffles, buttered mashed potatoes and twice-baked gratin potatoes ($12). The "whipped potato puree" ($8) is not worth the effort; they're soupy. But you've got to go with the goose fat potatoes ($12), which are worth every guilty bite. Their desserts have a lot of heft, not least the signature chocolate cake ($16), though it's really only another mile-high version of those thousand-layer cakes steakhouses seem to mount without much thought of density or moistness. No matter how many people at your table, you'll take the cake slice home.
One more thing about Strip House I applaud: On the menu is written "As a courtesy please take phone calls outside." Not every guest is going to pay attention -- not to mention those tables of women with their iPhones at the ready in the big loud dining room -- but it's an attempt to bring back a time when civilized behavior precluded such things. People used to know without being told.

Strip House Midtown is located at 15 West 44th Street (off Fifth Avenue); 212-336-5454; striphouse.com; Open nightly from 5 p.m.