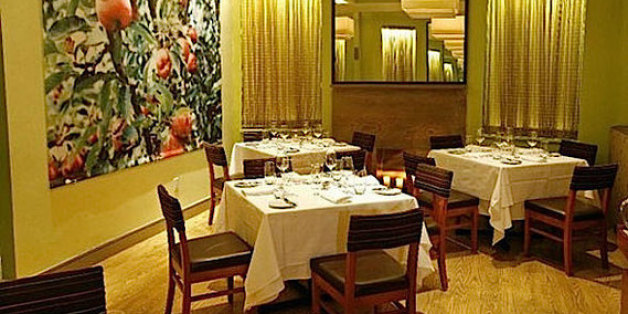 TELEPAN
72 W 69th Street (near Columbus Avenue)
212-580-4300
http://telepan-ny.com
The rich variety and quality of restaurants on the Upper West Side, now all the way up through Harlem, increases about as consistently as the trendy restaurants that close each month on the Lower East Side and in Brooklyn. From the newly opened Tavern on the Green (reviewed last week) and Cecil's to the well-established Bar Boulud, Lincoln Ristorante, Shun Lee Café, The Leopard at Des Artistes and Picholine, the West Side is as solid as any other section of the city in good restaurants. Among the latter is Telepan, Bill Telepan's exceptionally friendly restaurant that opened ten years ago near Lincoln Center.
Telepan had learned his craft at the three-star Alain Chapel near Lyons, then, back in the U.S., at Le Cirque, Le Bernardin and Gotham Bar & Grill in New York, making his own rep at Judson Grill. (He also has a new casual TriBeCa eatery named Telepan Local.) With the kind of training he's had, his grounding in French haute cuisine has made him one of the city's most respected chefs, and his diligence has paid off with an intensely loyal crowd.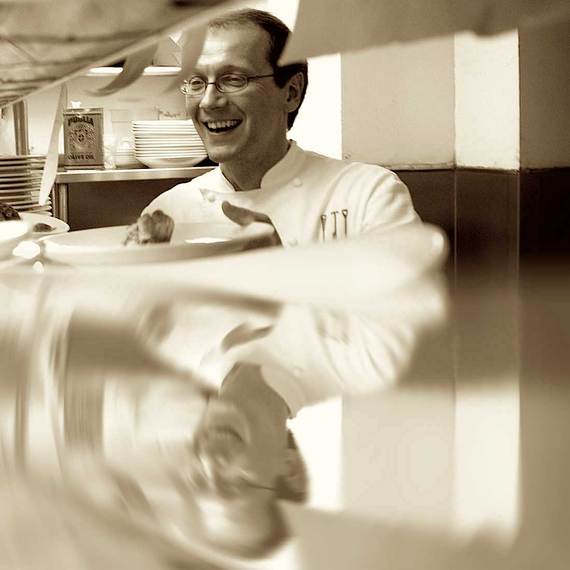 The two dining rooms could hardly be lovelier, the pale green walls, light wood floors, white tablecloths and wall-sized artwork of ripe fruits all work with the convivial lighting of the place (though for some reason, around 8 p.m. someone unnecessarily flicks on a dimmer) to buoy people's spirits, and the sound level is very civilized for conversation. Waiters are nicely dressed, the greeting at the door is cheery, and the pacing of the meal is calmly professional.

It is a cliché to say that Telepan is an "adults' restaurant," but with so many places now trying to appeal to a clientele more interested in the drinks and the vibe than the food and the enjoyment of an evening, it's worth using the term here.

Nothing on the menu makes you guess at what it really is; everything instead reads as if the ingredients came before the conception. Pea pancakes ($23) with wild mushrooms and pea agnolotti were a simple, wonderful congregation of spring vegetables, while chilled pea soup ($14) with smoked pine nuts and herbed crème fraîche shows that when you've got great peas for so short a time, might as well flaunt them. Lusty lamb sausage ($18) comes with fava beans and arugula with a touch of fresh oregano.
Lobster bolognese -- I'm not sure why it's called bolognese -- is a sterling example of Telepan's refined taste and process: The lobster meat is melded with spaghetti, light herbs and a sprightly shallot-garlic-tomato broth. (It's a pricey dish at $32 and shouldn't add $5 to the four-course $85 tasting menu.) Telepan's is not an Italian restaurant but a whole lot of stultified Italian eateries around town could learn much from his gemelli di maiale ($28) with pork sausage, robiola cheese, pancetta bacon and greens.
Among the main courses, I most enjoyed a fine snowy halibut ($40) with more spring vegetables, hash brown and garlicky ramps brown butter, and in a city with plenty of good pig dishes, Telepan's Heritage pork "toscano-style" ($35) with a white bean confit and wilted frisée is one of the best. If possible, the seared duck breast ($38) with confited leg, rhubarb, farro grain, watercress salad and the fine addition of duck foie gras is the winner among all the entrees -- as succulent and meaty and perfectly cooked as any duck I've ever enjoyed.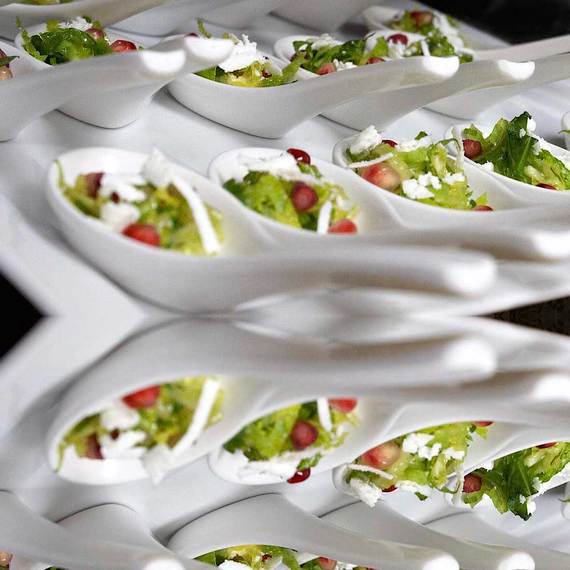 Veteran patîssière Larissa Raphael is in lockstep with Telepan's culinary style, offering up carefully modulated tradition with bright new ideas, evident in her pineapple upside-down cake ($13) with a terrific brown sugar financier and coconut ice cream, her buttermilk panna cotta ($14) with colorful rhubarb sorbet, rhubarb soup, and sesame seed tuile, and her chocolate crème brûlée ($15) with chocolate babka bites is tantalizingly rich. If you order right after you finish your main course, a ten-minute wait for freshly baked pecan madeleines is worth it. I also enjoyed the four well-selected artisanal American cheeses offered ($22).
Sommelier Sam Clifton does not just stock a well-balanced wine cellar but does so, he says, by adding a "seasonal element to better complement our food and we promote the concept of drinking and eating in season."
If Telepan is full just about every night of the week it is not simply because it gets a pre-Lincoln Center or Beacon Theater crowd but because the people who dine here truly love the restaurant and have come to know what they like and what Bill Telepan and his staff consistently provide, which is first-rate, personalized food and civility. I used to like Telepan very much, but now I love it more than ever, and think it ranks with the very best in New York.

LUNCH Wednesday to Friday; BRUNCH Saturday & Sunday; DINNER nightly