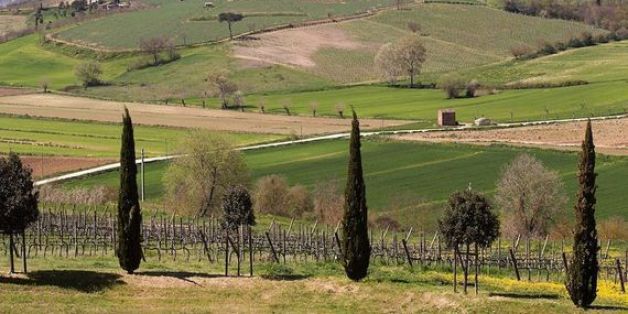 The sun, moon and stars shine over the vineyards of Avignonesi as they do everywhere else in Tuscany, but the owner and winemakers of this 495-acre estate in Valliano di Montepulciano (below) probably spend more time looking up at the sky than do their neighbors at other vineyards.
When Virginie Saverys (below) took over the ownership of the property in 2009, after years as a silent partner, she and winemakers Matteo Giustiniani and Ashleigh Seymour adopted the motto, "Terroir speaks; we listen." That in itself does not make Avignonesi distinct in Tuscany, but the estate's commitment to being certified 100 percent organic and to following the sometimes-controversial concepts of biodynamics put it in a smaller pool. "We are the stewards of the land on which we grow our vines," says Belgian-born Saverys, "In order to create the healthiest growing habitat for our grapes, we must let the vineyards imitate nature as far as possible, despite the fact that they are monocultures."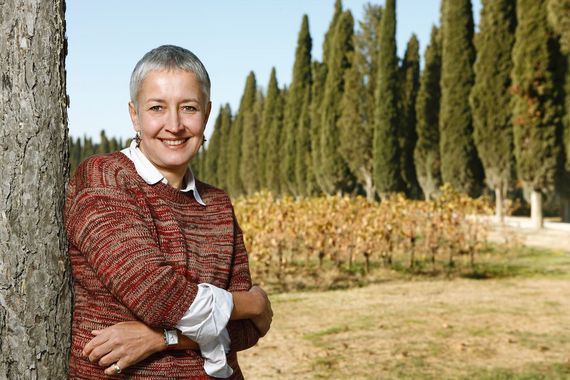 Biodynamics, first proposed by Austrian philosopher and scientist Rudolph Steiner, now includes many of the most modern approaches to winemaking, based on a philosophy that the world's ecosystem demands paying attention to the natural order, including phases of the moon and the position of the sun as they affect the climate and soil of a microclimate like Tuscan vineyards. Avignonesi's insistence that terroir speaks and the winemakers listen makes the use of synthetic fertilizers and pesticides anathema to healthy vineyards.
Avignonesi is also committed to bringing the traditional red wine called Vino Nobile di Montepulciano to greater eminence among Sangiovese grape-based Tuscan wines, while eschewing the meaningless market term "Super Tuscan." Vino Nobile di Montepulciano has long had respect among connoisseurs but like Cinderella stayed in the shadow of better promoted Tuscan wines like Brunello di Montalcino, Ornellaia, Tignanello, and Sassicaia, some made with Cabernet Sauvignon.
Avignonesi's Vino Nobiles are 100 percent Sangiovese, even though Italian wine laws allow 30 percent other grapes to be added to the wine. Belgian-born Virginie Saverys states unequivocally, "I say no! It would make life easier to add some Merlot to Sangiovese, but I accept the challenge to make ours wholly Sangiovese. The easy route is not always the good route. And now we are dealing with global warming. I have one wine at 15 percent alcohol and that is too high."
Long in love with Tuscany, Saverys has brought a formidable curriculum vitae to Avignonesi: Born in Ghent and graduated from law school in Paris, she rose to the top ranks of a law firm but decided her work was becoming too corporate. "I resigned in 2006 because I didn't want to be a policeman," she says. "I like deal making."

In buying Avignonesi, founded in 1974, she was determined to make the finest wines possible with the least intervention in the vineyards and to make the estate a kind of modern global village. "We are not interested in the past but only in the future," she says. "We have 100 different nationalities working at the winery and we have three big parties each year for everyone."
Over a dinner of spaghetti alla carbonara and lamb chops at Maialino restaurant in New York, Saverys noted that Vino Nobiles are softer and less tannic than other of Tuscany's Sangioveses. Still, she says, "I don't want to release wines that are not ready to drink. The 2011 Grand Annate won't be released until 2015. In 2011 I did not even make the Grand Annate because I did not want to over-promise and under-deliver in quality."
Avignonesi makes other wines beside Vino Nobile, including the 50/50 blend of Sangiovese and Cabernet Sauvignon called Grifi, which when originally produced in the 1960s acquired the Super Tuscan moniker. Another wine, Desiderio, is dominated by Merlot from the Cortona region and is named after the robust Chianina beef steers raised in region.
I have always found the wines of Avignonesi impressive for their richness and complexity, easily deserving a place next to better-known Tuscan rivals. Now, with Saverys and her army of 100 workers from 21 counties, the winery is poised to push Vino Nobile into the highest ranks of recognition for Italian wine.
Of this, Saverys has no doubt. "I was recently in China," she said, slightly smiling, "and the Chinese are becoming very interested in Italian wines. I met some very young, very eager Chinese who spoke excellent English and they told me there are now many wine courses in their country being given in Mandarin. So we are looking carefully for a distributor there. China will be a huge market, and I want them to taste the best Italian wines. I am patient and willing to take my time to make that happen. "