Yogi Berra once famously quipped of a restaurant, "Nobody goes there anymore. It's too crowded." Which is true of an amazing range of New York restaurants that never make the list of New York Magazine's Restaurant Power Rankings--the "most-talked-about, must-visit restaurants in New York City"--but whose dining rooms are fully booked every day and night they're open.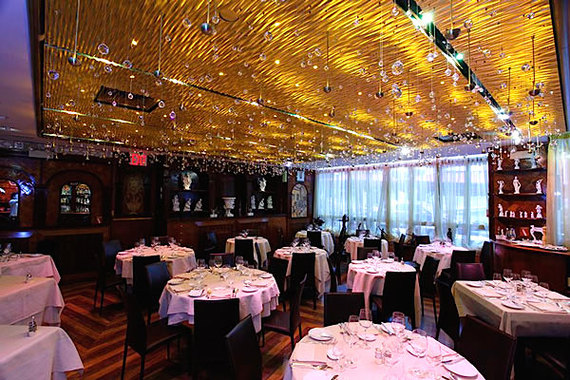 Two veteran Italian restaurants easily fall into this category of places that have a fiercely loyal clientele and whose reputations bring scores of pre-theater and post-theater visitors. Both are beautiful restaurants of high style, the tables draped in good linens, the wine glasses thin, the service staff pleasingly dressed. The dedicated owners never take a single guest for granted.
San Pietro, just off Fifth Avenue in Midtown, has for 22 years been running as smoothly as an autostrada, despite never having had a review by the NY Times. Yet owner Gerardo Bruno does not have time to complain, because he is hard at work at his ristorante every day, lunch and dinner, catering to a crowd of business people and those in the arts and fashion industry, who come here for classic Italian cooking, especially that of the Amalfi coast, whence Mr. Bruno comes.
You are received by a lovely hostess, behind whom stands the impeccably dressed Mr. Bruno, who smiles with surprise, whether it's someone who dines there three times a week or comes for the first time. On the table inside the door are arrayed the freshly arrived white truffles, the size of tennis balls, and bottles of wines he recommends. Most of his clientele ask his advice.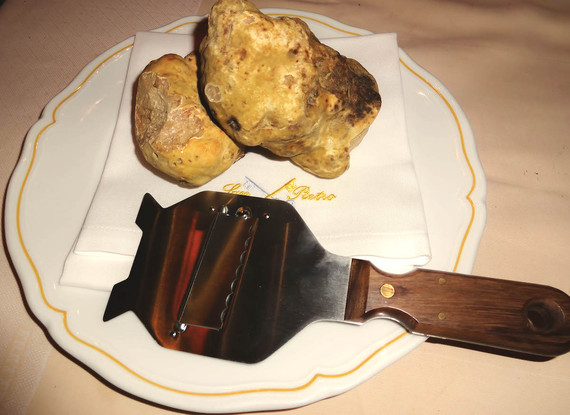 White-jacketed waiters bring bread and olive oil to the table the moment you sit down, and, after taking your cocktail order, Mr. Bruno or a captain will explain the night's specials, which always number about half a dozen, geared to the season and the market. On my recent visit, when my wife and I just wanted a night out alone, we put ourselves in Mr. Bruno's hands--actually everyone calls him Gerardo--and were rewarded with sumptuous food of the moment.
We began with a variation on beef carpaccio, with paper-thin slices of filet mignon quickly warmed under herbed sea salt and served with arugula, fresh porcini mushrooms and parmigiano ($32). An "autumn salad" was artfully composed of white and red radicchio, puntarelle greens, juicy ripe pear, and shaved parmigiano, dressed with very fine olive oil. Then came a morsel of crispy potato and zucchini flowers oozing melted Taleggio cheese.
Those fragrant white truffles were put to glorious use over fresh egg-rich tagliolini (market price)--the aroma carries across the room--while a heartier pasta was al dente rigatoni with tomato, mushrooms and veal ragù ($30).
Our entrees were a hefty grilled Prime rib-eye steak with watercress and shaved parmigiano ($58), and the crispiest roasted baby pork I've ever had--its skin almost like bacon--with herbs, crushed peppercorns, lemon and orange scent, served with broccoli di rape and spicy cherry peppers ($48).
Obviously, we were full, but San Pietro makes splendid desserts, and the soft chocolate torta is outstanding.
The huge wine list changes all the time, for Gerardo is always on the look-out for delectable new estate bottlings (his family also runs the first-rate San Pietro Wines & Spirits in Tuckahoe, NY). Of course, all of the big-gun labels are on there, too.

San Pietro is at 18 East 54th Street; 212-753-9015; It is open for lunch and dinner Mon.-Sat.
Circo opened on West 55th Street near the Hilton Hotel and Ziegfeld Theater 18 years ago, and the Maccioni family has always kept it true to their Tuscan roots. Indeed, many of the recipes are from the materfamilias, Egidiana, who casts a withering glance on any waiter or cook who has compromised her food, putting her trust in executive chef Alfio Longo, who hails from Pistoia.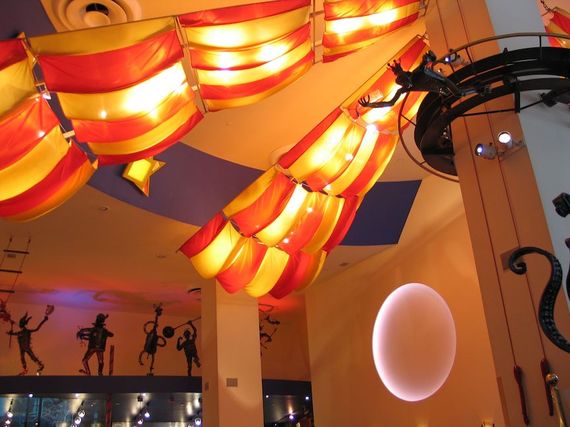 (The Maccionis also run the illustrious Le Cirque and the new Sirio Ristorante in NYC, as well as others around the world, with a brand new Circo in Abu Dhabi.)
Up front stands one of the city's finest maȋtre d's, Bruno Dussin, a Venetian every bit the grand seigneur with half century of experience, obvious from his dress, his demeanor and his wit. On most nights there is another of the Maccionis on hand--Marco, Mauro, Mario, Egidiana (below), perhaps even the patriarch, Sirio--to seal that extra sense of professionalism that is definitively both very Italian and very New York.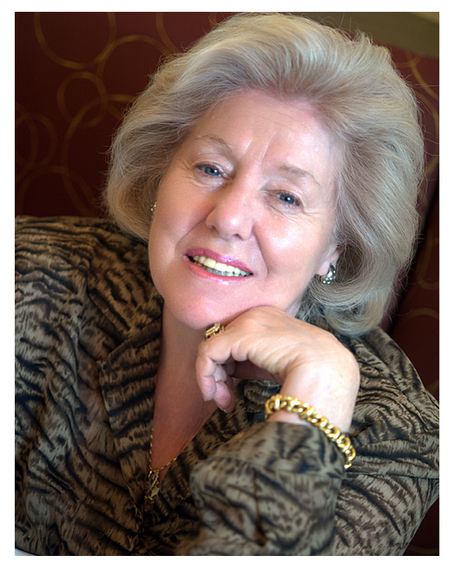 The high-ceiling décor by Adam Tihany is themed to an Italian circus, with animal sculptures cavorting along with commedia dell'arte figures on circus tent motifs and rope ladders, with a spotlight on one wall.
Circo's menu is larger than what one usually thinks of in a trattoria, but all of it expresses the Maccionis' love and flair for cucina rustica, beginning with La Signora's thirty-vegetable soup ($11), on the menu since the beginning. The buffalo mozzarella is the finest imported variety available, the prosciutto from Tuscany.
The fried mixed seafood with zucchini, eggplant, lush marinara sauce, spicy aïoli and aromatic herbs ($19) is textbook perfect, but my favorite autumn dish is the soufflé of porcini mushrooms with a rich parmigiano fondue and truffles ($23).
There are five pizzas on the menu, which seems a bit odd in a Tuscan restaurant, but they are good, the crust on the thin side.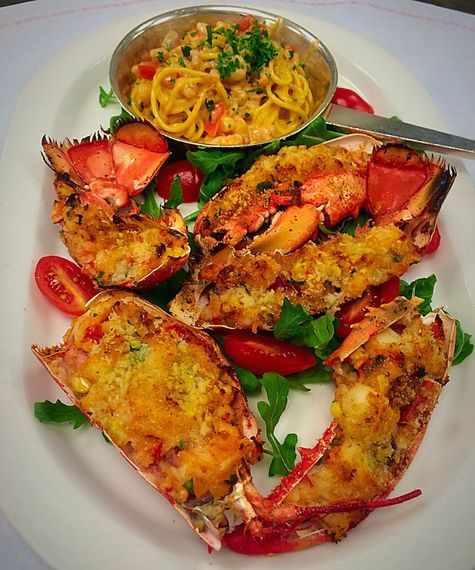 Pastas will always be the glory of Italian cuisine, and Circo's show the enormous care the kitchen takes to marry texture and flavor in every forkful. "Ravioli di Mamma Egi" are filled with bufala ricotta and spinach, then glossed with good butter and fresh sage ($23). Right now and through New Year's, there is tortelli with butternut squash, mustard fruit, saba wine reduction, sage and a crumble of amaretti cookies ($26). The tagliatelle verde alla bolognese ($26) is one of the most authentic in the city, while the risotto with radicchio and Taleggio cooked slowly in amarone red wine ($26) is outstanding. By the way, you may order two pastas, as a main course, for $32.
You won't find more lustrous, succulent Mediterranean sea bass in salt crust or with grilled, roasted vegetables ($37) than here, and the stuffed lobster "Riviera" style (above) with tagliolini carbonara ($44) is as sumptuous a dish as any on the menu. They also do a true cacciucco alla Livornese, a Tuscan fish soup of prawns, calamari, octopus, monkfish, clams and mussels ($34). It's one of the few Italian restaurants in America where I happily order the seafood.
Among my favorite current main courses are the braised cheeks of Colorado-raised wagyu beef with a pumpkin puree, chestnuts, Tuscan kale and a chianti classico sauce ($32). You'll come no closer in Manhattan to the classic bistecca alla fiorentina ($43 per person) than the thick, quickly seared example at Circo, sliced in slabs, gorgeously rare inside.
David Gomez's desserts stay fairly simple--an excellent tiramisù and a very fine, sweet and tangy apple tart with fior di latte gelato. The Tuscan bomboloni donuts with marmalade are a very good item to share at meal's end with a well-made espresso.
The 400-label wine list is one of the best in the city for Italian bottlings, and there are plenty of wines under $50.
Circo is at 120 West 55th Street; 212-265-3636, and is open Mon.-Fri. for lunch, nightly for dinner. The fixed price lunch is $28, at dinner $48. $42 pre-theater