The title of this article may be a bit inaccurate, especially if your relatives were immigrants from this southern region of Italy extending from Campania to the Adriatic and down Italy's heel. There are certainly millennia of history to attest to Apulia's importance to Italy, dating to when the Romans used the ports of Brindisi and Taranto as major trade cities to the Middle East.
Still, even frequent visitors to Italy rarely put Apulia -- Puglia in Italian -- on their itinerary, and it remains one of the country's poorest provinces, still largely dependent on an agricultural economy, though with increasing industrialization in steel, furniture, and tech software.
Apulia is, like most of Italy, a very beautiful province, with an array of small cities -- hill towns, seaside villages, major ports -- that differ from one another in remarkable ways, the result of a thousand years of foreign occupation, including by the Hohenstauffen emperor Frederick II, who built castles throughout the area. Baroque architecture in Italy is nowhere more exuberant than in Apulia, and the cuisine, which resembles that of the other southern provinces like Campania, Basilicata, Abruzzo and Molise, has its own distinctive elements that make the inexpensive trattorias in small and large towns very inviting indeed.
I visited the area this spring, driving both on well-paved autostrade, narrow roads, and a good number of country roads, one of which, in the town of Fassano, led us to a remarkable resort called Borgo Egnazia. Our rented car's GPS seemed frustrated by the exact location of the resort, but, after rumbling down a long and very bumpy road that seemed more rocks than dirt, we saw the Borgo in the distance, almost like a mirage of an Italian Xanadu, spread out across the dry land.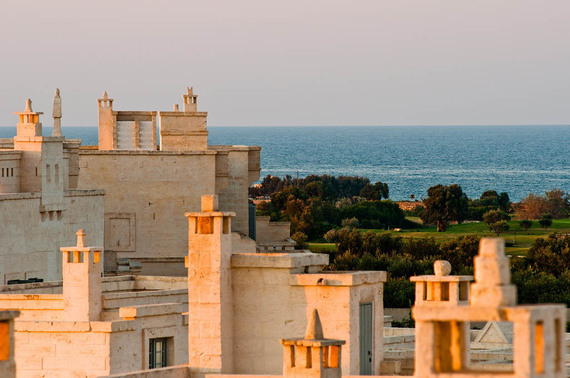 Opened only two years ago by the Melpignano hotel group, the low-lying resort was modeled by Apulian architect Pino Brescia to look centuries old; its beige-colored Ostuni stone appears medieval, even Moorish. Yet, inside, everything about the 167-room resort is as modern as any in Italy, including a shimmering spa, marble bathrooms, LCD televisions, WiFi and Bluetooth, a 27-meter pool and furnishings throughout all ecologically tied to the land around the resort. There is a very serious commitment to sustainability in every fiber, stone and tile, most of it locally sourced.
There are three styles of rooms, including 29 villas -- all with colorful Italian names like Casetta Splendida, Casetta Magnifica, and Casetta Bella. One style is found in the large main building called Il Corte, another in the smaller Il Borgo, and another in an enchanting village called Le Ville, which is best for long stays, especially with families. (There is a children's program that includes a Cooking School at the Borgo). Tennis and golf are also available.
The resort garnered a great deal of publicity in 2012 when Justin Timberlake married Jessica Biel here and took over the entire place for the wedding and reception. When I visited in April, the resort was largely occupied by Porsche, which was introducing a new car model to the media, who were encouraged to tear around Apulia for several days on every type of road surface.
There are also two restaurants here; the smaller, called La Frasca, is a veritable country trattoria in the village, very casual with a simple Puglian menu to match. The larger dining room (below), where breakfast, lunch and dinner are served, is brightened during the day by the Apulian sun, especially on the patio; during the evenings, the room turns into a romantic, shadowy, candlelighted space with white tablecloths, vases of local flora, and a glowing fireplace set into a column. The service is impeccable (English is spoken by just about everyone on the staff) and the cuisine proudly derives from the ingredients from the Valley of Itria and the bounty of the Eastern Mediterranean.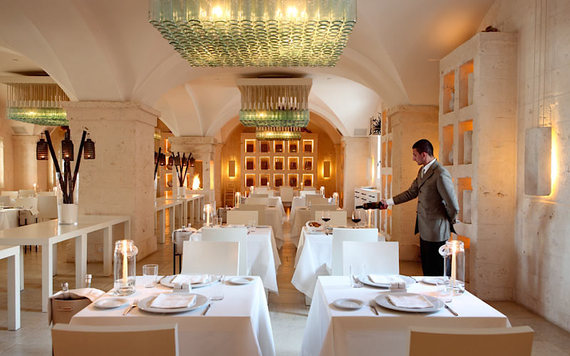 With friends, we dined all over the menu, not surprised that it offered Italian sushi -- crudi -- selected each day from what's freshest in the nearby markets. The signature pasta of Apulia is the ear-shaped macaroni called orecchiette, which we had with turnip tops and fried breadcrumbs, precisely the kind of dish that would once have been considered fit for peasants, now raised by refinement and the recognition of its basic goodness to fine dining. Cavatelli with sweet little mussels, peppers and chickpeas had a similar pedigree. Also reflecting the farmland location, there was a delicious whole-wheat pasta with cherry tomatoes and fresh ricotta cheese, and a risotto was made with the season's finest asparagus, wonderfully accompanied with beef tartare and a red wine cooked down into a rich, dark sauce.
Though dominated by seafood, the menu also features local meats, as in a dish of stewed lamb with apples and the scent of rosemary, and veal cheeks with beets and saffron-flavored shallots.
Desserts are more colorfully presented than in most restaurants in Italy, with some superb gelati and sorbetti, a first-rate tiramisù and even an unexpected hazelnut brownie with a cream mousse and pear sorbet.
The Borgo is well within easy driving distance of large Apulian cities like Bari and Brindisi, and the nearby town of Savelletri is a charming maritime community. Here we ate at an appropriately named seafood trattoria called Osteria del Porto, run by an ebullient redhead named Maria Di Bari. The nautical décor and blue-and-white colors mirror the trattoria's location on the sea, and dining al fresco is a wonderful option.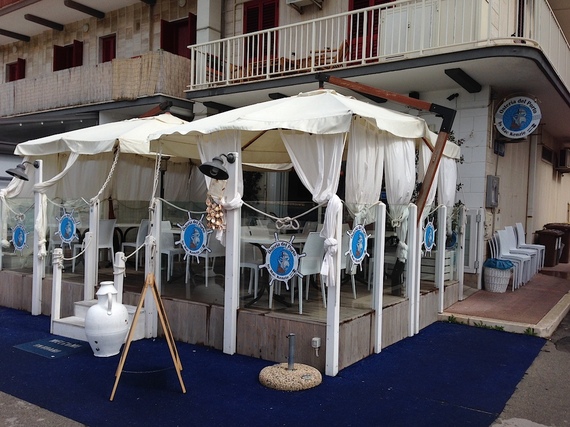 The menu's seafood comes direct from the market and fishing boats, so the shellfish wriggle in their wooden crates, and Maria brings around the day's catch for you to choose from. Take her advice on everything, including wine, and you really won't even need to pick up the menu.
We had linguine con vongole (below, those tender little clams in their shells tossed with the pasta, plenty of garlic, and green-gold olive oil. We had grilled orata and big gambas shrimp, both impeccably cooked and glossed with nothing more than olive oil and lemon, and we finished off with espresso and the last of the wine, lingering later than we'd expected, content to watch the clouds move slowly across the quiet blue sea as the sun slowly arced downward to meet it.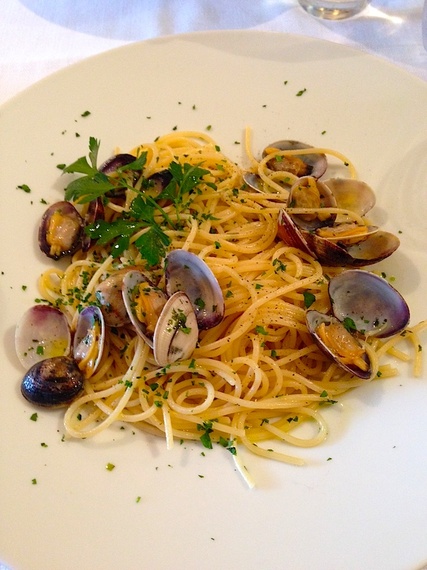 Part two of this article will appear in coming weeks.