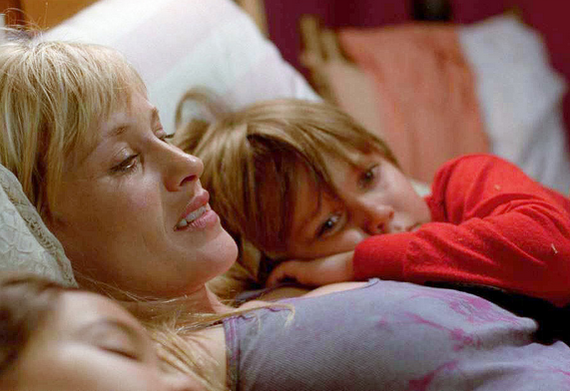 Boyhood, Richard Linklater's new movie, is beautiful and profound. One of the nicest things about it, as a tone poem of growing up, is that nothing dramatic really happens. It's just life as usual, with the same usual suspects, divorced mom and dad, a few alcoholics sprinkled in for drama, and then life -- the long haul, long view of life.
It's really cool that both the dad (Ethan Hawke) and mom (Patricia Arquette) are lovable characters, just trying to do their best as parents of two growing kids. Both parents are doing their best at showing up, and at getting on with their own lives. Not since Alice Doesn't Live Here Anymore  have we had a more romantic vision of the single mom doing her best to get by. And Arquette does a fantastic job at showing the struggles and epiphanies of the single mom.
For me, the poem was a love letter to this single mom. Sure, the son is the "boy" of Boyhood, but the mom is the anchor who holds things together. She's the one to tries to make a better life for her brood, even when the father has exited the scene. That's what moms do. I get it.
And Linklater does a great job at showing us the grit of divorced life. There are so many scenes in our kids lives now, that we miss completely. There are celebrations we will never see, because our kids are with the other parent. It's okay, we survive.
Divorce is a typical part of our landscape these days. I assume that the successful marriage, launching two kids off to college is more rare than the divorced melange we see in Boyhood.
We get a view into the secret lives of these kids as they make their way through growing up. Linklater gives us front row center seats for the awkwardness of growing up. And he gives us the feeling again, of what it was like.
Hat's off to Linklater and his Boyhood movie. And to the cast who did the wonderful screenplay justice. I'm a bit closer to my ex-wife now, having seen a glimpse into her life. I know we're both doing the best we can. And Boyhood celebrates that triumph both alone and together.
Always Love,
John McElhenney
@wholeparent
I welcome your comments and suggestions here on HuffPo.
And your participation via Facebook and Twitter.
image: Patricia Arquette in Boyhood, promotional still, creative commons usage