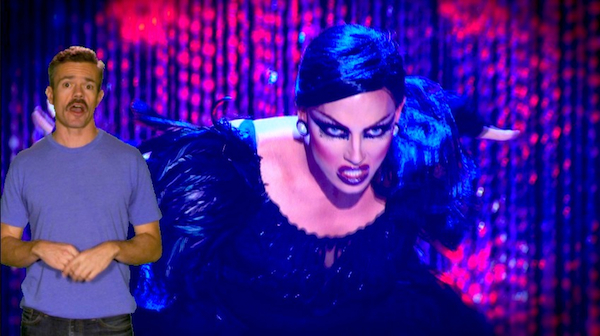 I discover that once you go "Black Swan," you never go back.
This week it was murder on the dance floor as the queens from RuPaul's Drag Race traded pumps for ballet flats! It was a lot like Fame meets The Turning Point meets So You Think You Can Prance? and along the way we saw a twist in the ever-ambling Coco-Montrese-vs.-Alyssa-Edwards drama, a queen shut down for favoring caftans, Roxxxy Andrews becoming sort of the tough-gal Rizzo of all the Drag Race Pink Ladyboys, and one of the most dramatically dishy eliminations in Drag Race herstory!
But we also got visits from totally adorable choregraphers Travis Wall and Nick Lazzarini from All the Right Moves (they helped coach and choreograph the queens) and pop-culture royalty and Dancing With the Stars alum Chaz Bono, and as part of an epic drag ballet telling the story of Ru's life, there were about 9,206 RuPauls onstage at one point! And they were en pointe!
Have a look and see what you think! I'll just be chillin' with an Absolut crunkberry in my afro wig and tutu, thanks! (SPOILER ALERT: If you haven't seen the episode yet, do the electric slide over to LogoTV.com and get schooled.)
WATCH:
For more inside dirt on Drag Race and all other manner of reality TV and pop culture delirium, visit the WoW Report, coming your way from the productive folks at World of Wonder.