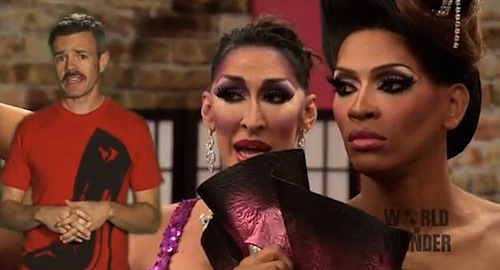 Extra Lap Recap's John Polly, taking you inside the draggery!
Attention, fans of RuPaul's Drag Race: After reeling from the wet-and-wild glamor and dumpster couture from last week's sassy premiere episode of RuPaul's Drag Race Season 5, "Welcome to RuPaullywood," it's time to kick off a new batch of recaps!
Every week I'll be prancing in front of the green screen in the historic World of Wonder basement to whip up a new installment of frantic Ru-cappery, chopping up the draggedy antics and trying to make sense of it all!
This week Monica Beverly Hillz is living her truth with a big revelation. Coco Montrese schools the children, Lineysha Sparx channels "America's Sweetheart" (the other Tyra), Serena Cha Cha loses her mind and Juliette Lewis and Kristen Johnston stomp all over the judges table.
Yes, there will be SPOILERS, so if you haven't watched yet, consider yourself warned -- or just get thee to LogoTV.com and catch up. Then share!
For more inside dirt on Drag Race and all other manner of reality TV and pop culture delirium, visit the WoW Report, coming your way from the productive folks at World of Wonder.