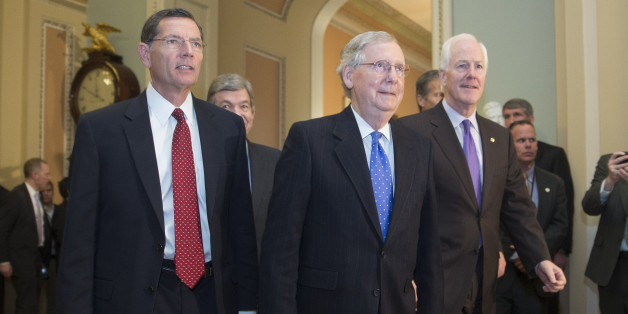 What do a 25-year-old woman in Dhaka, Bangladesh and an 18-year-old woman in Niamey, Niger have in common? Their lives could be threatened by destructive measures passed by the new GOP-controlled Congress.
For the nearly quarter-billion women around the world who would like to prevent or delay pregnancy but don't have access to affordable and appropriate birth control, expanding international family planning assistance is crucial. For thousands of women worldwide whose pregnancies would be fatal if it were not for access to contraceptives, it is a literal lifesaver.
Yet, a slew of Republicans in Congress -- freed from the knowledge that a Senate controlled by Democrats would surely block their most extreme measures -- remain committed to efforts to drain U.S. aid from international family planning programs. It's something they've been attempting to do for decades, and it's unlikely they'll stop now.
If they succeed, the repercussions will be devastating.
Already, an estimated 289,000 women around the globe die every year of pregnancy-related causes and millions more suffer serious injuries even though most of these deaths and injuries are preventable. Universal access to contraceptives could avert nearly one-third of all maternal deaths and a significant proportion of infant deaths.
Which is why the United States should be increasing, not decreasing, its current investment of $610 million in funding to international family planning programs. In fact, to make a significant and long-lasting impact, U.S. funding in this arena should be at least $1 billion.
One of the main targets for members of Congress wanting to slash aid to international family planning is the United Nations Population Fund (UNFPA), an agency that provides women in 155 countries around the globe with critical reproductive and maternal health services.
Although the U.S. government helped to create UNFPA in 1969 and was a top contributor for many decades, support is dependent upon who is serving in the White House and in Congress. Funding to the agency has been halted several times in the past, and it could very well be halted again.
The re-implementation of the Global Gag Rule is yet another way this Congress could attempt to hinder international family planning programs.
When in place, this dangerous policy forces organizations receiving aid from the United States to make a difficult decision: They can accept funding but censor the programs they've developed to eliminate any discussion of abortion, even when it is needed to save a woman's life. Or, they can refuse to comply and lose funding, at the risk of going bankrupt and being forced to shutter their doors.
And although President Obama rescinded the policy in 2009, it seems likely that gung-ho Republicans in the Senate and the House will push hard for its reinstatement.
But despite the serious threats posed by this new Congress to women around the world, there's still some light at the end of the tunnel.
For one, the President doesn't need congressional approval to reinterpret the Helms Amendment. Since 1973, it has severely limited the circumstances in which it is permitted to use U.S. funds for abortion care overseas. The law says that U.S. foreign aid cannot be used to provide "abortion as a method of family planning." Yet, it has been enforced as a total ban on funding of abortion under any circumstance -- including for women who are victims of rape or whose lives are threatened by carrying a pregnancy to term.
The entire Helms Amendment should be repealed. It's an outdated relic of U.S. domestic abortion politics that has undermined reproductive health care for some 40 years already. But given the current political situation in Congress, repeal is currently off the table. For now, the President should act to clarify that the law allows aid to be used to provide safe abortion to women in the situations above.
And while the Senate has lost some of its fiercest reproductive health champions (namely, Kay Hagan and Mark Udall), it still contains individuals, like Jeanne Shaheen, who are not afraid to confront special interest groups and politicians attempting to deprive women of their rights.
The GOP and its heap of anti-woman members may have won control of Congress, but it has not won the battle for public opinion. That was made clear during the midterm elections, as voters across the United States rejected the very extremist attacks on reproductive health (i.e. "personhood" bills that give equal rights to fetuses) that many of the new senators have long championed.
So as we continue to renounce these offenses at home in the United States, let's not forget the millions of vulnerable women overseas in countries like Bangladesh and Niger whose lives may depend on services provided by international family planning programs.
We must hold our representatives in Congress accountable for destructive measures that will act as a death sentence for women abroad.