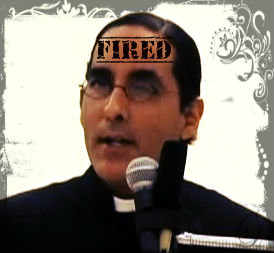 As you may have heard, Marcel Guarnizo, the priest who denied Barbara Johnson communion at her mother's funeral, has been barred from ministry.
Yay! Justice is served! Whoo-hoo!
The announcement letter from the Washington archdiocese said that Guarnizo was placed on leave for "engaging in intimidating behavior toward parish staff and others that is incompatible with proper priestly ministry."
Yay! Whoo ... wait.
Toward parish staff?
Really? He was rude to his co-workers? Barbara Johnson, and the 150 or so mourners at her mother's funeral -- not to mention the spirit of Barbara's mother -- have been relegated to "and others"?
It's like the archdiocese has done the right thing for the right reason. But different.
"We have seized and locked up Dracula," authorities announced today. "No longer will that dastardly denizen of darknes be free to hideously stain perfectly good evening gowns."
Just lacks that certain ... ring of sanity we all look for when seeking restitution, doesn't it?
According to Johnson, Fr. Thomas LaHood of St. John Neumann's, where Guarnizo used to work and where the Johnson funeral was held, repeatedly stated in his homily this past weekend that Guarnizo's suspension was unrelated to the Johnson affair.
"Blood-sucking? What blood-sucking? Dracula was arrested for refusing to pay his orthodontist's bill."
Meanwhile, over on the Archdiocese of Washington's webpage, a wide variety of headlines and stories are on display. They change so quickly it's impossible to finish reading one before another has been rotated in to replace it.