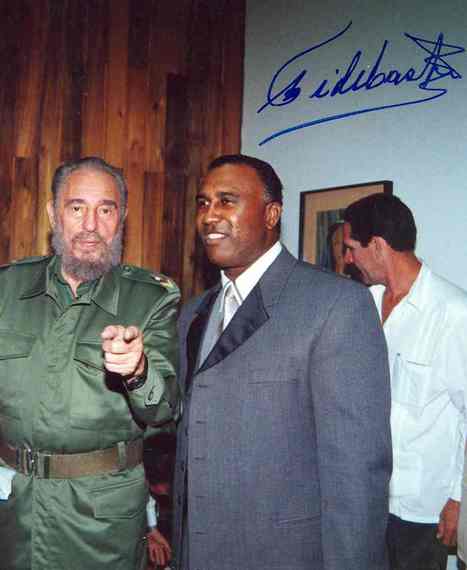 Once again President Barack Obama has stepped up and boldly done what previous presidents could not or would not do. And for the historic breakthrough on defrosting our relations with Cuba, his timing could not be better
This president has pulled off another jaw-dropping feat in his surprise announcement that his administration has torn down the raggedy remnant of iron curtain that isolated Cuba for half a century. Yes, his critics are many, and they are furious, making this brave move all the more triumphant.
Many of us have paid dearly for the price of keeping the Cold War alive on an island just 90 minutes off the Florida shore. Meanwhile the worn out label of "Communism" has lost all relevant meaning in the world. I know this firsthand.
Over the past 15 years I have led trade missions to Cuba with members of my organization, the National Black Farmers Association. I was able to secure three meetings with then President Fidel Castro. After numerous attempts Castro signed a $20 million contract with us to supply small grains to his country.
Castro had never before signed a deal with an ethnic group to supply food to Cubans. And it was not an easy deal to pull off. We even endured his legendary long-windedness, at one point getting down to business about the NBFA contract at midnight. See here.
Our accomplishment didn't last. After one shipment the George W. Bush administration revoked our shipping license, abruptly ending the business deal. Under ordinary circumstances, politics could have been put aside for the good of commerce and human welfare. We found the Cuban people are warm and, just like people anywhere, wanting to prosper. But the embargo that was kept alive by bitter memories for over 50 years hurt the Cubans and a lot of Americans.
President Obama is the first U.S. president to move forward with significant diplomatic action. He declared this week:
We are recognizing the struggle and sacrifice of the Cuban people, both in the U.S. and in Cuba and ending an outdated approach that has failed to advance U.S. interests for decades. In doing so, we will begin to normalize relations between our two countries.
Republicans and other critics have long laughed and called him names. But he has turned out to be like the dissed reindeer with the shiny red nose when it was time to make monumental decisions such as on health care law, getting bin Laden, sitting down with China and Immigration Reform. And now he has quietly begun to end a frayed and foolish old grudge against Cuba (with Fidel still alive, no less). He is the right leader with the right vision for this moment.
President Obama stepped out on his vision and made the right decision to move forward with change others couldn't even imagine -- and to face down his critics. These policy changes will surely open doors for the NBFA and many other Americans wanting to revisit trade opportunities with the Cuban government. And they will begin to heal old wounds.

To those of us who are old enough to remember, Cuba has always been like a ghost neighbor, untouchable and distant as long as the Castro regime lasted. Time has run its course with old political excuses. It's a new day, with a brave smart man in the White House.
For this, Mr. President, and many other achievements, we know you'll go down in history --standing tall.
Happy holidays!