L.A. street artist Teachr brought his "A" game to his first solo art show, appropriately set at Fairfax High School on Melrose, with a percentage of sales going toward helping the school. Know for his stenciled portraits on traffic light cabinets around Hollywood, Teachr has amassed a following of art lovers and mainstream fans alike. His mantra "TEACH PEACE" usually accompanies his famous visages, as part of his personal mission to spread awareness through art and promote positivity. The show runs Friday evening, June 3rd, and Saturday, June 4th, from 11-8 p.m.
The art exhibit takes over the rotunda building on the campus of Fairfax High School and spills out into the courtyard, where the massive monopoly board Teachr created for the film PAY 2 PLAY spreads out 45 feet on each side. There is an oversized traffic box with a hole cut into it so visitors can take their picture posing inside, and many did. The box is adorned in spray paint, posters, and stickers from Teachr's street artist contemporaries, a who's who which attests to Teachr's high regard within the street art community. Teachr, who actually does teach art, believes that creative exercises like painting can open up youths who are still looking for validation, a means to express themselves, or an enriching outlet.
In fact, this show is a prototype for the types of art events Teachr would like to do at other schools, incorporating students' art with his show to elevate high school students' artistic pursuits. "This is a model event, basically," Teachr explained. "It's the idea of a professional artist going into a high school, doing collaborations with a senior art class, putting them in a show at the school, with 50% going to the school. It helps the school out, it helps the students at that school out, and it's a real-life professional experience for them, everybody wins." A few students from Fairfax High were included in the show.
Teachr took over the rotunda building and spread his art out over a couple of floors, with tables of merchandise and sculptures.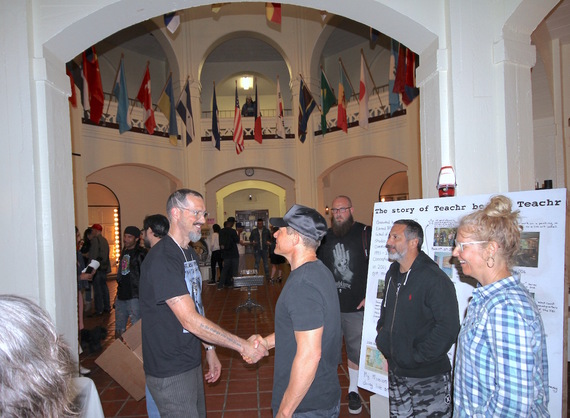 The massive monopoly board made by Teachr, seen in the film PAY 2 PLAY, was laid out for attendees to walk over. This board was originally unveiled at the MayDay Parade in Downtown L.A. in 2012, and since has traveled the country to be laid out in front of the New York Stock Exchange, the U.S. Capitol, at SXSW, and elsewhere.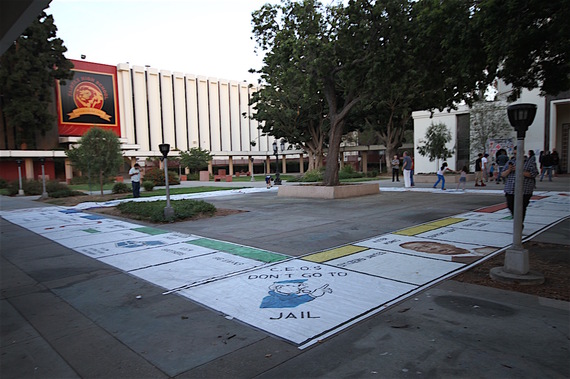 Teachr poses with his son inside his colorful traffic light cabinet replica.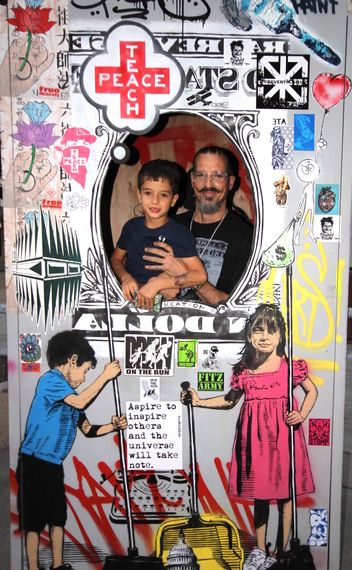 Teachr is an accomplished portraitist whose works have hung in the Pentagon.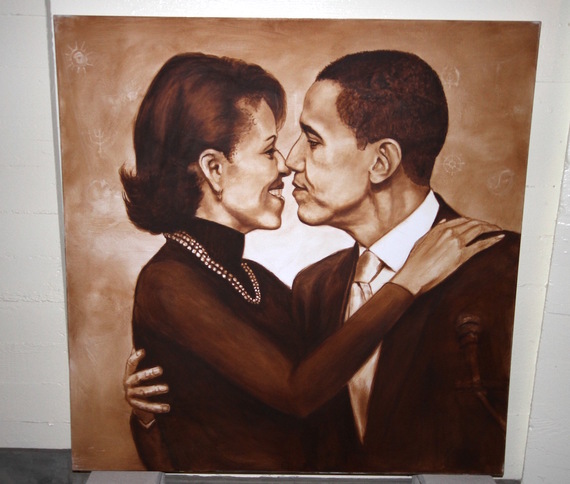 Already known for his "Education Dollar" campaigns on the street, Teachr should be considered for designing the Harriet Tubman dollar, and here is proof:
Teachr's muse of late has been Doug Hughes, a former U.S. Postal worker known for landing a gyrocopter at the U.S. Capitol to deliver messages to Congress about campaign finance reform. Teachr has made overturning the Citizens United vs F.E.C. decision a central theme to his art.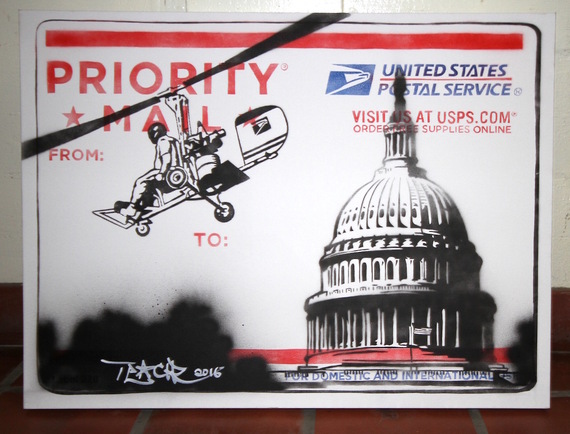 For all of his subjects that say "Teach Peace," perhaps none is more apt than the Dalai Lama.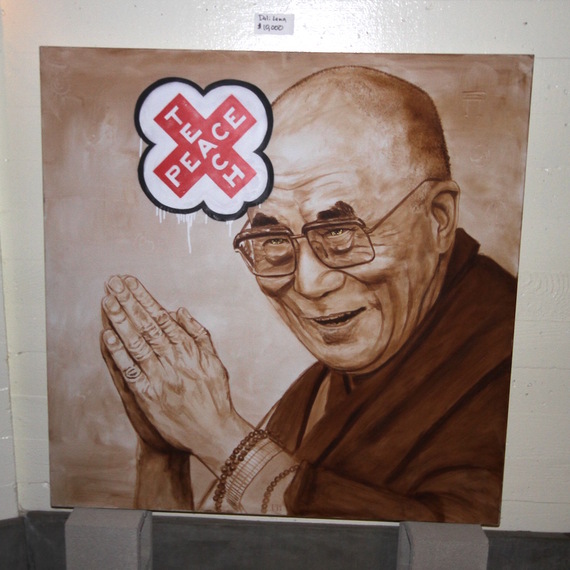 Sculptures and painted street signs line the rotunda floors.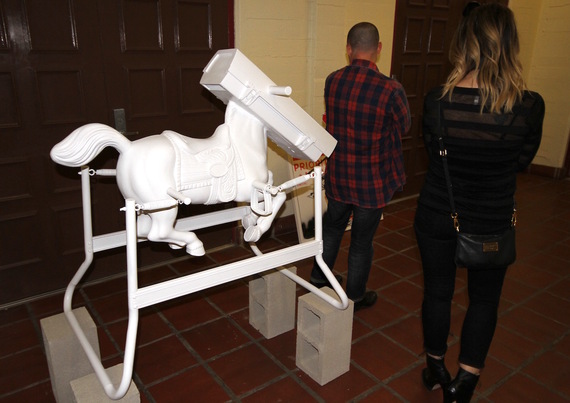 For all the fine art for sale, there are also smaller collectibles for street art fans.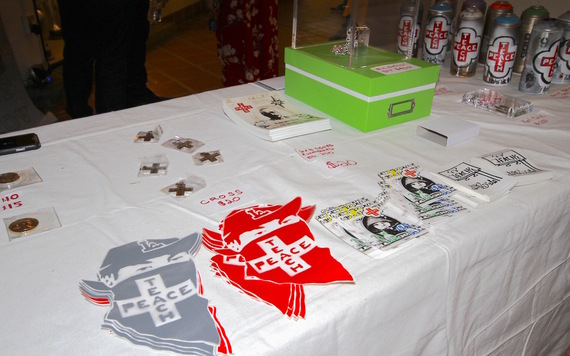 Teachr put on a live stencil demo for the crowd.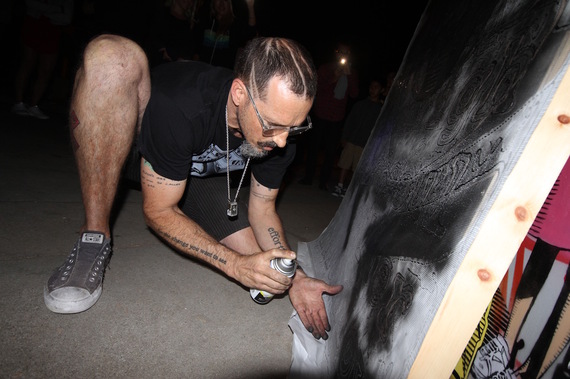 Teachr developed his own stencil technique which he has used to make large, detailed portraits.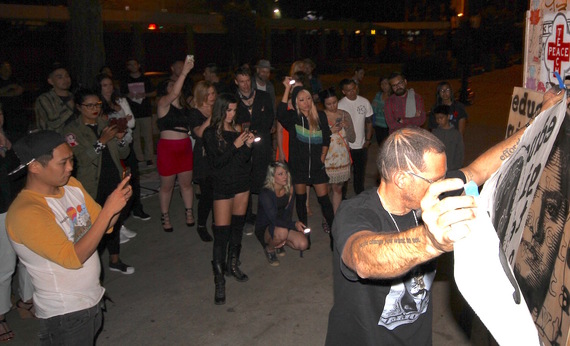 The crowd applauded the unveiling of this stenciled portrait of Malala.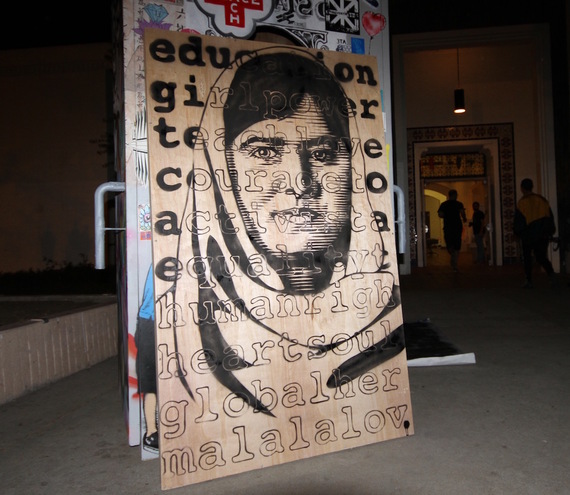 Teachr is featured in the new book by John Wellington Ennis, Where Else But The Streets: A Street Art Dossier, along with Shepard Fairey, Banksy, Mr. Brainwash, Alec Monopoly, Free Humanity, Lydia Emily, Plastic Jesus, Morley, and others.