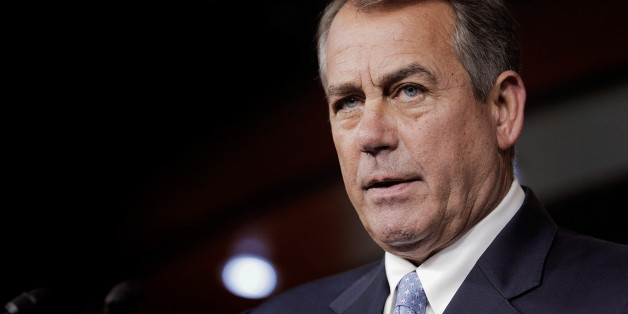 While you ponder whether to join John Boehner's lawsuit, take our Week to Week news quiz to see who else is mad at the week's newsmakers.
Here are some random but real hints: Back to the deal that started it all; he was more diplomatic than his diplomat; protecting yourself against the news; and the NSA already has all your info anyway.
1. To what did Ukraine agree this week?
a. Send troops to retake the Crimea
b. A partnership agreement with the European Union
c. Membership in the Moscow-led Eurasian Economic Union
d. WIthdrawal from the FIFA Economic Federation
2. What anniversary did lawyers Ted Olson and David Boies celebrate Thursday in San Francisco?
a. Their successful defense of Citizens United in the Supreme Court three years ago
b. The $13 billion IPO of their company, UberLawhoo
c. The U.S. Supreme Court's ruling on DOMA and Prop 8, which they argued before the court
d. Their filing of a lawsuit against the president
3. Why did Poland's president have to reassure the United States that the two countries remained "very important" allies?
a. The Polish parliament voted to pull out of NATO
b. Poland's foreign minister was secretly recorded calling the alliance worthless and even harmful because it created a false sense of security
c. Poland has agreed to join the Russia-led Eurasian Economic Union
d. A Polish news magazine had quoted him in an off-the-record conversation calling the United States too "fat and lazy" to come to Poland's aid
4. How did Iraqi Prime Minister Nouri Maliki respond to President Obama's call for him to form a national unity cabinet?
a. My cabinet is already a unity cabinet
b. No, thanks
c. I will form such a cabinet only after my opponents are in jail
d. President Obama should try a unity cabinet with Republicans
5. After a long competition, where did filmmaker George Lucas decide to locate his self-funded museum?
a. San Francisco
b. Los Angeles
c. Tokyo
d. Chicago
6. Whom did an Egyptian court sentence to 7-10 years in prison on charges of aiding the Muslim Brotherhood?
a. Ousted President Hosni Mubarak
b. Ousted President Mohamed Morsi
c. Tawadros II, primate of the Coptic Christian Church in Egypt
d. Four Al Jazeera journalists
7. Why does House Speaker John Boehner plan to sue President Obama?
a. He objects to the president's use of executive power
b. He wants the courts to rule that ObamaCare is unconstitutional
c. He wants the court to force Obama to dispatch more troops to Iraq
d. He blames Obama for the rising poverty rate
8. What did the U.S. Supreme Court rule unanimously regarding mobile phones?
a. Police may not search the mobile phones of suspects without a warrant
b. All information stored on a mobile phone is legally considered the property of the National Security Agency
c. No one has a right to information privacy on their mobile phones
d. Making a phone call from the bathroom is unconstitutional
9. Former Senator Howard Baker died at age 88. Which one of the following is not true?
a. He famously asked during the Watergate crisis, "What did the president know and when did he know it?"
b. He also served as President Ronald Reagan's chief of staff
c. He vowed to destroy President Clinton's presidency
d. Baker married another former GOP U.S. Senator, Nancy Kassebaum
10. Why wasn't the United States sad about losing to Germany in the final game of the group stage?
a. They were tired of playing and were happy to go home
b. The U.S. team's coach and five players are German and will now get to join the German squad
c. Despite the loss, they still advance to the knockout round because of Portugal's victory over Ghana
d. It's soccer
BONUS. What did President Obama mock as a "stunt"?
a. Speaker Boehner's lawsuit against him
b. The U.S. men's soccer team's game against Germany
c. George Lucas choosing the president's hometown for his new museum
d. Poland's president stressing the importance of its ties to the United States
Want the live news quiz experience? Join us Monday, June 30 in San Francisco for our next live Week to Week political roundtable with a news quiz and a social hour at The Commonwealth Club. Panelists include Huffington Post's Mollie Reilly, KPIX's Melissa Griffin Caen, and Bay Area News Group and Oakland Voice's Martin G. Reynolds.
ANSWERS: 1) b. 2) c. 3) b. 4) b. 5) d. 6) d. 7) a. 8) a. 9) c. 10) c. BONUS) a.
Explanations of the hints: Back to the deal that started it all: the Ukrainian uprising that brought the current president to power began when his predecessor rejected the same agreement with the EU; he was more diplomatic than his diplomat: his foreign minister was caught being rather undiplomatic in a private conversation; protecting yourself against the news: Al Jazeera was not welcomed for its reporting in Egypt; and the NSA already has all your info anyway: sure, the police can't grab your phone without a warrant, but that doesn't mean its contents are legally sacrosanct.