It's remarkable that telling a story, one of the things that people everywhere do most naturally, can be one of the most challenging to do well. That's probably the reason why, after dominating the world of concert dance for centuries, it's not really that common any more. Even in ballet, and still less in dance's many other forms, modern choreography doesn't often try to bring an audience through an actual story, telling them about what happened and how it happened, and most of all, making them feel that they actually know the people who the story is about.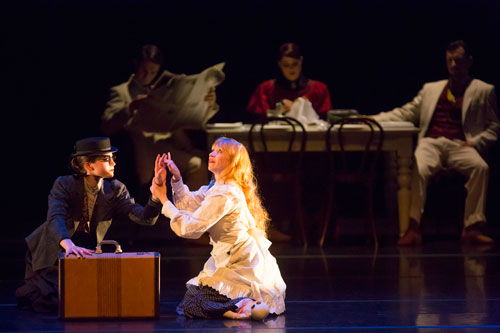 Alissa Tollefson, Jessica Miller Tomlinson, Jon Sloven, Cara Carper and Brian Hare
in Ann Reinking and Melissa Thodos' A Light in the Dark
(Photo by Todd Rosenberg)
To begin with, you have to have a really good story to tell, and in their one-act dance theater piece A Light in the Dark, Ann Reinking and Melissa Thodos have one of the best. It's about a 7-year-old girl in Tuscumbia, Ala., who is both blind and deaf, wild and alone. She's desperately isolated from the family that surrounds her by her inability to communicate with them, with hardly any idea that such a thing as communication even exists. A young teacher, only 20 years old and herself visually impaired, not only dares to defy this hopelessness, but actually succeeds in saving the young girl from the shadows of her isolation. Even if almost everyone thinks they already know the story of Helen Keller and Ann Sullivan, this story will always be an astonishing inspiration.
Still, how on Earth would you tell it in dance? For one thing, you would have to know a lot about what dance can be, and between them, Reinking and Thodos have seen a tremendous amount of what the art has been, and what it can do. Reinking's accomplishments as a choreographer and performer are in a league where you find very few artists, but they're only part of her varied experience set in sharing inspiration with audiences. Thodos' award-winning choreography has been only one part of her consistently forceful vision for expanding the idea of what a contemporary dance company can be.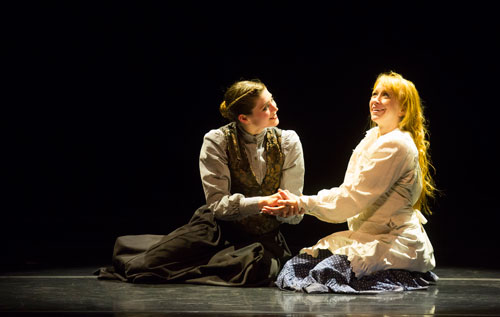 Alissa Tollefson and Jessica Miller Tomlinson
in Ann Reinking and Melissa Thodos' A Light in the Dark
(Photo by Todd Rosenberg)
That's certainly part of the reason why, when it came to telling a hopeless story with an ending that could encourage almost any hope, Reinking and Thodos could put together a mirror-smooth progression of creativity. One of the hallmarks of good storytelling in dance is that every element becomes more critical; the way that music, costumes, lighting, staging and set design are woven into the story and movement structure largely determines how engaged, and how enchanted, an audience will be. Whether because of their experience in the art or their inspiration by the story, in A Light in the Dark, Reinking and Thodos make sure that every part of the production moves every other part forward.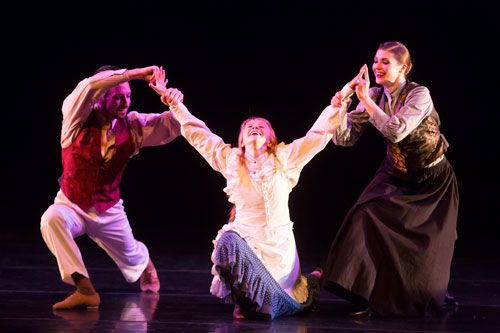 Brian Hare, Jessica Miller Tomlinson and Alissa Tollefson
in Ann Reinking and Melissa Thodos' A Light in the Dark
(Photo by Todd Rosenberg)
That may be one of the secrets of telling a story in dance. Beyond the benefits of their own experience, and beyond the extensive research and preparation that they brought to the project, Reinking and Thodos made A Light in the Dark by leveraging the creative efforts of a group of diverse collaborators, welding their contributions into a single, seamless structure. The fulcrum of that approach, both its clearest instance and a motive force in all of its other instances, is Gary Chryst. He fit right in because he's seen so much and he's done so much; his performance credits, like his choreography, include an astonishing list of diverse and prestigious institutions, and he's staged major productions all over the world.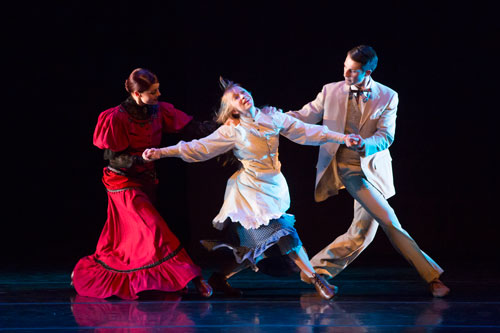 Cara Carper, Jessica Miller Tomlinson and Jon Sloven
in Ann Reinking and Melissa Thodos' A Light in the Dark
(Photo by Todd Rosenberg)
The rest of the story is the part that an audience sees and hears. Bruce Wolosoff's original score provides a series of invisible through lines, whose drama and elegance support a complete and integrated production design. Nathan Rohrer's costumes accentuate the carefully integrated movement design, dramatically lit (by Nathan Tomlinson) and flawlessly staged. The Thodos performers make Reinking and Thodos' kinetic and technical synthesis of drama and motion seem like the most natural thing in the world, so that by the time the whole story has been told, even though it's already a well-known story, an audience may feel like they've never seen it before. That's the real secret of telling a story in dance. Because of the myriad of moments and textures that a dance can be made out of, it's like a new story everytime it's told.
Johnny Nevin is the Resident Composer and Sound Designer for Thodos Dance Chicago.

Thodos Dance Chicago will perform Ann Reinking and Melissa Thodos' A Light in the Dark Saturday, March 2nd and Sunday March 3rd at the Harris Theater for Music and Dance in Chicago
This story originally appeared at aotpr.com