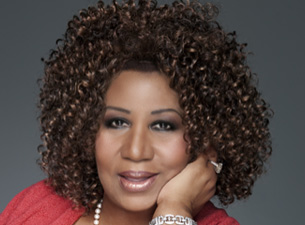 After her display at President Obama's 2009 inauguration, one can only wonder what kind of party hat music legend Aretha Franklin is sporting today. Whatever it is, I'm sure it'll be in a league of its own - just like the Queen of Soul herself. Anyway, Franklin turns 71 today, and two days from now fans will be able to celebrate belatedly at the Westchester County Center. That night, the diva, who will also hit Toronto later this year, will perform her classics like "Respect," "Natural Woman" "Chain of Fools," and way too many others to name. I caught up with her last week, and asked her songs, that biopic in the works about her life, and everything inbetween. If only, I had time to ask her about hats and Tilda Swinton's MoMA stint! Oh well...next time!
On her favorite songs:
"There are too many. . . . Certainly, among them would be 'Respect,' 'Jump to It,' 'Natural Woman,' 'Rock Steady' and 'Nessun Dorma,' Pavarotti's signature song."
On her biopic and who she'd cast:
"Mr. (Taylor) Hackford and I are fine-tuning the treatment. We have been writing and editing it. . . . We've talked about a lot of names. He was interested in Denzel [Washington] playing my dad. I quite agreed with that -- though there are other names we are thinking about and kicking around, like Jamie Foxx, who did such a great job in Ray. . . . We are thinking of Audra McDonald, who had just won a Tony on Broadway [for "Porgy and Bess"]. The question where Audra is concerned is whether or not Audra can get over into soul, not Broadway. That is a possibility, as well as Jennifer Hudson.
On what she's thinking about when she's on stage:
I'm there to give the best performance I can. The idea is to be as uplifting as possible and as inspiring to people as possible so they are glad they came and they leave with something that helps them throughout their day and on their way.
On protecting her voice:
I don't abuse it in any way. . . . Get plenty of good rest. And a singer's dream, which is hot tea, honey and lemon. Pre-concert.
On career highlights:
Certainly the birth of my children, and that would cover all, the Grammy Legend and I would say the inauguration of President Obama, and the Congressional Medal. So I'll say those. And the National Medal of the Arts...I appreciate all of the awards. They are all special because people don't have to give you anything.
On her next album:
(Clive Davis and I) are going to sit together and decide what it is we're going to record. Babyface is producing it and I am just working on the things we are going to be doing.
On American Idol:
I still haven't been on American Idol ... I'd love to be a mentor.
A-Sides Contest!
Want to win tickets floor seats to the Queen of Soul in White Plains, NY on March 27? Fan A-Sides on Facebook and post on the wall as to why you deserve to attend! The most convincing response will score them (must be able to pick up tickets in White Plains!)
About A-Sides with Jon Chattman:
Jon Chattman's "A-Sides Music" series usually features artists (established or not) from all genres performing a track, and discussing what it means to them. This informal series focuses on the artist making art in a low-threatening, extremely informal (sometimes humorous) way. No bells, no whistles -- just the music performed in a random, low-key setting followed by an unrehearsed chat. In an industry where everything often gets overblown and over manufactured, I'm hoping this is refreshing.