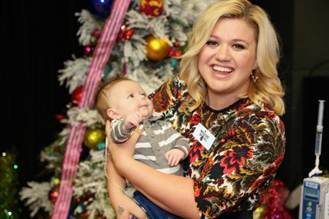 Photo credit: Glenn Sweitzer, Fresh Films + Design
Kelly Clarkson and the holidays are almost synonymous now. She covered classic tunes on an American Idol LP over a decade ago, and they still are a "must" on any holiday playlist . Her song "The Trouble with Love" still receives consider airplay - mostly in your living room - ever since since it was included on the soundtrack to the festive rom-com classic Love Actually. Keeping with this theme, her Wrapped in Red Christmas album was the top holiday seller last year. Yep, Clarkson is the gift that keeps giving. And last week, the multi-platinum, Grammy Award-winning artist surprised a group of children, parents and caregivers at Monroe Carell Jr. Children's Hospital at Vanderbilt in Nashville by performing tunes to make you want to mix and mingle. As if we needed another reason to think Clarkson was the coolest person ever...
Clarkson performed eight holiday tracks before spending the next five or so hours visiting with patients and their families. The surprise appearance and acoustic performance was part of Musicians On Call, a charity which brings live and recorded music to the bedsides of hospital patients. Kelly was the "Music Heals" honoree at the Musicians On Call 15th Anniversary Celebration in New York City on Nov. 18.
"Musicians On Call is incredibly fortunate to have someone as generous and caring as Kelly Clarkson as a champion of program, " Pete Griffin, President of Musicians On Call noted. "Kelly spent six hours at Vanderbilt Children's Hospital and whether it was through the power of her music or her sense of humor, she brought joy to dozens of patients, family members and caregivers this holiday season."
A-Sides was fortunate enough to catch up with the lovable Texan and ask her about the xperience. Love. her.
Why is it important to you to spend time at the Children's Hospital around the holidays?
Nobody wants to be in a hospital at any point during the year but if it were me it would be worse to be stuck there for the holidays. I figure since the kids and their families can't spend Christmas or the holidays at home, we could bring a little Christmas spirit to them.
Right on. What's it like performing for the kids?
Christmas music is so much fun to sing and everyone generally knows the songs so it's fun to sing along with the kids and see which songs are their favorites. It's something small that my band and I can do that not only might distract these kids for a bit and bring a little joy but also we have so much fun performing for and with them.
You do a lot for Musicians on Call, tell me about that relationship.
I love being a part of Musicians On Call. There is no better fit for me personally. Music has been proven to heal and I just feel honored that I can help provide that in a small way to these kids.
Lastly, what are some your all-time favorite Christmas songs or albums?
I used to listen to Mariah Carey's Christmas album even in the summer when I was growing up! And, of course, I love the classics like Bing Crosby. White Christmas is right up there with my favorite movies of all time.
A-Sides "Delve Into Twelve" Countdown
Each week A-Sides unleashes its Top 12 tracks of the week AKA the "Delve Into Twelve"based on the following contributing factors: songs I'm playing out that particular week NO MATTER WHEN THEY WERE RELEASED (think overlooked songs, unreleased tracks, and old favorites), songs various publicists are trying to get me to listen to that I did and dug a bunch, posts and trends I've noticed on my friends' Facebook walls, and -- most importantly -- the songs my two-year-old-plus son gravitates toward by stomping his feet in approval. Yeah, you read that right. This weeks follows below (LW= last week's rank).
12. "Break the Rules" (debut) - Charli XCX
11. "Inside Out" (LW-10) - Spoon
10. "Every Breaking Wave" (LW-8) - U2
9. "I Can't Stop Drinking About You" (debut) - Bebe Rehxa
8. "Da Vinci" (LW-7) - Weezer
7. "Giving Up" (debut) - HAERTS
6. "First" (LW-3) - Cold War Kids (Watch their exclusive A-Sides performance here.)
5. "Hymnals" (LW-5) - Grizfolk
4. "Mess is Mine" (LW-2) - Vance Joy (Watch his exclusive performance of the song for A-Sides here!)
3. "Somebody New" (LW-6) - Joywave
2. "O" (LW-4) - Coldplay
1. "Shut Up and Dance" (LW-1) - Walk the Moon
About A-Sides with Jon Chattman:
Jon Chattman's music series features celebrities and artists (established or not) from all genres of music performing a track, and discussing what it means to them. This informal series focuses on the artist making art in a low-threatening, extremely informal (sometime humorous) way. No bells, no whistles -- just the music performed in a random, low-key setting followed by an unrehearsed chat. In an industry where everything often gets overblown and over manufactured, Jon strives for a refreshing change. Artists have included fun., Charli XCX, Imagine Dragons, Alice Cooper, Joe Perry, Gary Clark Jr., Lissie, Echosmith,and many, many more!
Stay Connected:
http://asidesmusic.com/
https://www.facebook.com/thisisasides
https://twitter.com/AsidesMusic