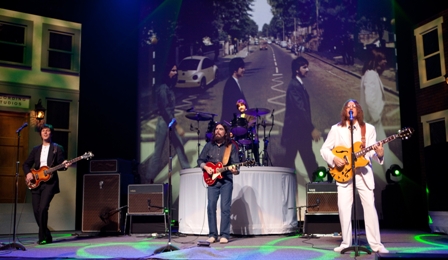 Photo/Cylla von Tiedemann
Joey Curatolo, who plays Paul McCartney in the new Broadway revue Rain: A Tribute to The Beatles, pointed out moments before belting "When I'm 64" how the audience that evening consisted of three generations of Beatles fans. A large round of applause followed that statement, and almost immediately the all-ages group either shook in their seats or stood up, and sang the songs gloriously off key and out loud. Imagine that scenario for two hours, and you've got Rain.
The Beatles' music is timeless, and Rain celebrates that. Don't dismiss this as a tribute band, the entire production skillfully recaptures the band's magic with faithful, spot-on live recordings of some of the band's best songs (each Rain member is a skilled musician in their own right), and add to the nostalgic trip by recapturing their mannerisms and showmanship on stage. The scenic design (Scott Christensen, Todd Skinner) help you feel the time warp, too.
Split into sections of their careers much like The Beatles: Rock Band videogame, the band (Curatolo is joined by Steve Landes as John, Joe Bithorn as George, and Ralph Castelli as Ringo) takes us on a journey through Beatles history from Sgt. Pepper to Abbey Road. Yep, it all starts with their legendary Ed Sullivan appearance (a large TV-set with a see-through screen is shown in front of the performers) and moves to their Shea Stadium landmark appearance, and ultimately walks us through the psychedelic 60s and hippie 70s.
What's the difference between seeing Rain and a Beatles cover band? It's easy -- the attention to detail. Right when we walk into the Neil Simon Theatre, we're greeted with screens with images and trivia of the era with a soundtrack of 1960s tunes. Immediately, we're transported. When the curtain goes up, and the performers come on stage with their mop tops and trademark suits playing those classic songs, forget about it. We're sold.
Rain is just about the closest you'll come to seeing The Beatles live ever. If there's any drawback with the production it's song choice, but everything's relative. I would've included "Something" or "All You Need Is Love" in favor of -- say "Mother Nature's Son," but narrowing down The Beatles' catalog must've been an impossible feat for the show's creators. I will say this -- Rain especially nail "Hello Goodbye," "Strawberry Fields Forever," and "While My Guitar Gently Weeps" in which Bithorn shreds like a madman. I'll also note The Beatles never toured for their last couple albums so it adds a real cool vibe to see, for example, the trippy "I Am The Walrus" live.
Personally, as a kid who first learned of McCartney through the Michael Jackson "Say, Say, Say" video and never saw The Beatles together as a band, it's one cool trip.