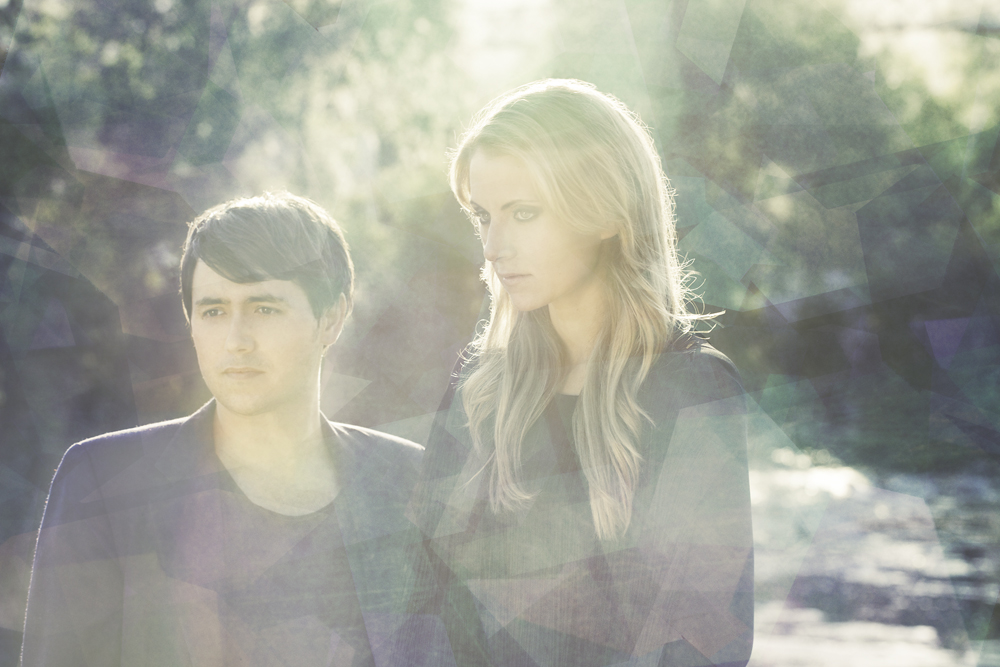 Photo/Describe the Fawna
My sister and I thought we were pretty creative as kids. We always loved to draw characters we respectively created together, and filmed satirical videos on our extremely large camcorder (it was seriously the size of Minnesota compared to today's HDs). We'd also put on shows for our family starring our respective Cabbage Patch Kids. Yes, I had several and am not ashamed to admit -- although clearly I should be. As we grew older, my sister and I went our separate ways, and each did our own thing. Most siblings tend to do that (unless you're, for example, a Carpenter), but not the Los Angeles-based duo of Bruce and Erica Driscoll who make up Blondfire.
"We've been fiddling around on instruments since we were born," Bruce Driscoll said. Elaborating on the sibs' musical exploration, he added,
"At first there were the mandatory piano lessons from mom. I rebelled against those mostly but some of it sunk in: 'Twinkle Twinkle Little Star' out of EZ piano books type stuff. Erica stuck with it, then took up the violin and did choir. I went to drums and took lessons for a while in that. We both taught ourselves guitar. I used to sleep with mine. It's not as dirty as it sounds."
With all that said, it's not that out of the ordinary to know why the bro-and-sis tandem decided to make music together. "Forming the band and writing songs together seemed only natural," he said.
But, let's get beyond the sibling stuff. Contrary to my opening paragraphs here, it's not really out of the ordinary for siblings to make music. Perhaps I was just looking for a way to wow you by namedropping my Cabbage Patch Kid collection? Who knows. No one will. But, it's all irrelevant because Blondfire is about to breakout like your prepubescent younger brother. The band, originally called Astaire until that late actor's estate went shat-bit crazy (My Someday is their first album and you can hear it on Spotify), recently signed with Warner Bros. Records, and will release their first album with them by early 2013. If their first track is any indication, the album is going to be -- and I quote Elf -- "ginormous."
"Where the Kids Are" has been played on repeat all summer long on stations like SiriusXM's Alt-Nation, Austin's KROX and Seattle's KNDd. The band has also appeared on MTV.com and Rolling Stone.com. Below is a quick Q&A I did with the pair of talented Brazilian-Americans. You'll also find a link to their new song "Waves" at the bottom of this post. Read and scroll... now.
Were you surprised by the success of "Where the Kids Are" this summer?
Bruce: Astonished. Completely blown away. I think the two us knew there was something different about the song, but you just never know how people will react or if it'll get seen. There's so much music out there now it's really flattering to have people pay attention -- especially when there was no money behind us or no PR company.
You signed on with Warner Brothers. What can you tell us about Young Heart?
Erica: It's a collection of songs mostly written in a week at Bruce's home studio and Wax Studios in Hollywood. We were trying to push ourselves to do something different, a bit edgier, and kind of stumbled upon the direction, writing the title track "Young Heart" and "Where The Kids Are" back to back. Wally Gagel is doing an amazing job mixing the album and we can't wait for everyone to hear it!
What is the songwriting process typically like for you guys?
Bruce: First a beat or a title... then a riff on either guitar or keys... then melodies usually followed by lyrics. We almost always write as we record. It's just the way we've always done it.
I understand your original band name was Astaire? Why and how did it evolve into Blondfire?
Bruce: We originally decided to call ourselves Astaire. Unfortunately, so did someone else many years back. It was quite a difficult thing for us. After building up a considerable buzz for a new band with the iTunes single of the week, a tour and a movie license, we got a letter from some certain celebrity's estate saying we had to change our name. Total buzz kill. So, long story short, we needed a new name. We liked Blondfire because we hadn't heard it before, and we knew it was safe because there were no dead celebrities with that last name. It originally came from someone botching the pronunciation of "bonfire." A happy accident.
Very cool. Last question: Can we pretend that airplanes in the night sky are like shooting stars? Just asking.
Bruce: As Joey Lawrence once said, "woah." That's all. Just "woah."
About A-Sides with Jon Chattman
Jon Chattman's music series typically features artists (established or not) from all genres performing a track, and discussing what it means to them on camera. This informal series focuses on the artist making art in a low-threatening, extremely informal (sometimes humorous) way. No bells, no whistles -- just the music performed in a random, low-key setting followed by an unrehearsed chat. In an industry where everything often gets overblown and over manufactured, I'm hoping this is refreshing.