There's a classic In Living Color sketch called "Hey Mon!," which showcased a Jamaican family hilariously fighting over which member has the most jobs out of all. R&B singer/songwriter Dawn Richard might've fit in well in that pseudo family (or not, but for the purposes of this intro, bear with me.) The Diddy-Dirty Money maker has worn many hats throughout her career, and she has no problem adding more. Currently traveling the globe with the Diddy-Dirty Money Coming Home tour (the groups debut Last Train to Paris is a smash), the former Danity Kane singer is also working on her debut solo album and recently dropped a "mixtape" entitled Prelude To A Tell Tale Heart which can be downloaded for free on www.dawnrichardblog.com. Oh, and she may act at some point.
I caught up with the New Orleans native (she was displaced by Hurricane Katrina), and asked her about working 24/7, collaborating with fellow workaholic Sean "Puffy" Combs, life after a reality show (she was on Making the Band 3, which led to Kane) and her musical influences which will surprise you.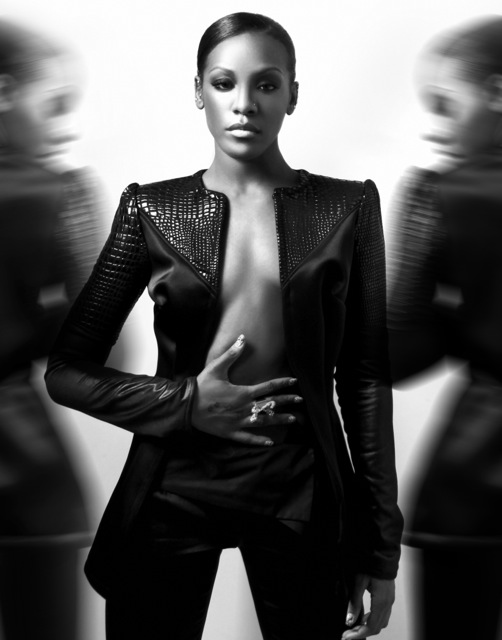 Did you know when you were recording the Diddy-Dirty Money album that you had something special?
When I first heard the production tracks, I knew it was something special. Puff came to me and asked if I would write on the album. I immediately said "yes." The story and the music drew me in. I really don't think anyone else was doing what we were doing musically. It was groundbreaking.
Describe the work ethic of Diddy and how you guys work together.
He doesn't sleep, and neither do I. It's a match made in heaven really. He is hungry for success and so am I. I've learned how to multi-task and became a problem solver by watching him. He created a monster. [Laughs]
I do see strong similarities. You do work a lot. Would you say that's true?
Yes. I'm hungry! [Laughs] I work hard because I love what I do, and I know how difficult it was to get here. I'm grateful and I sincerely want to put out my best every time I hop on stage or record. I think Puff saw that in me. Puff constantly has his hands in several things at a time. He's my boss and my bandmate, all at the same time. I've learned to juggle Diddy-Dirty Money and Dawn Richard. If I'm not rehearsing for tour, I'm writing for my solo project. It never stops.
What can you tell us about your solo debut?
This album will showcase the most intimate parts of me. I'm exposing myself to the fans who have only heard me as someone apart of a group. Sonically, I will fuse my New Orleans roots with modern synth sounds. It'll be really raw and bass driven, while staying soulful.
What's your mixtape all about?
A Tell Tale Heart is the metaphorical fall into my heart. It's the story of six years of pain, lost, love, and redemption. My heartbeat is the narrator with each experience taking you further into the journey. It's inspired by Edgar Allen Poe's poem, and it was something I did to see if people were ready to hear me as a solo artist. The reaction has been incredible. Over a million downloads in a month! I still can't believe it.
You used to be part of a "girl group." Finding a quality girl group nowadays seems to be very difficult -- why do you think that is?
It's hard to find honesty, loyalty, and respect in this business. Many times it's your inner circle that determines failure or success. If you don't have a foundation of people who believe in you, than no one else will. And everyone inside that circle has to be on the same page. A lot of times people come into groups for the wrong reasons and that's why they don't last. The best you can do is stay focused, pray as a group, and have great supporters around you. And most importantly, never let anyone get in that way of that.
Diddy-Dirty Money appeared on American Idol and have a history of reality TV -- would you ever consider mentoring a contestant on a similar show?
Definitely. It takes a lot of courage to put yourself out there on television and have people judge you. We're talking millions of people. But it teaches you strength and perseverance - two things any artist entering this business will need.
Tell me something about yourself that you've never revealed.
I love the Food Network channel. I'm a food whore and Paula Dean is my girl! Watching her cook Southern foods take me back home. There's no such thing as too much salt or butter! [Smiles] I also get down pretty well in the kitchen myself. I think I'm a pretty damn good cook. I have a dream of opening a restaurant someday.
Wow...Would you ever consider acting like Puff?
Believe it or not, acting is my second love. It's a completely different side of me that not many know about. I'd love to work with Sofia Coppola. She's an amazing director.
Last question -- Musically, what' s your guilty pleasure?
Indie rock ... My newest guilty pleasure is the girl group, Warpaint. Love them.