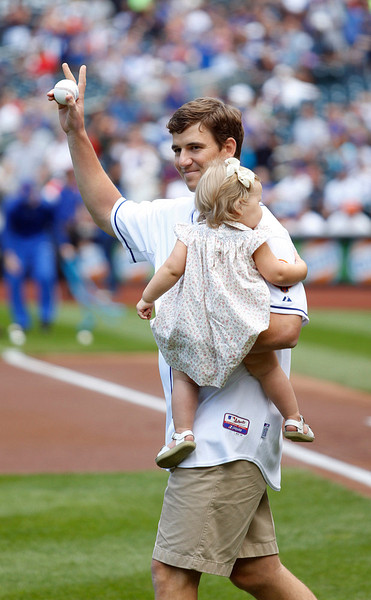 Photo/Pampers and Insider Images
Last month's Saturday Night Live episode hosted by New York Giants' Eli Manning was -- to many -- surprisingly one of the strongest of the year. Critics praised the star quarterback for being such a good sport throughout (for starters, he wore a dress) and for having impressive comedic chops that rivaled his big brother Peyton's (he hosted the show in 2007). In one skit, the younger Manning played a dumb-witted guy on trial for murder whose defense attorney makes him read late-night texts he sent to women he'd met at a bar aloud. Nothing was funnier on SNLthis year -- in my opinion (who elses' would I give?) -- than Manning explaining what ";P," "kewl" and other text jargon means out loud to a fake jury.
Speaking of which, the man born into football royalty (his dad's Archie) was at a super "kewl" event on Father's Day, June 17 at Citifield. See what I did there? It's called a segue, and a bad one at that. The two-time Super Bowl Champion MVP and cool dad to 14-month-old Ava was on hand at the home of the New York Mets to celebrate "Most Valuable Dads" from all over in partnership with Pampers by throwing out the ceremonial first pitch with his daughter prior to the Mets/Reds game. (Pampers, by the way, is honoring dads with prizes on their Facebook page well beyond this Sunday at the ballpark.)
Prior to taking the mound to toss a ball to diamond stud David Wright, Manning took a few moments to explain why he was there. In a video interview below, he discusses his connection with Pampers, parenting tips with new-dad me (fact: his daughter has no problems entering dreamland, while my son, um, like never sleeps) and of course, how the upcoming 2012-13 football season is going to shake out for "Big Blue." Can they go on another epic run like they did this past season? Will Ava throw a football soon? Will my wife and I ever sleep again? For these answers -- well, most of them anyway -- watch the video below...