If you've seen the Hair revival on Broadway, you know just how infectiously joyous the cast is and how strong their message of love still is. Their energy beams from the orchestra to the nosebleeds every night at the Al Hirschfeld theater. One cast member, however, managed to stand out to the crowd when the show opened - a near impossible feat considering the original cast of the revival is among Broadway's best ever.
With a smile ten Broadway blocks wide, Allison Case became sort of the poster child for everything the show represented. Her face has been emblazoned on Broadway billboards, and has radiated in the numerous television spots the cast has performed on (watch her gleam next to Conan O'Brien on a fall Tonight Show pitstop) and rallies they've taken part in.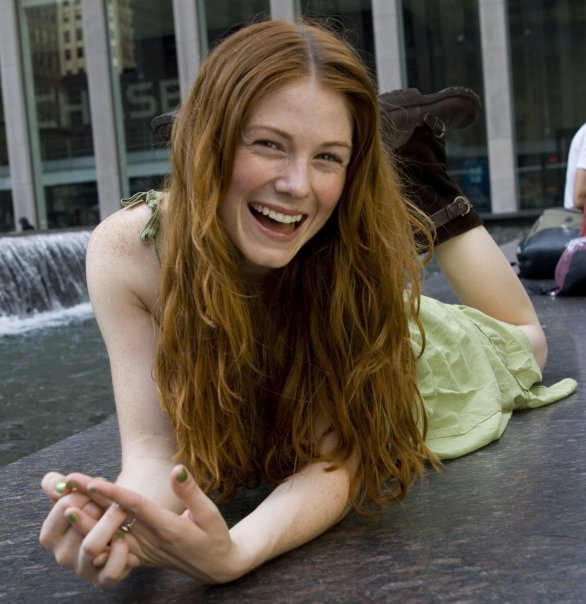 While the actress had to leave the show due to injury, there's a pretty good chance you'll see her crooning Frank Mills again as Crissy. If not, no worries - she'll be on your television sets on Showtime's Nurse Jackie and you can see the delightful redhead on those "Hi, I'm a Mac...and I'm a PC" commercials. I spoke with the Orange County native, who made her Broadway debut as Sophie Sheridan in Mamma Mia!, and asked her all about work, peace, love, and understanding.
How life altering has the experience of "Hair" been for you? It's evident by the smile that has been permanently on your face since you did.
The first concert back in 2007 was the beginning of my Hair journey. It was my first show in NYC and my first glimpse of being in theater that deeply can effect people and make them feel. It's literally been the most amazing experience. Hair is not only a musical but a movement in itself. Everyone is so passionate about the piece, about each other, and about spreading the messages we deeply think are important. We believe in it 100 percent. We protest in the show, and then go out and do the real thing in real life. Recently we were at the National Equality March and it was really incredible.
Are you amazed at the positive reaction the show has had on Broadway and the world?
I am amazed. Eventhough in my heart I knew it was something big and it was something very special, I could not have imagined the impact it would, again, have in the world. People can't get enough and that is amazing. They come and are moved, are questioned, are made to feel... and that''s the kind of theater I only hope to be a part of. Spring Awakening did that for me a few years ago. I can't believe i get this opportunity to reach out now. The whole thing is very inspiring, you know. We are in a time of fear which only creates more fear. You can feel it everywhere. I hope we can replace that fear with love only to have more love resonating everywhere so we can enjoy this life we get! If people walk out of "Hair" feeling more love- that's the best thing i could hope for.
Why did you leave the show - are you set to come back?
I left the show because of a hip injury back in August. Being detached from the show and that family while in pain every day was a very difficult time in life. With the help of beautiful teachers and healers, family and friends, I am able to realize how much I can learn from this whole situation that happened suddenly. I miss the show with my whole heart but also realize I still have so much to be grateful for, I do not have a set date to come back right now.
What was your first show like? What was opening night like for you?
Craaaaazy. We all got to the theater hours and hours early, sat in a circle on the stage, did a warm up together, walked up and down the halls looking for people to hug. Really. We were so thrilled to be there. For most of us it was a two-year journey with "Hair" before this Broadway opening night. Everyone everyone everyone was bouncing off the wall and crying every two minutes.
Did you grow up listening to Broadway tunes? In other words, did you always know you'd end up on stage?
I always hoped I would. I studied straight drama and loved to sing on the side. My brother and my dad are both musicians. I grew up around music- listening to The Beatles, Joni Mitchell, Bonnie Raitt, Steely Dan, etc... I loved it. I got very, very lucky to have ended up on Broadway.
Life is very, very kind.

What's next for you? TV? Movies? Another show?
I'm going to do a little appearance on the Showtime show Nurse Jackie. Filming it soon but it will be in the later half of season two next year. So excited! And then who knows...
How did the Mac commercials come about?
My commercial agent sent me out for an audition and it somehow happened. I was very surprised and very excited. I actually dropped my iPhone on the floor without a case (get a case!) and it cracked down the middle. The next call i got on it was my agent telling me I got the apple commercial. Amazing.
Is there a dream role for you? If so what is it?
Any work I can do to make people feel. I'd love to write a one-woman show. I'd love to do TV. Film. Plays. Musicals. There are so many amazing niches in our industry- I hope to do them all!
Lastly, do you think the message of Hair is as important now as it was in 1970?
Absolutely. There are obvious parallels in societies around the world, but I think once again it's another generation of people who believe there is more to life then what they are told - by the government or whoever- people want to embrace life and explore it, have experiences, and be present. No conformity... just run to the top of a mountain and run around like a child. I think again we are running on fear- i mean we can't let two people of the same sex who love each other get married. Whaaaaaaat? It does not hurt anyone or anything. It is all fear and it can become nasty. Replace fear with love! Love and kindness always win. They did then and they will now.