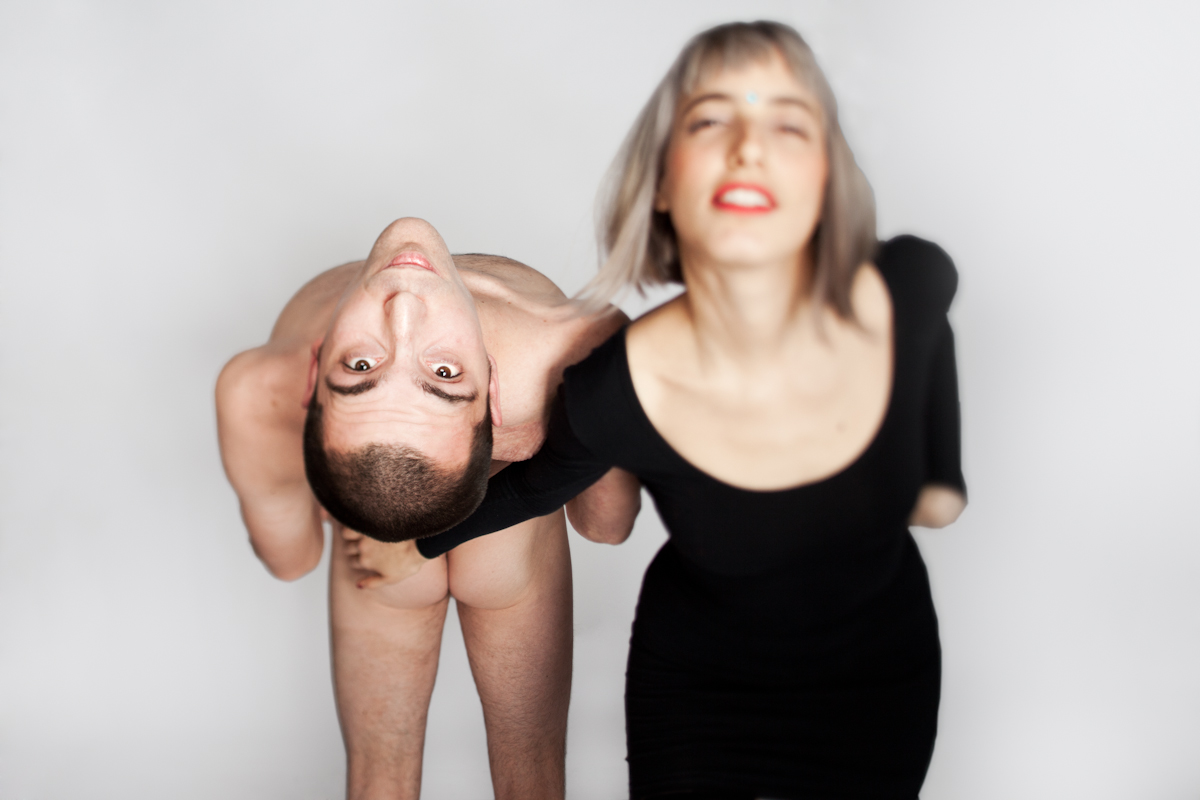 Photo/Tom Sands
It's always cool to be the guy to "discover" new music way ahead of your friends. When the music act finally makes it, has a single on the radio, and/or starts selling out arenas, it's a pretty great feeling to rub it in their faces by saying "I was listening to them before they hit it big!" Getting ahead of the curve is fun -- which brings us to an act everyone is going to know fairly soon. Jump aboard.
Hank & Cupcakes are a Brooklyn duo (originally from Israel) who have gained momentum in New York over the past year by touring rigorously and thumping crowds with their pop-rock-dance music. Next week, the duo, who only go by those kooky names by the way, will make their biggest splash yet by flying to Berlin to record at Hansa Studios -- the infamous place where U2 made arguably their best album Achtung Baby! and David Bowie put together a pair of his Berlin Trilogy albums.
The band, who released a well-received EP last year, will record their first full-length album as part of a worldwide publishing deal they received from BMG Germany. "The plan is to experiment with the sound spirit and matter and find the best way to translate H&C into a record," the duo collectively said via email. "We're considering a lot of ideas including taking the recordings once they're ready to a great sounding club in Berlin and run some of the songs through the club speakers to help give it a bigger dirtier sound."
Following their recording session in Berlin, Hank & Cupcakes will hit the States again for a brief fall tour. Until then, you can get your fix by listening to their new single "HIT." The catchy song may or may not be on their first record, but they insist it's "here to stay." To ensure that happens, the duo made a highly NSFW music video for it, which they wanted to premiere on Huffington Post.
"We wanted to make really fun video with a very clean look," the pair explained. "We'd worked with Tom Sands, one of the directors, on a photo shoot for TheJealousLover.com prior to making the video and loved his aesthetic, so we asked him if he'd be interested in making a music video with us."
The video was inspired by the Sands photo shoot and was completely improvised. It features a bunch of sexy guys and girls getting their freak on literally and figuratively as well as Hank & Cupcakes in the buff under a lot of body paint.The painting process took just over seven hours. Well worth it -- according to the duo who found the entire experience "liberating."
Watch below:
Hank & Cupcakes Music Video Premiere - "HIT"
The video was directed by Nick Girard, shot by cinematographer Tom Sands, and edited by Matt Bockelman. Body paint was done by Aaron Smulktis.