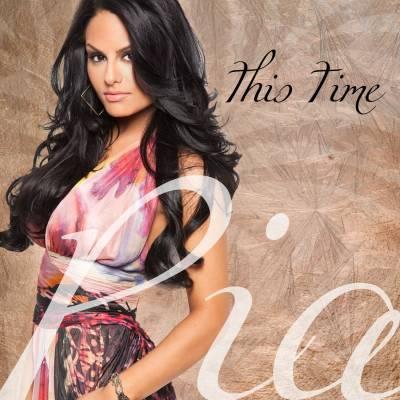 Had she not been sent packing way too soon, American Idol contestant Pia Toscano said she's not sure she'd be enjoying the success she's currently having. In addition to performing as part of American Idol Live! 2011 Tour, the Howard Beach, NY native and early Idol frontrunner just dropped her debut single "This Time" and is prepping for her first album.
"Honestly, I feel the only way I'd get to this outcome is if I had won the whole thing. Even if I went a week further, I don't think the reaction would've been the same," the 22-year-old beauty explained by phone July 28. "In a way, it's good it happened."
Yes, aside from the shocking amount of times judge Steven Tyler uttered the word "beautiful," the biggest revelation last season on Idol was Toscano's ill-timed premature evacuation. The Howard Beach, NY native had judges and fans swooning week to week with her oft-standing "O" performances week-to-week, but was sent home after reaching the top nine following a performance of Ike & Tina Turner's "River Deep -- Mountain High." Following her "Idol" elimination, an outcry of support and outrage only led to more televised appearances for Toscano and triggered buzz on a potential album deal. Earlier this month, it became official with Toscano signing with Interscope Records and "This Time" premiered.
I spoke with Toscano briefly about the album, whether she minds being labeled an "American Idol cast-off," and how the Idol tour is going so far.
So much has been said about you going home way too early, but I'm curious -- did you put even more pressure on yourself week to week after being dubbed the "frontrunner?"
Oh gosh -- yes. It was a little difficult for me. You know with the first performance I tried to do so much. I had fears if I didn't do all I had to do, I'd get voted off. I tried to pull out every note and with the judges [reactions], I was like 'oh gosh, where do I go from here?' I tried each week, but lived with fear. That's my only regret -- caring so much, and not absorbing everything and living in the present.
The tour must be great then, right? You can just perform for fun without any pressure of being sent home.
Oh yeah! It's so much fun. That was the part I was looking forward to -- not being judged the whole time and going out and doing our own thing.
Is it hard to focus on your solo future when you're still linked to your "Idol" past with this tour?
It's a little hard to juggle when I'm pushing the single, and just trying to stay present on the tour without getting too tired. But, it's a lot of fun and I can't wait to start my journey, my career, and I definitely know "Idol" is the reason I got here. It catapulted my career 100 percent.
How is the new album coming? How many songs are in the can already?
Eight.
You don't have Randy Jackson's voice in your head telling you to limit the ballads are you? They'll be some uptempo stuff on the record, right?
For sure. Before I came [to "Idol"] I only did uptempo stuff. The thing with "Idol" is they give us themes each week, and some are not suited for my voice. So, I didn't want to run the risk and do a bad performance. I figured if I got penalized for the type of song, it's better to not get it for the vocal. I tried the best I could every week. I don't think if, during Elton John week, I did "Crocodile Rock," it would've gone so well.
Do you mind being labeled an "Idol castoff" or "contestant" with each mention of your name or did you realize it goes with the territory of being on the show?
It's part of what I got into. I'm so grateful for Idol. I'm definitely OK with it. It's definitely something in time that you'll start separating from.
Lastly, do you think Jennifer Lopez will come back to judge? She's the lone hold out so far...
I think she'll come back. I wouldn't know why she wouldn't want to. She was so amazing and great.