She's a comedienne, writer, radio talk show, and as far as I know, the only person to interview anyone in a bathtub (well, her bathtub anyway). She's Sara Benincasa, and she's about to become a household name. You've already seen her as a citizen journalist for the 2008 MTV Choose or Lose Street Team, Huffington Post's humor site 23/6, and Nerve.com to name a few (the aforementioned "Tub Talk with Sara B." aired there). She has also staged two acclaimed shows "Family Hour with Auntie Sara" and "Agorafabulous" in NYC, and chats up sex on Cosmo Radio's "Get in Bed" (Sirius 111/XM162) every night from 8 p.m. - 11 p.m. She's currently touring with fellow comic Margaret Cho, and in November, will host a mustache benefit in Westchester County in November. Yes, I said a mustache benefit. I spoke with Benincasa late last month, and covered everything from that fuzzy fad to her rise among the comedic ranks.
Were you a funny kid?
I was "funny" in that I spent vast quantities of time alone in my room writing long-winded prose. I also looked funny.
How'd you get your start?
I got my start in the general vicinity of my mother's undercarriage. Twenty-five years later, I started doing stand-up and sketch comedy.
What did you go to school for? Do you have deep journalism roots? You've reported for MTV and have the talk show on SiriusXM.
I started out as a print journalism major at Emerson College. Thank God I didn't stick with that major, what with print being dead and all. Instead I dropped out and finished at Warren Wilson College with a far more marketable creative writing degree. And I have a masters' degree in teaching English language and literature to secondary school students. That one is from Columbia University's Teachers College.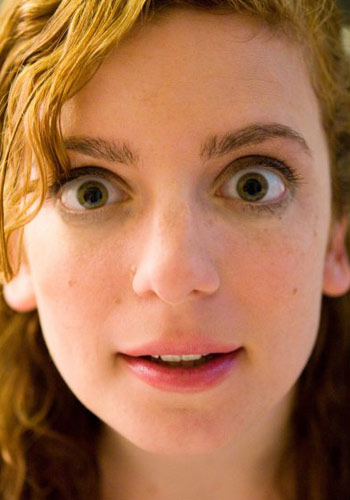 I was a journalism major. Sigh. Anyway, what was it like doing a Sarah Palin impression at a time all anyone was talking about was Tina Fey's impersonation of Sarah Palin?
See, I found actually during that time that people were talking about many, many things other than Tina Fey's impersonation of Sarah Palin. For example, my landlord talked often about the weather, at least to me. My father talked often about golf, to everyone. On the streets, I would hear people discuss love, sex, money, history, crime, race and many other things. It was a fertile time for discussion of things not related to comedic impersonations of little-known governors of far-flung states.
We began doing our Palin videos weeks before SNL had its fall premiere, so by the time it rolled around we had a strong online following and a weirdly rabid fan base. We also had a healthy batch of haters. And we continued to get great press throughout the campaign. But I will note that we were not the first folks to get a Palin impression out there. This dude in drag got a video up the day before we did. Our hats are off to him. It was an honor to be mentioned in articles and on television alongside Tina Fey. She's excellent and she was a writer at SNL during my wayward adolescence and early adulthood. She was eventually the head writer. I suspected that she was awesome, and then my friend Donald Glover, who used to write for her on 30 Rock, confirmed that this was true.
What do you really make of Sarah Palin?
I think she is a fascinating character, but it's important to recognize that if she holds real political office again, she'll hold real power to affect the lives of her constituents. Thus, liberals and ashamed conservatives can't simply dismiss her as a sideshow act or as an aberration. I actually had a bit of fondness for her until she made those absurd death panel remarks. She really is rather intellectually empty, but personal magnetism wins out over brainpower. If given the chance, plenty of stupid people would be delighted to vote her into federal office. So would plenty of smart people who hold views with which I happen to disagree.
Shifting gears, how'd your play Agorafabulous come about?
Well, I dealt with agoraphobia and panic attacks for many years. When I began doing comedy, I mostly just talked about sex, but eventually I realized that the comics who I most admire are the ones who talk about their own flaws and foibles. I found that listening to some of these folks talk about their pain and heartache helped me to feel more hopeful.
After all, if they could overcome their demons, perhaps I could learn to live with mine. And is about dealing with mental illness at a young age, and it's also a love letter to my parents and best friends for helping me out.

How serious was the condition?
I'd say my condition was intense but ultimately manageable due in large part to privilege. Because my parents were insured and made a sizable income, they were able to purchase the best possible care for their ailing daughter. And because they were highly educated, and because my father works in the health care industry, they knew which questions to ask. Had I been born in another time period, or had I not enjoyed access to such resources, my story might have ended quite differently.
Getting to your act, do you think men are intimidated by you because you talk about sex so frankly?
If they are, they're weak, and I wouldn't want to shtup them anyway. According to the pervs who contact me via the Internets, it is a turn-on to hear a woman speak frankly about sex.
What's the most taboo subject you've ever discussed on your radio show?
Anal sex, or, as we call it on-air, "the back door."
Speaking of taboo subjects... Mustaches. Why would you host a mustache contest in Westchester?
Obviously, the answer is "my friend asked me to." Another answer, also obvious, is "because my coke dealer lives in Westchester."
What is your ultimate goal in life? A sitcom? Well, not a sitcom in the
classic sense but in an "Office" handycam kind of way, perhaps? I would take a sitcom in the classic sense any day of the week. Every day of the week. As long as that sitcom is Two and a Half Men.
Lastly, ask yourself a question and answer it please.
Sara, why should people come to see you host the mustache contest? Because I am fairly certain there is nothing better to do that night, anywhere in the world. Unless Two and a Half Men is on.