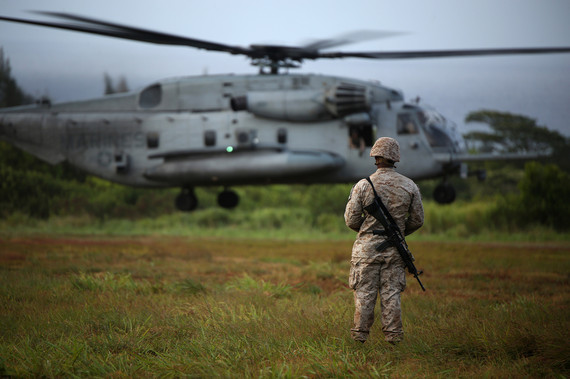 A U.S. Marine with India Company, 3rd Battalion, 3rd Marine Regiment waits as a CH-53E Super Stallion helicopter flies away after dropping off supplies during Rim of the Pacific (RIMPAC) 2014 in Kahuku, Hawaii, July 13, 2014. RIMPAC is a U.S. Pacific Fleet-hosted biennial multinational maritime exercise designed to foster and sustain international cooperation on the security of the world's oceans. (DoD photo by Sgt. Sarah Dietz, U.S. Marine Corps/Released)
This year's RIMPAC (Rim of the Pacific) maritime military exercises have ended, and any attention we've given the biennial war games will quickly turn elsewhere. But before we let RIMPAC drop from view, it's worth pausing to consider what we've just witnessed (or not witnessed, since most of the RIMPAC takes place out of sight).
RIMPAC says its objective is "to enhance the interoperability ... and improve individual warfighting competencies." In more human terms, RIMPAC is pitched as an opportunity for the militaries of 22 nations to foster better understanding, coordination and cooperation.
Ongoing tensions from the Korean Peninsula to the South China Sea underscore the potential for conflict among regional powers that include North and South Korea, Japan, China and the Philippines, so who could argue against better understanding and communication?
Likewise, as the military increasingly plays up its potential for Humanitarian Assistance and Disaster Relief (HA/DR) and tries to paint itself as a "green" champion, RIMPAC uses these positive attributes to help shape its narrative.
Discussing RIMPAC on Kauai's KKCR radio in May, Pacific Missile Range Facility commanding officer Captain Bruce Hay said RIMPAC provides an opportunity to establish dialogue and practices "so that we can all enjoy the giant Pacific Ocean." Hay pointed out that RIMPAC involves "things as benign as sports competitions between the crews of the ships ... [and] receptions and dialogues."
And while this is true, RIMPAC is much more than a chummy maritime get-together with big ships moving in tight formation. It's about planning for future wars. It's about urban combat training, mock invasions, amphibious assault and the kind of live-fire training that would come in handy for subduing places like Fallujah or Kandahar.
RIMPAC also includes SINKEX (Sinking Exercises), in which live ammunition is used to blow apart and sink decommissioned war ships in Hawaiian waters, and testing hybrid war equipment, drones and newly developed robots designed for battle.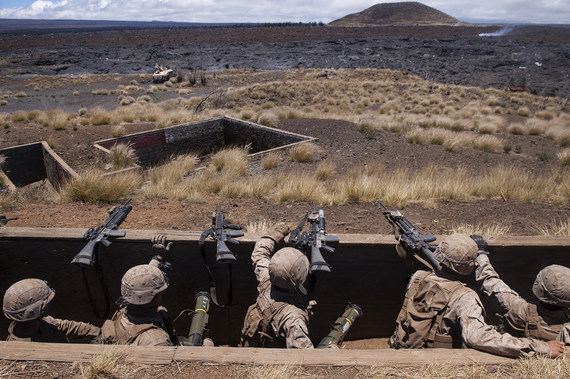 U.S. Marines scan down range during a live-fire platoon-supported attack as part of the Rim of the Pacific (RIMPAC) exercise July 24, 2014, at the Pohakuloa Training Range, Hawaii. The platoon-supported attack exercise tested three squads and multiple detachments to clear two objectives, simulating opening up the defense of the forward lines of a simulated enemy. (U.S. Air Force photo by Staff Sgt. Christopher Hubenthal)
By framing "cooperation" and "partnership" in military terms, RIMPAC gives the U.S. the opportunity to assume the role of older brother, leading the younger siblings as it shows off its overwhelming war-making capabilities. As one CCTV reporter put it, "One fact becomes obvious: the overarching dominance of the U.S. Navy in this part of the Pacific."
With participating nations including Colombia, Peru, Indonesia, Mexico, China and the Philippines, as well as close U.S. allies like South Korea, Japan, Canada and Australia, you can be sure that in the near future when military forces sweep into a violence-wracked city or suppress an uprising in some far-flung place you've never heard of, RIMPAC training will likely be in the mix.
If you visit RIMPAC's Facebook, Twitter, Instagram, Flickr or YouTube pages, you'll find dozens of photos and videos. It all looks pretty impressive: a steady stream of cool-looking military hardware in action and lots of crisp, white uniforms. Like other branches of the military and major defense contractors, the Navy dishes up its own version of war-nography in an easy-to-digest Hollywood format.
But RIMPAC presents the public with a sanitized version of conflict completely devoid of war's most brutal reality: civilian women and children overwhelmingly bear the brunt of military actions no matter they take place.
For each of us in Hawaii, it's important to view RIMPAC in its broader context and remember that as war games were being played in Hawaii, real wars -- bloody, savage wars all marked with American thumb prints -- were raging in Syria, Iraq, Afghanistan, Libya and Gaza.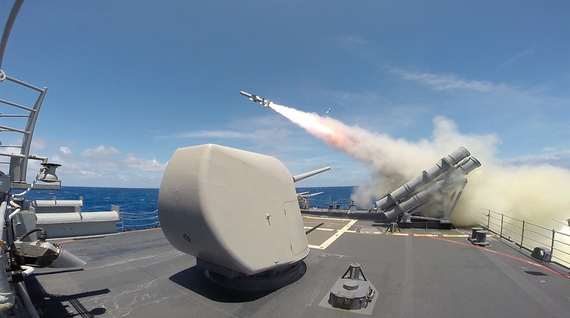 The guided-missile cruiser USS Chosin (CG 65) launches a Harpoon missile during a live-fire event as part of exercise Rim of the Pacific (RIMPAC) 2014. Twenty-two nations, 49 ships, six submarines, more than 200 aircraft and 25,000 personnel participated in RIMPAC from June 26 to Aug. 1 in and around the Hawaiian Islands and Southern California. The world's largest international maritime exercise, RIMPAC provides a unique training opportunity that helps participants foster and sustain the cooperative relationships that are critical to ensuring the safety of sea lanes and security on the world's oceans. RIMPAC 2014 is the 24th exercise in the series that began in 1971. (U.S. Navy photo by Fire Controlman 2nd Class Andrew Albin/Released)
Just over two weeks ago 298 people died when Malaysia Airlines Flight 17 was blown out of the sky by a surface-to-air missile near the Ukraine-Russia border. That very same day RIMPAC posted a photo of its own surface-to-air missile exercise (SAMEX). In a second bitter twist of irony, July is the same month that the U.S. Navy warship USS Vincennes shot down an Iran Air civilian airplane in Iranian airspace in 1988, killing all 290 passengers (including 66 children).
When surface-to-air weapons are used in Ukraine, it's an international outrage. But when similar weapons are used at RIMPAC, it's a tweet. Both air disasters highlight how remaining in a perpetual militarized state increases the likelihood of mistakes and miscalculations.
Also during RIMPAC 2014 the world recoiled as it watched a vastly superior Israeli military wage a lopsided campaign against Hamas. Overwhelmingly, the victims are the 1.8 million Palestinians (half of whom are under 18) squeezed into Gaza -- a sliver of land barely twice the size of Washington, D.C.
This assault plays out against the backdrop of the U.S. providing a $30-billion military aid package to Israel, offered concurrently with multimillion- and billion-dollar U.S. arms sales to Qatar, Saudi Arabia, Egypt and Iraq.
Meanwhile, the U.S. continues periodic undeclared drone strikes in Pakistan, Somalia and Yemen, which have been condemned as illegal and widely criticized for producing scores of civilian victims.
Earlier this spring the U.S. signed 10-year military agreements with Djibouti and the Philippines and started to dip its toes into Vietnam, Myanmar and elsewhere. And in Europe, the Aegis Ashore ballistic missile defense system being tested on Kauai will be deployed in Romania in 2015 and Poland in 2018.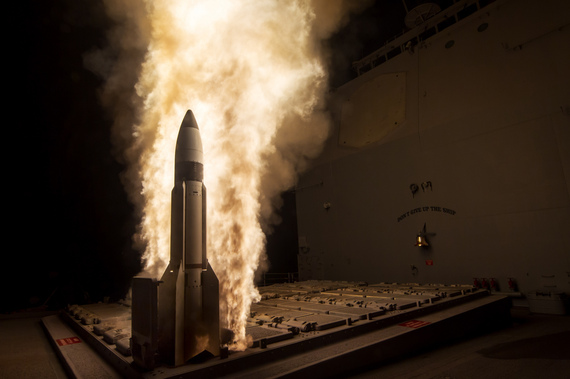 An SM-3 Block 1B interceptor is launched from the guided-missile cruiser USS Lake Erie (CG 70) during a Missile Defense Agency and U.S. Navy test of the Aegis Ballistic Missile Defense (BMD) system off the coast of Kauai, Hawaii. The Lake Erie-launched missile successfully intercepted a complex medium-range ballistic missile target. (U.S. Navy photo)
So what's this got to do with RIMPAC? Quite a lot, actually.
As Hawaii Public Radio's Bill Dorman reported, Secretary of Defense Chuck Hagel has announced the U.S. plans to increase the number of military exercises it participates in the Asia-Pacific region to 130 a year.
It's important to remember that while RIMPAC only happens for a few weeks every two years, the testing, training, promotion of and preparation for war, and the very lucrative ongoing relationships between defense contractors, militaries and governments is ceaseless and growing.
We are told that RIMPAC is about improving cooperation and increasing security, yet it's hard to take these claims seriously when the U.S. Pacific Command's top officer warns about the danger posed by North Korean missiles even as the U.S. plans to spend $1 trillion on modernizing its own nuclear weapons.
Very soon RIMPAC will disappear from the public eye for two more years, but the militaristic framework on which it is founded continues to tie Hawaii to the rest of the world. From the drones we test to the war ships and submarines we navigate to the war planes we fly and missiles we fire, RIMPAC serves as another tether lashing these islands to a world full of war in Europe and the Middle East across Africa and Asia, over the Pacific and back home to each of us here in Hawaii.