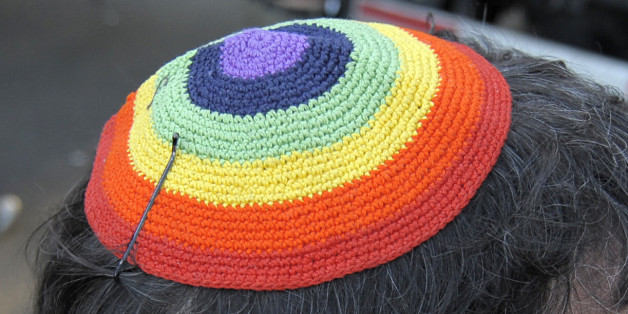 "On Yom Kippur you ask forgiveness for sins against G-d. But on the day before Yom Kippur, you ask forgiveness for sins against people. Did you know that? ... You can't ask forgiveness of G-d until you've asked forgiveness of people on the day before. Truly something."
--The West Wing's President Jed Bartlet (Martin Sheen)
Forgive. Love. Be proud of the growth you've shown this year and into the next. On this Erev Yom Kippur remember not to beat yourself up too hard while pounding the wrongs off your heart. We're only human, and we're all on this journey together. Be good to yourself -- and to one another.
Speaking of getting beaten up a bit, I have to share a story with you. A few years back, during my Logo TV days, I was asked to be Grand Marshal of Orlando Pride. This was a huge honor for me, and it was something I treasured as yet another way to use my public recognition to help the community I love so much. However, that year torrential rain forced Pride to be moved a month later -- smack dab on Yom Kippur. Oy vey!
Leadership from some of central Florida's Jewish congregations made quite a bit of noise regarding the scheduling of that year's Pride celebration. While the Jewish population of my hometown is a thriving, vibrant, vocal part of the local community, so is my other constituency: the LGBTQ population. Nearly 100,000 people would crowd Lake Eola and the downtown area to celebrate the splendid diversity of Orlando, and I can personally vouch that the leadership of Come Out With Pride did all they could to avoid a scheduling conflict with the holiday.
However, an event of that magnitude comes with inevitable scheduling issues -- and I could not let another moment go by without letting the public know how important this day is for all of us and why it needed to continue as planned. I wrote the following, which got published in papers and blogs all over central Florida:
I am truly honored and grateful to be returning home to be the Grand Marshall of Come Out with Pride 2011. While it may not be the most convenient time for all members of the community to participate, any chance for us to celebrate together is significant and beneficial to all of us.

The Jewish community of Orlando needs to know that I am a devout, active, and proud member of the Jewish community in New York City and was all through my youth and college years in Florida. It weighed heavily on me if being part of the events of Pride during the holiest of times was appropriate and responsible. I decided, after much consideration: YES, I HAVE TO BE HERE!

I have chosen to spend Yom Kippur, a period of reflection and forgiveness, to serve and speak out with messages of love, acceptance, family, and justice for a community that has faced discrimination and abuses for so long. Such devotion to family is at the very heart of all it means to be Jewish.
Whatever you -- Jewish or not -- may be sorry for this year, never, ever apologize for standing up for what you believe in. That is the greatest mitzvah of all.
So as we head off to atone, I humbly apologize to any of you to whom I showed anything less than the unconditional love, respect, tolerance, and dignity that I hope we all learn to share with one another. While I hope that you accept my apologies, I'd prefer that you require or demand nothing less than my best self each and every time we interact. I hope to be the best man I've been yet this 5774. I hope all the very, very best for you this year as well!