Another fall weekend means more opportunities NOT to leave that couch of yours. With Thanksgiving getting closer and your fantasy football teams in mid-season form, let's dive into the NFL. But don't forget about the college kids! And I'm not just talking about the gridiron. Friday night, ESPN3 will air the beginning of the Andrew Wiggins era at the University of Kansas.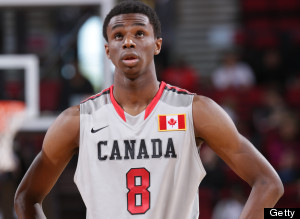 Kansas freshman Andrew Wiggins, a Canada native, is poised for his big debut. (Getty Images)
College Hoops
8 p.m. ET Friday on ESPN3: University of Louisiana at Monroe at Kansas
Perhaps no player in college basketball history has been hyped like Wiggins, who already has said he wants to go pro next summer. His debut is can't-miss TV on the same level as "Breaking Bad" season 5. Okay, maybe season 2.
NFL
The Jacksonville-Tennessee matchup will be special. Okay, bad joke. In all seriousness though, the NFL has a loaded docket this weekend. Perhaps most notably, watch the red hot Carolina Panthers -- winners of four straight -- as they head to San Francisco in an NFC clash, at 4:05 p.m. ET on Fox. Panthers QB Cam Newton finally has a respectable 13-7 touchdown-to-interception ratio, while Colin Kaepernick and the 49ers have rolled off five straight wins. One brief fantasy note: Stay away from the inconsistent Anquan Boldin in this game, and despite the Panthers hot offense, feel good about starting the San Francisco defense.
Sunday night's tilt (8:30 p.m. ET on NBC) in the Superdome between Dallas and New Orleans is like a soap opera. What will Dallas wide receiver Dez Bryant do next? Well, we'll have to wait and see. The Saints -- fresh off their second loss of the season -- are clearly a different team at home. Their quarterback, Drew Brees, has a stellar 104.5 pass rating, while Cowboys main man Tony Romo ranks fifth in the league, with a 100 rating.
College Football

8 p.m. ET Saturday on CBS: LSU at Alabama
Speaking of prolific offenses, you may want to buckle up Saturday night for a classic SEC clash in Tuscaloosa, Ala. The 13th-ranked LSU Tigers have two very good receivers and a potential first-round draft pick at quarterback in Zach Mettenberger, a prototypical drop-back passer with a cannon. Meanwhile, coach Nick Saban and his top-ranked Crimson Tide continue the quest for a third-straight national title. But oddly, Saban has yet to run the table for an entire season. Quarterback A.J. McCarron, a Heisman hopeful, is another major pocket presence who will pick you apart if he has the time to throw the ball. In the rivalry-filled SEC, it really doesn't get any bigger than this. In other words, we can throw away that 12-point spread and just enjoy seemingly incomparable LSU coach Les "Mad Hatter" Miles.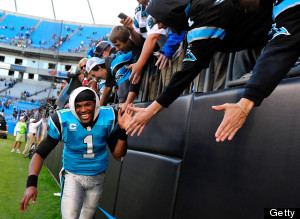 It's been all smiles for Cam Newton and the Panthers, who have rattled off four straight wins. (Getty Images)
English Premier League
11:10 a.m. ET on NBCS, TELE: Arsenal at Manchester United
The EPL has hit the halfway point and remains rife with juicy matchups. On Sunday, first place Arsenal heads to Old Trafford for a heavyweight affair with Manchester United, which features two of the elite scoring threats in the world in Wayne Rooney and Robin van Persie.
Other News And Notes
Six Nations Rugby trials are officially underway while Formula One has Red Bull racer Sebastian Vettel cruising with 11 wins.
Email me at jordan.schultz@huffingtonpost.com or ask me questions about anything sports-related at @Schultz_Report. Also, be sure and catch my NBC Sports Radio show, Kup and Schultz, which airs Sunday mornings from 9-12 ET, right here.