Los Angeles Clippers owner Donald Sterling allegedly went on a racist rant to his biracial girlfriend (both pictured below), telling her not to publicly share photos with African-Americans, namely Magic Johnson. Do so "privately," he said, but not on "the Instagram." It's hardly Sterling's first brush with allegations of racism: Clippers legend and former general manager Elgin Baylor accused him of having a "plantation mentality" in a lawsuit against Sterling that was ultimately thrown out in court. And Sterling also paid millions to settle with the U.S. Department of Justice following a lawsuit that alleged discriminatory rental practices. (He's a real estate mogul in LA.) This is 2014, and as people like LeBron James, Michael Jordan, Magic Johnson and even President Barack Obama have said, we cannot tolerate this behavior. And yet, the challenge for recently minted Commissioner Adam Silver is complicated. Sterling, as heinous as the alleged recording sounds, did not commit a crime, and to strip an owner of his team or make him sell is unprecedented. If and when the league confirms the tape was not doctored and is in fact authentic, Silver needs to present an even stronger front as to why Sterling needs to go. His presence is not fair to the players, the fans, his head coach Doc Rivers -- who is black -- and to the NBA itself, a league steeped in African-American culture and one that is nearly 80 percent black. On Sunday, Clippers players wore their shirts inside-out before the game to hide the team logo, and tossed their shooting shirts in a pile in the middle of the court. It wasn't the most acute sign of solidarity, but they sent the message that they will not stand for this. That message is also being sent from the rest of the league.
"I believe in Adam, I believe in the NBA, and they have to do something, and do something very fast and quickly before this really gets out of hand," LeBron James said Sunday. "There is no room for Donald Sterling in our league, man." Michael Jordan added, "I look at this from two perspectives -- as a current owner and a former player. As an owner, I'm obviously disgusted that a fellow team owner could hold such sickening and offensive views. ... As a former player, I'm completely outraged."
We would be lying to ourselves if we believed that racism does not exist somewhere among both the NBA and the larger world of professional sports. Just this weekend, FC Barcelona star defender Dani Alves had a banana thrown at him from a racist fan. But if an owner, of all people, says he feels "so strongly" about African-Americans, he should not only be forced out of the NBA, but also given a lifetime ban.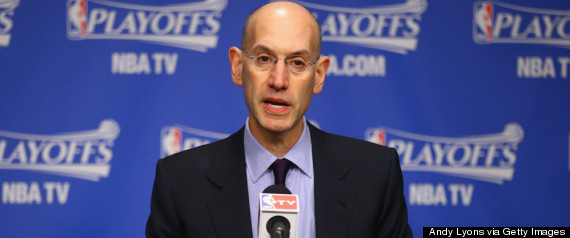 Silver (pictured above), faces a tremendous challenge that is only compounded by the fact that this is the playoffs. In a way, however, this is also a real opportunity -- on the biggest stage -- for Silver to take a stance and show both how and why the NBA will not tolerate such behavior on any level. Silver has said he wants a transparent league: If this tape is real, this is his first chance to demonstrate what that means. Leadership is easy when it's convenient. The question becomes what kind of leadership will the NBA demonstrate when it's one of its own. Sterling's act has worn thin. He's a monster who needs to go -- for good.
Email me at jordan.schultz@huffingtonpost.com or ask me questions about anything sports-related at @Schultz_Report and follow me on Instagram @Schultz_Report. Also, be sure and catch my NBC Sports Radio show, Kup and Schultz, which airs Sunday mornings from 9-12 ET, right here.