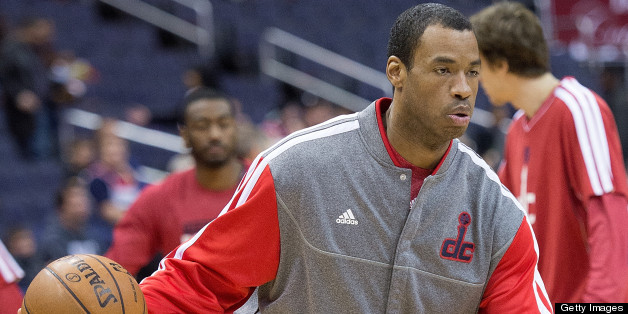 The NBA fraternity is a very small brotherhood, and when Jason Collins had the remarkable courage to come out as a gay man Monday, he elicited widespread support. Kobe Bryant and Dwyane Wade weighed in. Even President Barack Obama offered his support.
Vin Baker no longer plays in the NBA, but as a four-time All-Star and Olympic gold medalist, he knows what it means to be a teammate.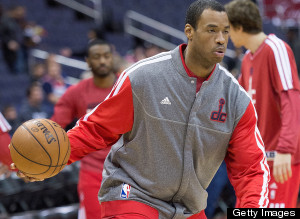 Of Jason Collins coming out as gay man, retired four-time NBA All-Star Vin Baker is fully supportive, but also tells Huffpost that "I believe there are people in the NBA who would probably take issue." (Getty Images)
Baker, now 41, last played professionally in 2006. While fully supportive of Collins and his personal journey, Baker said he believes Collins may still face challenges with fellow players.
"I think that players will come out and say the right things," Baker told The Huffington Post via text message. "How they feel could be completely different! We've come a long way in accepting (gay partnership and marriages) in our society, however I believe there are people in the NBA who would probably take issue. In particular, the players he may potentially play with next year. ... As a teammate, I would accept him!"
Collins, who becomes the first openly gay active professional athlete in a major American team sport, has already said that he wants to continue playing in the NBA. At 34 years old, he was a free agent this season. Whether teams jump to sign him and how players respond are tough questions, but legitimate ones.
Earl Watson, who has known Collins and his twin since high school and played against the brothers in college as well, told Huffpost that "guys who know him support him."
But what about those who don't? And what about all of the young players who make up the NBA?
"I don't know about the younger generation," Watson added.
Bill Bayno, a Minnesota Timberwolves assistant coach, has also known the Collins family since the twins were in high school. He told HuffPost that he "supports him and any other person coming out 100 percent." He, too, said he is realistic about the league and society.
"I think the hate our society has for our gay brothers and sisters is sad and shameful," Bayno said.
Whether Collins plays another NBA minute is irrelevant. What he did Monday is not merely indicative of his tremendous courage, but should be a benchmark for pro sports and society. Sexual orientation should never be judged. Even amid the avalanche of support, Collins will surely face adversity in the future. But as Baker, Watson and Bayno said, Jason Collins deserves nothing but our respect.
He has most definitely earned it.
Email me at jordan.schultz@huffingtonpost.com or ask me questions about anything sports-related at @Schultz_Report.