Sunday night marked the return of Kobe Bryant to the Los Angeles Lakers lineup, and it was not pretty. Bryant, coming off a torn Achilles tendon suffered last April, struggled to get into the flow and shot just 2-9 from the floor. Despite starting, he was on a minute count, which we can expect moving forward into the near future. The Lakers have a patchwork roster filled with cast-offs and mediocrity. Bryant's return, while eventful and exciting, is unlikely to move the needle in the super talented Western Conference.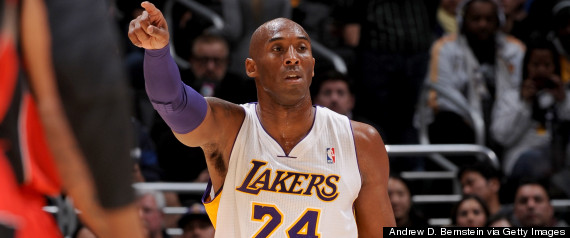 A torn Achilles is a serious injury that can ruin careers. Let us not forget that Bryant just signed a two-year, $48.5 million contract extension to finish his career in LA. He has played 17 NBA seasons. If you tack on minutes and games from the Olympics and postseasons, he has played well over 20. The bottom line is that rushing back is no way to go -- not even for Bryant, a basketball savant who has been known to carry a basketball with him even on the most remote vacations.
There are 226 regular season games remaining on Kobe's contract, and even he is unsure of what comes next. "I'm still not sure what I can do," he said following the Lakers' defeat to Toronto. If anybody has earned the right to march to his own beat, it's Bryant. It's not that his legacy will be tarnished or even tainted. He has played through a slew of injuries throughout his storied five-championship career, including a woeful knee problem that had him flying to Germany to get the blood spun in his knee. Bryant has been an unrelenting teammate who demands greatness from himself and others.
And yet, returning from an injury like this -- an injury that could have easily kept him out the entire regular season -- is a dangerous undertaking, even for him. At 35 years old, the uber-athleticism and explosion that defined the earlier stages of Bryant's career have long departed. These days, he has developed a sensational post-up and pull-up game predicated off a rare basketball acumen and willingness to create some of the best pure footwork we've ever seen. But if his tendon is not fully healed, it could translate into an inability to use his superior footwork.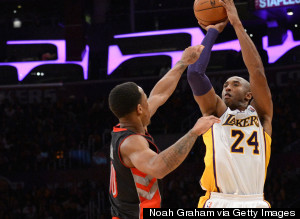 Kobe shot just 2-9 from the floor in his return from a torn Achilles tendon against Toronto. (Getty Images)
Even though Bryant gave himself an "F" grade after the game Sunday, he did mention that he was pleased with how his body responded. However, one game is hardly a barometer in terms of both performance and health. How Kobe's injury responds to grueling back-to-backs and limited rest is the real test. As things stand right now, the Lakers are 10-10, out of the playoffs. Even as loaded as the West has become, we would be foolish to assume No. 24 won't right the ship by season's end. But we would also be foolish not to think Bryant won't face more health issues and rust throughout the year. Perhaps the most glaring tell that Kobe isn't yet Kobe came with just under five minutes left in the game. He was fouled and heard the whistle, yet did not attempt to bring his hands through for his trademark move to draw a shooting foul.
Email me at jordan.schultz@huffingtonpost.com or ask me questions about anything sports-related at @Schultz_Report and follow me on Instagram @Schultz_Report. Also, be sure and catch my NBC Sports Radio show, Kup and Schultz, which airs Sunday mornings from 9-12 ET, right here.