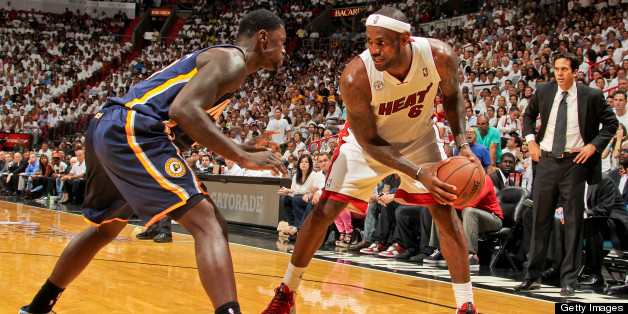 It's impossible to judge how good a NBA head coach is until one sees how he handles the playoffs. Time management or the overarching philosophy for the 82-game slugfest that is the regular season is one thing, but it's not until the postseason that a coach can really make his mark. By that point, players recognize general tendencies, favorite types of pick-and-roll and special situation sets. How a coach responds to that familiarity can often determine his team's fate.
But then there is Miami's otherworldly LeBron James, who, in Game 5 Thursday night, showed Frank Vogel and the Pacers why people like to say players, not coaches, win championships.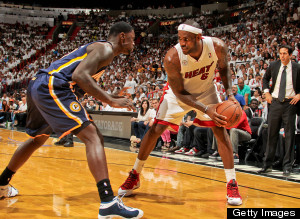 LeBron James accounted for 25 of Miami's 30 third-quarter points in the Heat's Game 5 win. (Getty Images)
On the heels of a Game 4 loss in which he committed a ridiculous flop and also "fouled out" (thanks to a call that was questionable at best), James' singular mission in Game 5 seemed to be to take out all of his frustration on Lance Stephenson, Indiana's deft, trash-talking guard, and thereby take control of the Pacers.
"Lance is one of those guys who likes to talk some," James said after Miami's 90-79 victory. "And I'm for it, too. I really don't start it, but if it gets started, then I love to do it."
James, to his credit, had a different mindset Thursday. One could call it selfish, but really, it was a super-assertive will to win. With Dwyane Wade still hobbled by his right knee, James attacked the paint early and often. When the Pacers -- a team that almost never helps on defense -- had no choice but to double-team him, James fed the ball to hot-handed and wide-open Udonis Haslem on five buckets. More importantly, with the game touch and go in the third quarter, James took over, scoring or assisting on 25 of Miami's 30 points. It was truly a masterful performance. James' 30 points, 8 rebounds and 6 assists seemed to dumbfound Vogel when he was asked about it during his post-game press conference. James' own coach, Erik Spoelstra, summed it up best, saying, "That's LeBron showing his greatness and making it look easy. His engine in that third quarter was incredible. He was tireless."
It's difficult to understand what it means to be "tireless" when you're someone who shoulders as much responsibility as James does. His trusty sidekick, Wade, is enduring the worst postseason stretch of his career, while Chris Bosh has been completely absent as a rebounder and more recently as a scorer, going 4 of 13 for 14 points over the past two games.
The Heat, who now lead the series 3-2, have the rare opportunity to reach their third consecutive NBA Finals. "Superlative" has probably been used rhetorically to describe how special LeBron James is, but truly, nobody is better.
Email me at jordan.schultz@huffingtonpost.com or ask me questions about anything sports-related at @Schultz_Report.