The waiting game for Dwight Howard will end on Friday, when he is set to announce which franchise he will sign with, according to Peter Vecsey. Howard, at 27 years old, is the biggest fish in this free agent pool because of what he represents on both sides of the floor. Yet the mercurial center comes with a few red flags, namely a quickly aging back and an attitude that has undoubtedly damaged prior perceptions of him as a cool-headed team player.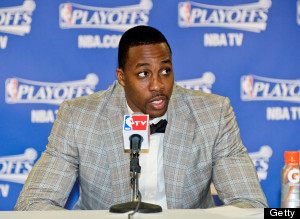 With Houston, Dallas and the Lakers at the forefront of the Dwight sweepstakes, here is a look at the pros and cons of each destination.
LA Lakers: Howard has made it clear that he doesn't want to be a pick-and-roll big man, which is odd considering that over the past three seasons, he's ranked 99th, 99th and 96th in finishing as a roller, per Synergy Sports. Steve Nash is an all-time great and Howard should embrace the offense that Mike D'Antoni build around him. But Dwight's lens seems to see that pick-and-roll-based offense as a negative. The positives are that once Kobe Bryant does retire, this becomes Howard's team, without question. And the Lakers are also the only team that can offer Howard the max salary over five years. If he stays and finds a way to win in Title Town, he will repair his tarnished public persona.
Houston Rockets: If Howard truly wants to be the franchise centerpiece, Houston is not the right fit. James Harden is an elite talent and four years younger to boot. But if Howard is willing to defer at times to Harden, the Rockets make a ton of sense. One of the worst defensive teams in the league, their biggest weakness is Howard's biggest strength. The beauty of this offense -- with Harden and Chandler Parsons -- is that Howard will not have to score 20 points a game to consistently win.
Dallas Mavericks: Howard wants to win now and that is not something that the Mavericks can offer, at least not yet. But Mark Cuban will have a ton of cap room to work with after next season -- as also benefits Houston, Texas has no state tax. And Dirk Nowitzki would conceivably allow Howard to take over this team, so to speak. Dallas, which has been linked to Rajon Rondo in trade talks, still doesn't have a proven point guard, and D12, in turn, can enjoy a more traditional post-up role. The Mavs are an ideal fit if Howard truly wants to be the focal point, because head coach Rick Carlisle will tailor the team's style to his needs.
Email me at jordan.schultz@huffingtonpost.com or ask me questions about anything sports-related at @Schultz_Report. Also, be sure and catch my NBC Sports Radio show, Kup and Schultz, which airs Sunday mornings from 9-12 EST, right here.