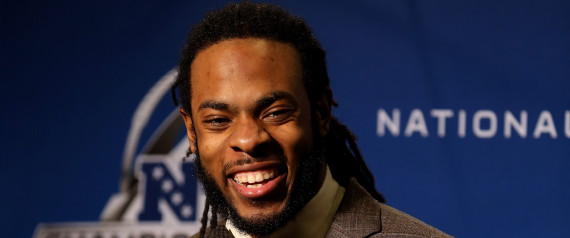 Seattle Seahawks cornerback Richard Sherman plays football with a chip on his shoulder. He is statistically the best cornerback in the NFL, a two-time reigning All-Pro who, according to ESPN Stats & Info, has the most deflections within the 10-yard line in the red zone since 2011.
In the NFC Championship, against Seattle's fiercest rival, San Francisco, the chip had some extra weight. Sherman was facing his college coach, Jim Harbaugh, a man whom he doesn't particularly like.
And Sherman was matched up against San Francisco receiver Michael Crabtree, who had said earlier in the week that Sherman wasn't the best corner in the league. According to the Seattle Times, Sherman was still fuming from a previous incident at a charity event last summer, when Crabtree is said to have been confrontational and disrespectful.
So the stakes were exceptionally high for a guy who hardly needs extra motivation.
After shutting down Crabtree for much of the game, Sherman made the play of his life, in the game of his life. His deflection in the end zone gave the Seahawks the interception that sealed the 23-17 win. Sherman held his hands up to his neck to show the infamous choke sign.
During his post-game interview, he found himself caught up in the remarkably high emotions of the biggest game he's ever played.
"When you try the best corner in the game with a mediocre receiver," he said, "that's what happens."
The interview, however, came mere moments after the clock hit zero, and when she asked her questions, interviewer Erin Andrews appeared unaware of the bitterness between him and Crabtree. (Sherman released an apology Monday, as well as a lengthier explanation.)
Sherman's comments were not respectful or an example of good sportsmanship. And they offered a reminder of why the NFL typically doesn't allow the media into a locker room for 15 to 20 minutes after a game.
The emotional roller coaster ride of an NFL game -- let alone a championship -- is an experience to which very few people can relate. And fans don't often get a look into the motivations that players use to achieve the heightened mental state that enables them to play their best.
Part of what makes Sherman so good as a football player -- his passion and an underdog mentality -- he brings to other areas of his life. The 25-year-old Sherman, who grew up in Compton, Calif., finished second in his high school class, and made sure his friends graduated as well. He turned down Pete Carroll at USC because he wanted to immerse himself in the academics that Stanford offered, where he graduated with honors. Then two years out from playing receiver in college, he was taken in the fifth round of the 2011 draft, at 154th overall.
"I'm an awkward guy," he told Sports Illustrated last summer. "People used to tell me all the time, 'You're not from here.' And that's the way I felt, like somebody took me from somewhere else and dropped me down into this place."
What we as fans love so much about football is the chance to share the passion and energy of our players and teams. To be sure, Richard Sherman let those emotions get the best of him Sunday -- but the best of him is what we had all tuned in to see, and sometimes what makes an athlete great doesn't have good table manners. But as Sherman himself said, "Don't judge a person's character by what they do between the lines."
Email me at jordan.schultz@huffingtonpost.com or ask me questions about anything sports-related at @Schultz_Report and follow me on Instagram @Schultz_Report. Also, be sure and catch my NBC Sports Radio show, Kup and Schultz, which airs Sunday mornings from 9-12 ET, right here.