Brandel Chamblee should know better. Let me rephrase that: Brandel Chamblee should know a lot better. In case you missed it, Brandel Chamblee is the Golf Channel analyst and former PGA player who recently suggested Tiger Woods has cheated in golf tournaments. Woods had four rules issues last season, three of which that resulted in two-stroke penalties, but he is far from a cheater.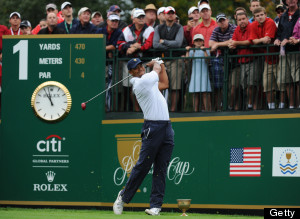 Tiger Woods may not be perfect, but he doesn't cheat at golf. (Getty Images)
Golf is an old-school game with an old-school approach to rules. In Woods' case, he made some mistakes on the course, but he did not cheat. For the life of a player on tour, the "C" word is the ultimate low. You can shoot an 81 and yell at a reporter afterward and easily move on. But cheating allegations can stain a reputation. Woods, to be sure, is not without his faults, and we all know that. But by implying Woods cheated, Chamblee stepped out of line.
In his Golf.com piece, in which he gives a number of players grades on their season, Chamblee writes:
"When I was in the fourth grade, I cheated on a math test and when I got the paper back it had '100' written at the top and just below the grade, was this quote, 'Oh, what a tangled web we weave when first we practice to deceive!' It was an oft-quoted line from the epic poem 'Marmion' by Sir Walter Scott, and my teacher's message was clear."
Then he gets to Woods, following his allegations with a footnote.
He won five times and contended in majors and won the Vardon Trophy and ... how shall we say this ... was a little cavalier with the rules.*

...

*Tiger's rule controversies in 2013 included taking an illegal free drop at the Abu Dhabi Championship, avoiding disqualification at the Masters despite signing an incorrect scorecard following an illegal drop, giving himself a favorable drop after hitting into a water hazard at the Players Championship, and a two-stroke penalty for causing his ball to move while removing a twig resting against it at the BMW Championship.
Woods' agent, Mark Steinberg, responded by telling ESPN.com: "There's nothing you can call a golfer worse than a cheater. This is the most deplorable thing I have seen."
"Deplorable" is a strong word but it fits this case. Woods, who has won 14 majors, may not be the dominant player he once was -- as Chamblee also alludes to -- but he is not a cheater either. Chamblee's words are both highly insulting and inaccurate. When a golfer commits a rule infraction, he often pays the consequence in the form of a stroke penalty, and everyone then moves on. Some of the game's all-time best and most respected players have been issued rule infractions, including names like Arnold Palmer and Gary Player.
It seems that Chamblee later realized it was him who made the worse infraction.
Golf is a gentleman's game and I'm not proud of this debate. I want to apologize to Tiger for this incited discourse.

— brandel chamblee (@chambleebrandel) October 23, 2013
And then later:
My intention was to note Tiger's rules infractions this year, but comparing that to cheating in grade school went too far.

— brandel chamblee (@chambleebrandel) October 23, 2013
Chamblee gives Woods an "F" grade for his season but it's his column that deserves the mark.
Email me at jordan.schultz@huffingtonpost.com or ask me questions about anything sports-related at @Schultz_Report. Also, be sure and catch my NBC Sports Radio show, Kup and Schultz, which airs Sunday mornings from 9-12 ET, right here.