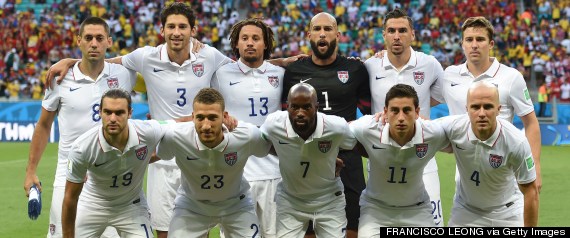 American sports fans have a tendency to rally around grit, teamwork and hustle. We like teams that fight and claw even when the chips are down. That was the beauty of Team USA 2014 at the World Cup. Lacking a superstar other than goalie Tim Howard, the feisty American side personified what we so desperately hoped it would.
Best of all, it didn't really matter if you were a soccer fan, or even a sports fan. Record numbers of Americans watched the four USA games, the audience for each game eclipsing the last. The broadcasts outdrew both the most recent NBA Finals and the 2013 World Series. Thousands gathered at parks to cheer. Whether or not you understood the diamond formation, or the meaning of the offside flag, was immaterial.
And yet even the most obsessive U.S. fan can admit that Belgium's Red Devils, who bested the USMNT 2-1 on Tuesday, had far more class and played a higher-quality game. The American team needs to have better possession, and they need to have it with a real purpose. They need to control the ball better and have a true goal scorer in the final third. Having the heart is great, but the next key step for this team is the sheer soccer ability. This is what we have to look forward to as the U.S. goes about the qualifying process for the 2018 World Cup -- a process that will likely make us all appreciate how special this year's team actually was.
Despite the frustration of another round-of-16 loss in extra time, the U.S. still has reasons to celebrate. We should celebrate advancing to the knockout rounds of two consecutive World Cups, a first for this country. We should celebrate the seldom-used John Brooks and his game-winning goal against Ghana in the 88th minute. We should celebrate the valiant effort to push up and score goals despite the loss of striker Jozy Altidore. We should celebrate Clint Dempsey's goal 29 seconds into the Ghana game, and how he played through a broken nose in the sweltering Brazil heat. We should celebrate fullback-turned-winger DaMarcus Beasley, who changed positions several years ago and is the only American player to appear in four World Cups.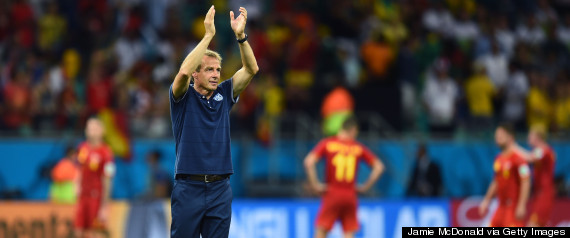 We should celebrate coach Jurgen Klinsmann (above), who picked this team his way, and overcame the harsh criticism of not including Landon Donovan on his 23-man roster. We should celebrate 19-year-old Julian Green's first-touch goal against Belgium and the fact that our boys nearly tied that game against all odds. We should celebrate the impressive play from 20-year-old reserve DeAndre Yedlin, who created timely chances dashing down the right wing with his lightning speed. We should celebrate Tim Howard's remarkable goalkeeping under brutal circumstances and his 16 saves against Belgium, the most in a World Cup since 1966.
Four years from now, when Russia hosts the 2018 World Cup, the U.S. may very well have a far different roster. Current star and captain Clint Dempsey will be 35, Michael Bradley (likely the next captain) will be 30 and Howard will be 39. Klinsmann surely understands the importance of developing the young talent, as he mentioned in his post-game interview following Tuesday's loss. Besides the gifted trio of Brooks (who is 21), Yedlin and Green, there's also 25-year-old defender Omar Gonzalez, who played very well in his first Cup experience, and 26-year-old Fabian Johnson, who had a fine tournament before injuring his hamstring in the Belgium game.
"I made a point of saying to a few of the young guys that we have some big stuff coming up," Bradley said after Tuesday's game. "This will be an exciting four years."
Correction: A previous edition of this article incorrectly stated that John Brooks scored in the 87th minute. It now correctly states that it was the 88th minute.
Email me at jordan.schultz@huffingtonpost.com or ask me questions about anything sports-related at @Schultz_Report and follow me on Instagram @Schultz_Report. Also, be sure to catch my NBC Sports Radio show "Kup and Schultz," which airs Sunday mornings from 9 to 12 EST, right here.