The English have a hopeless addiction to tea, but even they seldom take 'champagne tea' at 2pm. Luckily, we hadn't had anything remotely resembling lunch due to wrangling the kids sufficiently to get ourselves tidied up and out of the house in time to watch the Audi polo match on Sunday afternoon. A swift passing of bank notes into hot little hands, and the children settled down to homemade tagliatelle Bolognese, with Iron Man lined up for later.
The kind people at Audi had taken the whole 'I'll drive so you can have a drink' thing out of our hands by providing a car and driver, and we were whisked away to Cowarth Park, near Ascot. May has finally burst all the tree buds, and the countryside was bright acid green and scented with freshly mown grass. The sky was grey, but that just meant there was no glare - with milky warm air and a gentle breeze. Perfect polo-watching weather.
The crowd was glamorous and sprinkled with celebrities. Shakespeare in Love's Joseph Fiennes was there, as were multi-talented actor-comedians Rob Bryden, and James Corden, the fat owl from The History Boys. Emily Blunt, who made her name in the Devil Wears Prada, took off her precipitous silver shoes to 'tread the divots' - a polo tradition where you go out on the field to press the turfs down that were torn up by the ponies' hooves.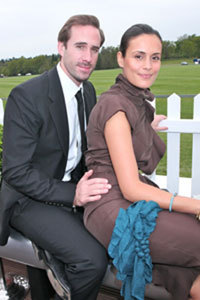 Joseph Fiennes and friend.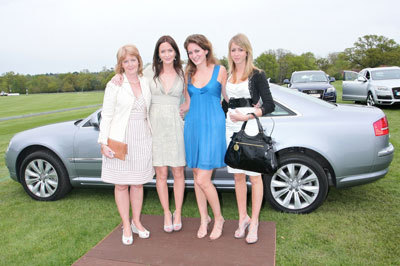 Emily Blunt and family.
Hot young designer Henry Holland, best mates with model du jour Agyness Deyn (sitting pretty on her second UK Vogue cover - out now), was gathered in a cluster of young men with unfeasibly thin legs in very narrow jeans and long pointy shoes. The tightest jeans with sparkly shoes were worn by UK band The Feeling, who got everyone singing and dancing after dinner with their hit "Never Be Lonely". Colin Salmon was there with his wife. He was strongly tipped to be the first black James Bond, but his former 007 role as MI6's Chief of Staff lost him the top job apparently - judged too confusing for film-goers, role hopping from straight guy to maverick. And Darius Danesh, Pop Idol runner-up, now starring as Rhett Butler in a West End musical of Gone With the Wind, sported suitably 19th-century whiskers.
Out on the enormous, flat, smooth pitch we could just make out Princes Harry and William, on their smart polo ponies, tails trussed up out of the way of swinging mallets, forelegs bounds in bandages to protect them. Polo originated in the East more than 2000 years ago to train cavalry and has always attracted royalty - Tamerlane's polo grounds are still visible in Samarkand. What we see today is a polite version of the original.
The Moguls brought it to India, and when walking in the Himalayas, we climbed up a dusty projection and turned back to get a bird's eye view of the far more chaotic game taking place below us. They use a goat's head, not a tiny white ball - and there seemed to be a lot more of them, barging, walloping, hitting each other as much as the 'ball'. The British picked it up there in the 1850s, along with pig-sticking - not a sport now included in the British Season. It swiftly crossed the Atlantic, arriving in the US in the 1860s.The modern game is exciting but controlled, with the ponies turning on a sixpence at the slightest gesture of the reins; their riders hooking the ball under their necks and tails and sending it flying through the goal posts.
The princes were playing on the winning Team Umbogo (buffalo in Swahili), and raising money for two charities, Mountain Rescue, which speaks for itself, and Valleys Kids, which looks after deprived children in the Welsh Valleys. I hadn't seen the princes in the flesh since they were adorable, polite little boys - my mother made pages' outfits for them for a wedding in 1989. We spotted Kate Middleton as well - low-key, but even prettier in the flesh with a stunning figure in narrow jeans and black suede boots, worn with a short, waisted jacket.
The other players were all highly skilled, and all young and achingly handsome - which seems to be a prerequisite for playing polo. I am not sure which one I danced with later, as at least two of them were identical. It is common for sets of brothers to play together.
Numerous cups of tea, delicious sandwiches and those fashionable Laduree-style macaroons in bright shades of yellow and pink, were swiftly followed by cucumber martinis (avoided by me, can't do spirits) and other cocktails, a wonderful dinner cooked by celebrity chef John Torode, and the aforementioned dancing.
The women, almost without exception, had chosen very very high heels - Gwyneth Paltrow appears to have started a trend for heels more usually sported by transvestites - whose feet are big enough to balance in them. Not the best choice for damp turf - suede in particular is ruined, and heels quickly ringed with grass and earth. But that is another British eccentricity. We insist upon rushing outside from May to July to watch usually horse-related sporting events, determined to enjoy ourselves, whatever the weather - unsuitably clothed and shod, but having a ball anyway. My fashion tip for the Season? Wedges and a pashmina - back in style again after a few years in the doldrums as the perfect cover-up for bare arms.