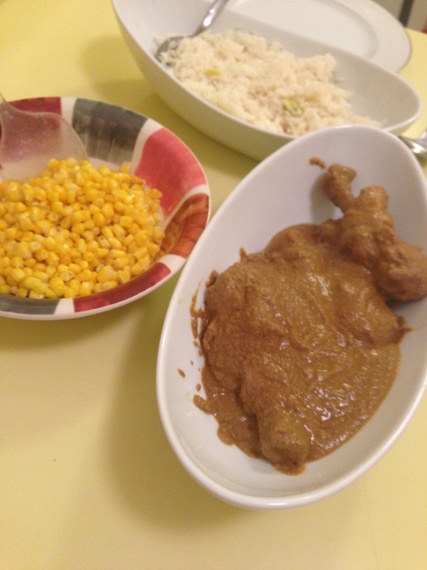 I decided recently to take the old adage nobody beats mom's home cooking to the test.
Growing up in a mixed Latino household (my mom's from Guatemala and my dad is from Mexico), I grew up on food filled with terrific spices and flavor. And some of my mom's best dishes, at least to me anyway, were here enchiladas, tamales, and lasagna (go figure), but nothing ever came close to beating her Pipián chicken dish.
I've found that a lot of people don't know what Pipián is, or they just lump it as mole, which isn't too far off. FYI, there are hundreds, if not thousands, of moles, including the very popular chocolate-based Mole Poblano, which is just a particular style originally crafted in a convent in Puebla during the 1600s. Now Pipián (aka Pepian) is a type of mole that is made primarily with pumpkin/squash seeds (pepitas, hence the name) instead of other nuts like peanuts, pine nuts or sesame seeds, which are common in mole.
It's pretty hard to find Pipián on most menus, so to this day it's still a treat whenever Mom makes it. Served over roasted chicken, my mom's Pipián sauce tends to be pretty spicy and I love it for its nutty, yet earthy flavor. After I found a couple of restaurants that can make Pipián, although it's not on their everyday menu, I decided to put them to the test.
From renowned chef Richard Sandoval, his La Sandia Mexican Kitchen & Tequila Bar in Santa Monica is in the middle of its Mole Festival, which runs through November 30, 2014. Chef Sandoval says his Mole Pipián is inspired by the flavors you would find when visiting Mexico City. His pumpkin seed-based Pipián Mole blends tomatillos, chile poblano and nuts into a slightly spicy sauce accompanied by chipotle rice and black beans.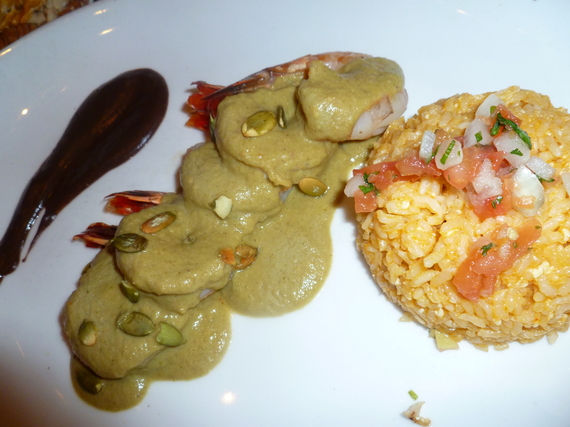 "Of the four moles offered on this menu, this Pipián sauce is my personal favorite," says La Sandia General Manager Matthew Swigart. "Lighter seafood dishes are always very popular at this location because of our close proximity to the ocean, and the bright flavors of the Pipián really complement our sautéed jumbo shrimp."
"What I think sets Pipián apart from other moles is the earthiness and distinct flavor that comes through so boldly from the pepitas, tomatillos, cilantro and onion," explains La Sandia chef Isaias Peña. "Pipián is my favorite of all moles for nostalgic reasons and this particular recipe from Chef Sandoval is spot on authentic and reminds me of Merida Yucatan, the first place I ever tried Pipián."
At La Sandia, I thought their Pipián was subdued over chicken but over shrimp, which is how they recommend it, it was pretty special. This was also the first time I've ever had Pipián with seafood, but considering their sauce is lighter than mom's dark and spicy sauce, it made perfect sense.
Over in the San Fernando Valley at La Ventura in Studio City, Chef Jeffrey Saad is damn proud of his Pipián. In fact, it was during my first visit to his restaurant for a Herradura tequila paired dinner where we started talking about Pipián and he said his would beat my mom's. Well, I took that as a challenge.
"Pipián is a very traditional sauce," Chef Saad says. "It is the peanuts that give it its signature. I call it the Mexican version of an Asian Satay sauce. Like everything, I cook it is a result of mind-tasting the flavors of my travels and eating experiences. My version is always my interpretation of the dishes I have eaten throughout Mexico and the U.S. I, of course, always want to make it 'better' by tweaking it."
To my surprise at La Ventura, Chef served two types of Pipián--a green and a red sauce. The base of both was the same: roasted onions, toasted pepitas (green pumpkin seeds), peanuts and walnuts (his personal addition). The green sauce consisted of tomatillos, cilantro, Serrano chiles, Chef's own green chile chutney (roasted Poblano and Anaheim chiles roasted and simmered with cider vinegar and sugar). The red sauce was made out of charred tomatoes and Guajillo chiles.
"I add just enough chicken stock so that the ingredients can simmer and the flavors marry," Chef explains. "I then roughly puree it to leave it chunky, which is a Pipián signature. Although chicken is often times bone-in, the classic version I served has sliced chicken breast, shrimp and seared sea scallops."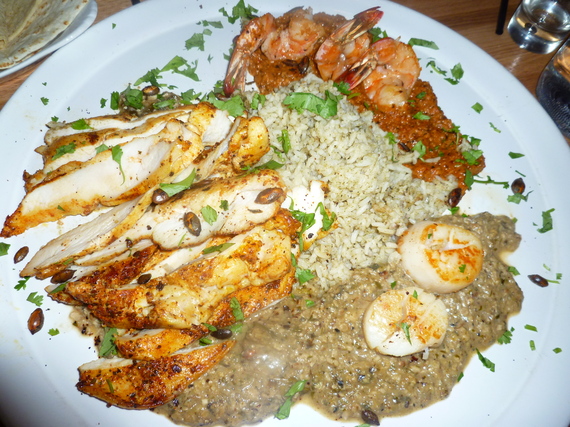 Chef's red sauce, which came with shrimp on top, was more in tune to the Pipián taste I'm familiar with, but his green sauce with scallops really impressed. Sliced chicken breast was served on the side and I did make sure to soak up every last drop of both Pipián sauces with the chicken. However, as good as this meal was, I still have to give it up to Mom, Clara Martinez.
And I'm not playing favorites, as I did have other impartial judges along for the saucy ride. Mom's sauce isn't light; instead it's dark and fiery so you want to make sure to soak it up with rice, although personally I end up making spicy Pipián tacos with corn tortillas, her Pipián-soaked chicken and white rice for good measure. You actually need all of those tastes to counterbalance the dish's spiciness.
It's funny, but growing up, sometimes I would find myself complaining that there was nothing good to eat in the house (yeah, teenagers can be asses), and now, finding myself lucky enough to try wonderful meals prepared by first rate chefs all over the world, go figure that one of my mom's signature dishes still reigns supreme. So Mom does it best and there's nothing like good home cooking.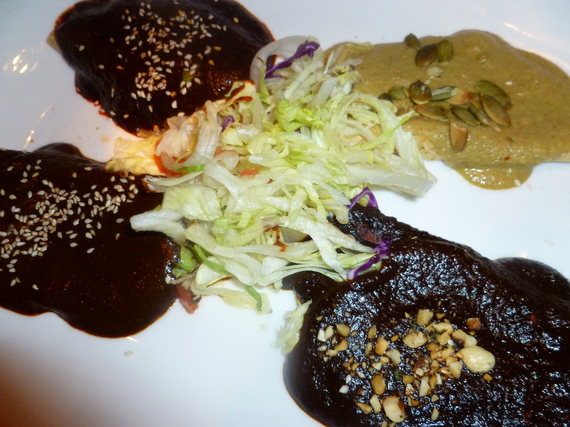 La Sandia's Mole Festival runs through November 30.

La Ventura Restaurant is located at 11929 Ventura Blvd in Studio City.