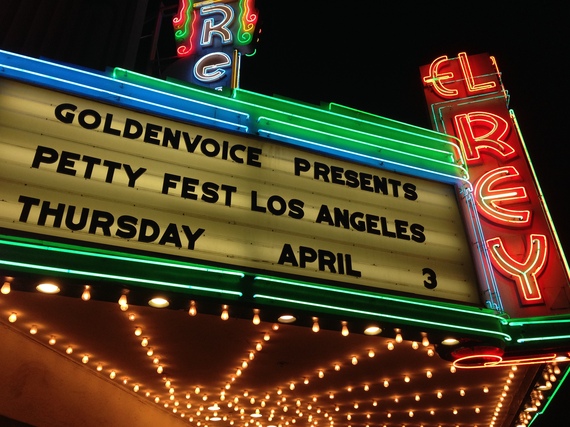 There's something special about your first time. That memory stays with you forever, and it's often the basis for a lot of comparison the rest of your life. Did it live up to everything you thought it would be? Was it sheer bliss?
Whether we're talking sex, drink, speeding or your first concert, an impression is made that will stand the test of time. In my case, my first concert was Tom Petty and The Heartbreakers way back when on their Southern Accents tour. I still remember the show's opening, "American Girl" and as Petty walked over to my side of the stage fans went nuts; girls screamed so loud my ears were shot; and someone spilt beer on me.
So I was pretty excited to revisit the Tom Petty live experience at Petty Fest where a rotating slew of celebrities take on Petty songs. Sponsored by Jameson Irish Whiskey and organized by the Best Fest guys, music biz impresarios Matt Romano, Alex Levy and Austin Scaggs, all ticket sales benefited Sweet Relief and the Sweet Relief Musicians Fund providing financial assistance to all types of career musicians who are struggling to make ends meet while facing illness, disability, or age-related problems.
With the fest organizers playing as the Cabin Down Below Band -- these are the same guys behind Dylan Fest, Stones Fest and Young Fest -- it was pretty obvious that the songs of Tom Petty just lend themselves to a good night out, especially surrounded by like-minded music fans drinking some damn fine Irish whiskey, in my case a river of Jameson Select Reserve Black Barrel.
"Coming to Los Angeles and giving one hundred percent of the door proceeds to a charity like Sweet Relief, none of that would be possible without Jameson," says Petty Fest co-founder Alex Levy.
It's a known fact that musicians and rock fans love their drink.
"It's a really natural partnership," says Jameson brand ambassador Natalia Garcia Bourke, "musicians have always gone towards Jameson and drank it."
Together, Jameson and Petty Fest have raised $300,000 for Sweet Relief to date. At the recent sold out El Rey Theatre show in Los Angeles, guest vocalists included Juliette Lewis, Albert Hammond Jr., Brendan Benson, Dhani Harrison, Butch Walker, Matt Sorum and his wife Ace Harper, Danny Masterson, Ruby Stewart and Pete Yorn among others.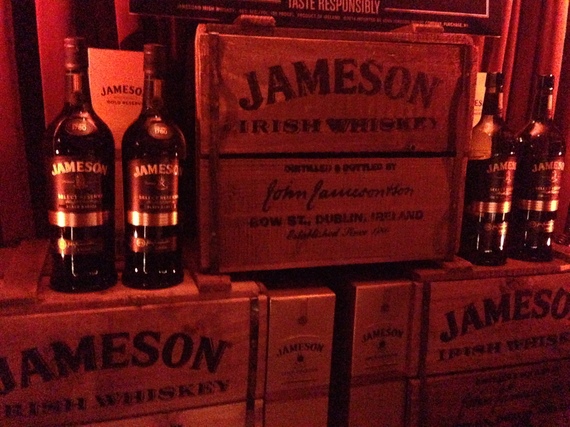 Standouts included Butch Walker on "Even the Losers" and later "Running Down a Dream." Pete Yorn shined on "Mary Jane's Last Dance" and actor Danny Masterson surprised me on "Yer So Bad." Albert Hammond Jr. was great on "I Need To Know" and Brendan Benson and Cory Chisel brought back some good memories on "American Girl." Flea, who received top billing, was a no-show as the Red Hot Chili Pepper's were on tour in Latin America (somebody really goofed there).
Petty, along with Bruce Springsteen, Bob Seger, and John Mellencamp, is a quintessential American who songs have stood the test of time and continue to inspire and resonate with fans -- new and old.
"These songs are the soundtrack to our lives, and not just to the musicians on stage but the audience," says Levy. "These are the songs that have taken us through struggles, our good times and bad times."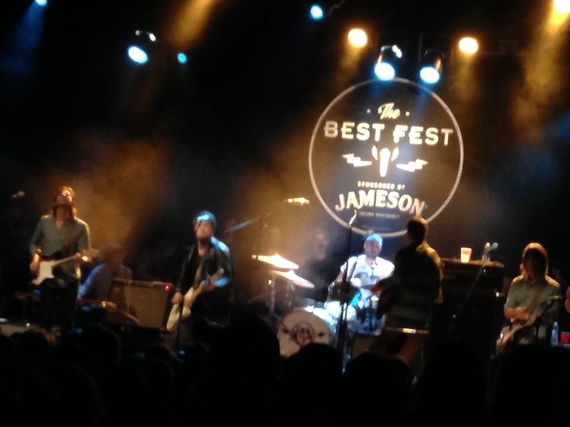 Petty Fest continues April 9 in Seattle at The Showbox, and April 23 at the Metro in Chicago.