With National Hamburger Month already under way this May, chefs around town are really getting creative and stepping up their burger game. While the folks are Morel's French Steakhouse & Bistro are busy with their very own Burgerfest, and it's always a burger extravaganza at Myke's Café in Pacoima--home of the outrageous Bro Snicker Burger--Chef Ernesto Uchimura of Plan Check Kitchen + Bar is getting in on all the grilling action too.
In honor of Dodgers baseball season, Chef Uchimura has created the Tommy Lasorda Burger and he aims to "knock it out of the park" with his bad boy burger. Made with house-made bacon spread, lettuce, tomato, onion, Americanized dashi cheese, and topped with a hot dog and mustard this $15 burger will be served from Friday, May 23 to the end of the month.
Angelenos can also get a head start to their Memorial Day fun by pairing their burgers with an assortment of beers by Golden Road Brewery during their eight-day tap takeover at both the Sawtelle and Fairfax Avenue locations. Beer lovers can get a tasting flight of five beers for $5 or eight beers for $8, including 20/20 IPA; Heal the Bay; El Hefe (aged in tequila barrels); Get up of That Brown; Wolf Among Weeds; 329 Lager; Russian Imperial Stout; and Golden Road Blonde. Full pints will range from $7-12 and are $2 off during happy hour at the Fairfax Avenue location from 3 to 7pm and at the Sawtelle location from 3 to 6pm.
Burgers and hot dogs together? Yes, Chef Uchimura seems to know no bounds. Someone I told about the Tommy Lasorda Burger described it as "cats sleeping with dogs." Too big to take a hearty bite from top to bottom, you have to work your way around the burger. And instead of using a sliced tomato, Chef uses little, round tomatoes so they do tend to slip out. He's just really thinking outside the box with this one.
Call it crazy or call in daring, it made me wonder if you can go too far creating a hamburger?
"That's tough," Chef Uchimura explained, "because each person has a point where they like their burger. Some like simple and some like more elaborate. I'm always mindful of that but there are no limits for me when I'm creating."
A formally trained chef and graduate of the culinary school at Paul Smiths College in New York, Chef Uchimura worked his way through various kitchens such as Napa Valley Grille, Opus, and Punch Grill, before helping to open Umami Burger. Yet even with his formal French training, burgers are very near and dear to him.
"Burgers have a very special place in my heart," Chef Uchimura said. "For me, because they are the number one consumed item in America, and as a chef I want to be a creative craftsman and give people what they want, to me there's nothing more American than hamburgers."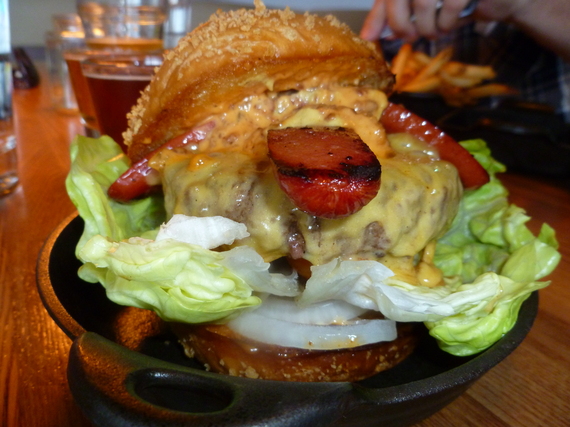 Known for his use of elaborative and creative signature accoutrements like his leathers--dehydrated squares of ketchup and sriracha--which recall the consistency of a fruit roll-up, Chef is always incorporating intriguing Asian accents to American classics, other interesting house-made condiments include apricot and peach ketchup, which he pairs with sweet potato fries; soy truffle baste, which tops the Truffle Mushroom Swiss Burger; and schmaltz onions and masa fried onions served on his Pastrami Gravy Fries and burgers like the Smokey Spicy PCB.
Another limited edition burger served this month is the intriguing Bahn Mi Burger served only at the Fairfax Avenue location. This burger features a crunch bun to mimic a baguette's airy crispness. Chef also felt that the traditional sandwich needed beefing up (or this case, porking up) since most banh mis are stacked with 50/50 meat-to-veggie ratio, Uchimura grills a six-ounce patty of ground heritage pork and diced pork pate to a smoky char and seasons it with Vietnamese sauces and spices. Veggies include cucumber, onion, jalapeño, pickled daikon, cilantro, and carrots, topped with a house-made Sriracha mayo comprised of fish sauce, lime, sugar, rice vinegar, and Sriracha emulsified together is spread onto the bun for a finishing flourish.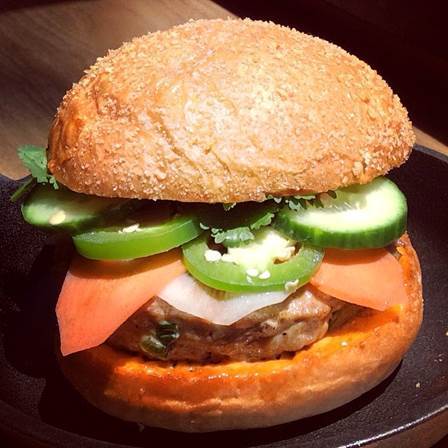 There really is not limit to Uchimura's culinary imagination.
"As soon as it feels right," Chef points out, "we'll put it on the board. I just trust my taste buds and my gut."
I'm still reeling over a recent specialty item, the Belly of the Beast Burger, made with a house ground beef patty, braised brisket fritter, melted Swiss cheese, beet horseradish mustard, roasted onion spread, and parsley salad, it was ridiculously flavorful and really needs to become a menu staple.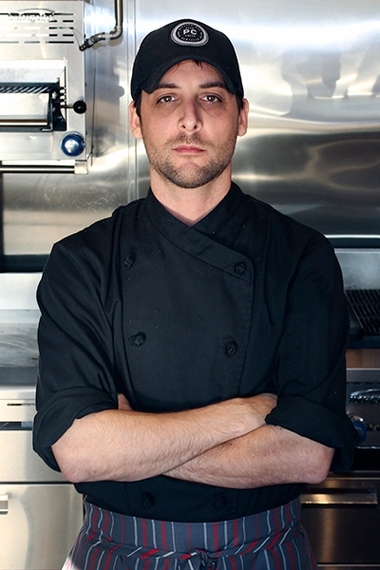 What can burger fans expect next? Well, in a move that would probably have John Wayne rolling in his grave, Chef is toying with the idea of a Sushi Burger, which he described as a "work in progress." It could have a beef patty or tuna patty, may contain seaweed, nori or crabmeat. Either way, it sounds fascinating. And that's the way Chef Uchimura wants to keep things.
"We have a small core menu but we have a lot of specials and we always tell our customers to look at our daily board. A lot of our burgers have a novelty factor to them but the most important thing is to get it right. I always want to make the best burger I can before it goes on the board."

Plan Check Kitchen + Bar is located at 351 N. Fairfax Ave, and 1800 Sawtelle Blvd.